Hamblin eats apple (The Atlantic Video)
What do you think an apple core is? What's the thing we throw away?
It is a ghost. If you eat your apples whole, you are a hero to this ghost. If you do not, you are barely alive. Come experience vitality.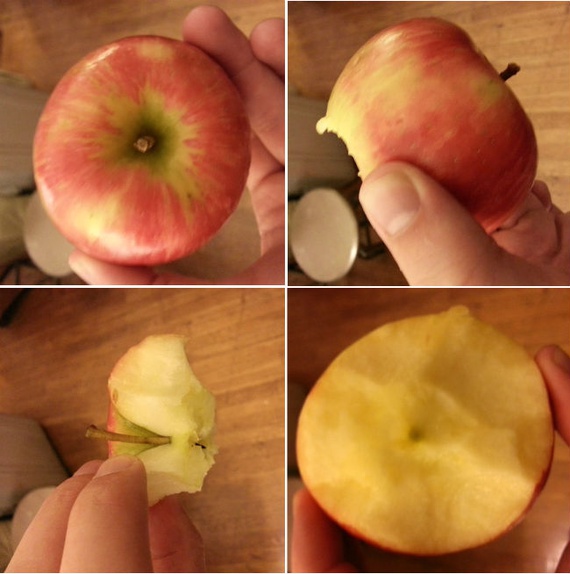 Earlier this year, in "How to Eat Apples Like a Boss," a video by Foodbeast, the Internet was promised the gift of confidence in apple-eating. Elie Ayrouth ate an apple starting at the bottom, proceeding to up to the top, and finishing with a wink to the camera, as bosses do. Eating as such, Foodbeast said, the core "disappears."
I do them one better and say that it never existed. The core is a product of society, man. There is a thin fibrous band, smaller in diameter than a pencil and not bad to the taste. If you eat your apple vertically, it is not noticeable.
There are usually a couple seeds toward the top, which are easy to swallow, though it's probably a better idea to spit them because they contain a substance called amygdalin. That can release a small amount of hydrogen cyanide when digested. God/nature wants those seeds on the ground, not in our colons. You would have to eat a ton of apple seeds for it to kill you, but I'm not here to coax you guys into testing your bodies' limits in metabolizing cyanide.