Why Football Must Get Safer
If new rules aren't enough to protect players, the game could fade away. Parents will increasingly keep kids out of the sport rather than expose them to the risk.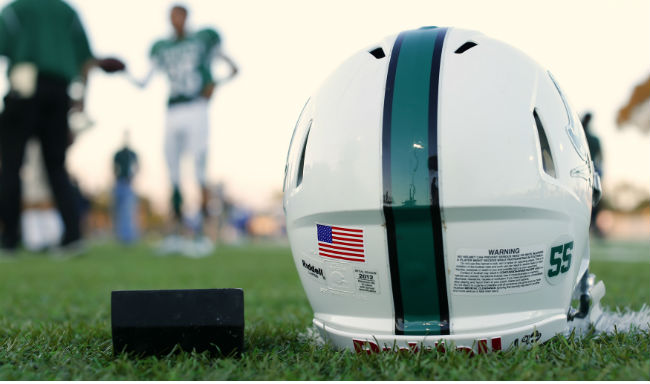 Chad Washington had a lot at stake during that practice back in 2008. A sophomore at Bishop O'Dowd High School in Oakland, California, he was already a starting player on the school's varsity team. That season, the team was as yet undefeated.
The after-school practice had already been going for around 45 minutes; the coaches had run through the warm-ups and the special teams drills. It was a beautiful, warm afternoon in the Bay Area, with the sun still high in the sky above the football fields.
Next up was the LSU hitting drill, named after a routine conceived at Louisiana State University. Set up on the goal line, it involves one defensive player and two offensive players. One of the offensive players stands about a yard away from the defensive player, ready to block him, and the other runs the ball and attempts to score.
"They call Blake Johnson up, who was a junior linebacker," Washington said. "Some real big white guy, number 55." Washington was not exactly a small guy—he was already more than 6 feet tall, and weighed 205 pounds. But Johnson, who stood almost eye-to-eye with Washington, was pushing 250 pounds.
Johnson was put on defense. Washington, usually a defensive lineman, was called on to run the ball; his coaches wanted to try him on offense. Washington, unsure of what he was doing in this unfamiliar position, grabbed the ball. The whistle blew.
"He just completely tackles me, just lays me out," Washington said. Johnson got his helmet under Washington's chin, jerking Washington's head back and throwing his whole body backwards with the momentum. He closed his eyes and bit down hard on his mouthpiece as he took the blow and fell back.
"I look up and he's standing over me," Washington said. "It was real bright, and everybody was screaming." He staggered to his feet, dazed and winded. He felt his coach grab him and throw him into the end zone. He was up again, this time on defense.
"The first time, he blocked me, I couldn't even really go. So then my coach grabbed me again and threw me in there and said 'Go again.'" This time he got off the block and made the tackle. From the time he was hit to the time he completed the drill, nobody asked him if he was okay.
Practice continued for another hour. Washington pushed through, not wanting to jeopardize his place on the starting team.
"Why would I want to say, 'Oh, my head hurts, I don't want to practice'?" Washington said. "If you take yourself out of practice because you're hurt you have to expect not to play in the game." As far as he was concerned, this was too high a price.
By the end of practice Washington could tell something was really wrong. "I took my helmet off and my head was throbbing," he said. He went to the team trainer and told her about his headache. She asked him to take the concussion test. He failed it.
Washington's concussion is just one among thousands sustained by high-school football players every year. It's hard to pin down exactly how many—somewhere between the 25,376 emergency-room visits for football concussions tallied up by the Centers for Disease Control and Prevention and the estimate of 1.6 to 3.8 million sports-related concussions nationwide cited by physicians in their studies of the subject.
Steadily, football-related concussions—mostly at the National Football League (NFL) level, but also among younger players—have gotten more and more attention. Over the past decade, the media has publicized numerous studies revealing the dangers of the high-impact sport. Reports of suicides of former NFL stars, including Dave Duerson of the Chicago Bears and Junior Seau of the San Diego Chargers, have been splashed across the front of newspapers, accompanied by revelations that their brains showed clear signs of chronic traumatic encephalopathy, a degenerative brain disease caused by repeated blows to the head.
This summer the furor came to a climax as the concussion lawsuit brought against the NFL by more than 4,500 former players and their families was settled. The league agreed to pay $765 million with the understanding that the settlement should not be regarded as an admission of guilt. The deal was widely viewed as a win for the NFL, and professional football's popularity certainly hasn't suffered. A week later more than 25 million viewers tuned in to watch the season opener, a five percent increase on the previous year.
But the concussion issue hasn't gone away. On September 16, Damon Janes, a 16-year-old running back at Brocton High School in New York, died following a helmet-to-helmet collision. A total of 39 high-schoolers died between 2000 and 2012 as a direct result of injuries sustained on the football field.
Football's popularity at the high-school level is slowly diminishing, with participation numbers decreasing each year since the 2008-2009 season, according to the National Federation of State High School Associations. It's too early to tell for sure, but this may be a result of concerned parents questioning the wisdom of allowing their child to play such a dangerous sport. If this trend continues high-school football, a key feeder in the NFL pipeline, will have to adapt if it wants to survive.
"I think the increased awareness is going to change perhaps the way the sport is played at the various levels," said Andy Jagoda, chair of emergency medicine at Mount Sinai Hospital in New York City and a traumatic brain injury specialist. He believes the bigger difference in player safety will come from increased research into concussions and a better understanding of how they should be treated and managed.
"There'll be change maybe in technology and protective gear," Jagoda said. "[But] I think what we're really looking for is how the increased awareness is going to change our evaluations and assessment of injury, and how those assessments are going to affect return to play."
Jagoda's view would no doubt be welcomed by the millions of football enthusiasts who believe the game is just fine the way it is. In fact, some think it's already a diminished version of what it once was.
Al Champagne grew up playing football in the Bronx in the early 1980s. Although he had a body full of potential and a head full of NFL dreams, his football career was cut short by a knee injury during his first year at college. Now a father, he was heavily involved in his eldest son's high-school football team, and he sees a big difference between the game as it's played now and the game he knew.
"You don't hear the smack … you don't hear the tackling … it's not the same," Champagne said, struggling to articulate what he feels is lacking among today's high-schoolers. "Their level of aggression is not the same as it was when we played ball."
Ask him if he's ever had a concussion and you'll get a definitive "no." But he will tell you a funny story about getting his bell rung during his first season playing at Murray State University in Kentucky.
On one of the first days of preseason training, before Champagne had sat through a single college class, the coaches were running through one of the team's plays. It was Champagne's job as fullback to fake up the middle of the field and then run out to the side so that he'd be ready for a pass if the quarterback couldn't find anybody open further up field.
As he freed himself up for the pass, he noticed out of the corner of his eye that a linebacker was headed straight for him. "And I see the ball, I see the linebacker, I see the ball, I see the linebacker and then I saw nothing," Champagne recalled. The force of the linebacker's tackle had knocked him unconscious. As he lay on the AstroTurf, his teammates threw cold water over his head and wafted smelling salts in front of his nose.
"The coach started laughing and he said 'Son, welcome to Division I-AA football!'" Champagne said, laughing at the recollection.
"At that point it was embarrassing, but it was like my way of winning stripes on the team," he said. "They recognized that I was tough enough to endure that kind of hit and still get up and be ready to play again."
Champagne's experience is unlikely to be repeated today. Many signs of a concussion are difficult to detect, but a player losing consciousness is a firm indicator. However milder cases of concussion or sub-concussive blows to the head are equally concerning.
In such a physical game, a brief moment of disorientation or "seeing stars" after a tackle is, for most players, just par for the course.
"How many times do I see stars in a season?" asked Washington, who is now a six-feet-four, 252-pound junior defensive lineman at Columbia University. "Maybe we should [say] in a game." He estimates that if he has 30 plays in a game, he ends up "seeing stars" after five or ten of them.
Scientists are beginning to investigate whether repetitive sub-concussive blows, such as those sustained while playing any contact sport, have detrimental short-term or long-term effects. In a 2012 study published in Neurology involving a group of contact-sport athletes and a group of noncontact sport athletes, but excluding concussion patients, researchers found that there were very few differences in the groups' overall cognitive levels from the beginning to the end of the season. But the study also found a substantial subgroup among the contact sport athletes—22 percent—that performed significantly lower in the end-of-season cognitive tests measuring memory and learning skills compared to their scores from the beginning of the season. The size of this subgroup in the non-contact sport group was just 4 percent.
"It's probably a combination of not just the concussions themselves but the genetic predisposition to having or developing sequelae from the concussions," Jagoda explained. "Will genetic profiling then play a role in the determination of who and when people should withdraw from play?"
In an attempt to calm the fever surrounding football and to protect players, the NFL, college teams and youth leagues are discussing changes to the game that could make it safer. NFL Commissioner Roger Goodell is considering eliminating kickoffs, which are associated with a high risk of concussion as players run full-speed into each other from 20 yards apart.
For Champagne and Washington, kickoffs are a fundamental part of the game; remove them, and you're no longer playing football. "Kickoffs, they change the game," Washington said. "So many games have been determined because of [them]."
Champagne says the NFL should either create stronger equipment that is better prepared to stand up to the rigors of the game, or they should pull the plug entirely. "If you're going to take away the intensity of the game there's no point in even playing," he said.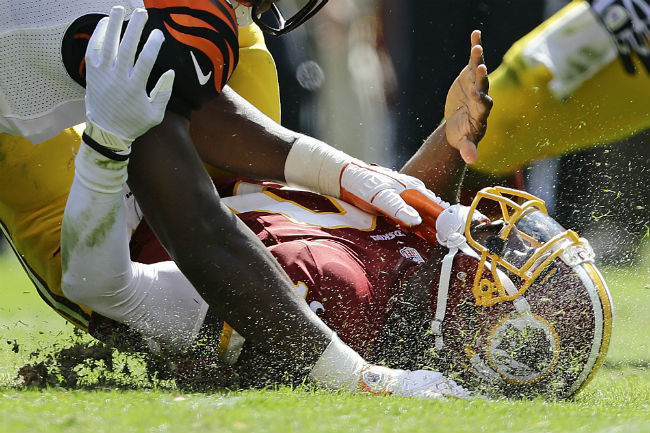 The game is also changing more decisively at the youth level. As of this June, 49 states had passed concussion legislation to protect school-age players. Last summer Pop Warner, the largest national youth football league, announced changes in regulations that eliminate contact from two-thirds of practices. It also banned head-to-head contact and all drills that begin with players more than three yards apart and involve full-speed, head-on collisions.
New rules at the NFL level include a ban on hitting with the crown of the helmet outside of the tackle box, and a ban on almost all tackling during pre-season training camps.
Bill Zollweg, a professor of sport sociology at the University of Wisconsin, La Crosse, says these new rules are a mere decoy, smoke and mirrors created by the NFL to fool players and football fans into thinking they are doing something. "All the changes we're currently making in football, they can't have an impact on concussions," he said. "I don't for a heartbeat believe they're concerned about the physical well-being of the athlete."
The concern, Zollweg says, is profit—and that can be sustained only if there is a continued interest in the gridiron. "Sport is a money-making business," he said. "They can't have a diminished fan-base and survive."
Despite significant concerns, many experts and players feel scrapping football altogether would be premature. Jagoda says research has not gone far enough yet to warrant outlawing football. The complexity of the brain coupled with the elusiveness of a concussion—one of the only injuries that doesn't show up on any type of scan or lab test—means clinicians and researchers are still only beginning to understand how this injury works.
"We know very little," he said. "How are we going to determine recovery if we haven't determined injury?"
Concussions are caused not so much by direct hits to the head as by the resulting acceleration and deceleration. The sophistication of helmets can do very little to protect against such motion, which occurs inside the skull. "Short of testing everybody after an event where there was acceleration and deceleration, I don't know how you begin looking for this," Jagoda said.
Champagne, who now puts the bulk he acquired as a football player to good use as a security guard, knows that although football can be dangerous, it can also be a lifesaver.
His own father got into playing football when he was sent away to a reform school for troubled kids. He learned not only a trade, but also football, which was intended to help him focus and to teach him discipline and teamwork. The way Champagne sees it, in the heart of Bedford-Stuyvesant, where his son Najee was a star running back at Boys and Girls High until he graduated this year, football is still an important means for kids to find their way to a positive and successful adulthood.
"Inner city, the 'hood, it's unforgiving," Champagne said. "[Najee] sees some of his cousins who are knuckle-heads, who had the opportunity to play sports and be skilled, but chose to go the street way. And, you know, it hurt them."
With three hours of practice after school every day during the season, football players at Boys and Girls High have little time for trouble-making. The coaches act like mentors, making sure players keep their grades up and calling in tutors if they start to slip, and players reap the health benefits of regular exercise as well as the important discipline and social skills acquired by playing a team sport. Hardly surprising, the majority of the players are headed for college, and not just so that they can keep playing football.
Champagne doesn't give head injury a lot of thought. He is satisfied that a combination of today's high-tech equipment and the ban on helmet-to-helmet contact will protect his son.  He knows there's still a risk but, for him, "everything has its price," and he prefers to leave the decision down to Najee.
"This is what these men have chosen to do. It's like being a gladiator," Champagne said. "And if you take on that responsibility, that decision, you know what comes with it."
Washington, too, knows that just one unlucky tackle could end his career—that's why he chose Columbia over a school with a bigger football program, even though it limits his chance of being picked up for the NFL draft.
"It's always going to be that type of game and that's the beauty of it, that's what makes it so much different than basketball or baseball, because it's a violent game where you can hit somebody as hard as you can," he said.
"You have all these people that say they should change the big hits, they should change the rules. But they've never asked the players," he said.  "I feel like if they did a player consensus—not retired players, players that play in the league right now—they wouldn't want to change anything."
Washington and Champagne are far from alone in feeling this way. For many people across the United States, whether they play the game or not, football is at the center of an everyday existence that includes Friday night at the local high school, Saturday morning washing the football kit, and Sunday afternoon grilling outside after church while the kids throw around a football in the yard.
"I'm sympathetic to that perspective," said Zollweg. "I grew up with football being part of American life, so I understand where that perspective originates from." As evidence of the importance of football in American society, Zollweg pointed to the way "religious ceremonies are scheduled around the Sunday football games."
Football is often jokingly referred to as America's national religion, but the bond between the two spheres is very real. Having members of the clergy travel with NFL teams has become common practice, and for many fans, the question on the cover of the pre-Super Bowl edition of Sports Illustrated, "Does God Care Who Wins the Super Bowl?" is a serious matter.
Zollweg thinks this intermingling of football and Christianity could have dangerous consequences. "It gives the players the sense that whatever happens is God's will and for the best," he said. "They blend religion right in with the sport to make it more acceptable for players to take the kind of risk that they take."
Indeed, the close relationship between America's two national religions—football and Christianity—may explain how football has weathered the storm for as long as it has. Despite the recent knocks the game has sustained due to increasingly virulent concussion debates, its popularity has remained colossal; no other sport is even within striking distance.
Many fans believe altering football—or, at the furthest extreme, banning it altogether—is utterly unthinkable. Jay Coakley, emeritus professor of sport sociology at the University of Colorado, points out that these fans fail to acknowledge the history of the game they so staunchly defend. Significant changes, including legalization of the forward pass and the introduction of penalties for roughing the passer (tackling the passer, usually the quarterback, after the ball has left his hands) were made in the early 20th century to make the game safer. These new rules caused upset at the time, but were ultimately accepted and helped to form the basis for the game as we know it today.
The mounting evidence regarding concussions and the recent legal battle against the NFL suggest a similar process is now underway, and may well occur at a much faster pace than anyone expected until recently. "One of the things that's going to be very difficult for school administrators to justify is sponsoring an activity where the dangers are well-known," Coakley said. He foresees a time in the not-too-distant future when a parent will try to sue a school over a permanent brain injury their son sustained on the field.
He points out how football's spokespeople have resorted to extolling the virtues of an active life to convince people to keep taking their children to practice. "I've seen those ads about the NFL, talking about youth football and how they're on the same page as everybody else who wants to make the game safer, and this is a wonderful way to build character," Coakley said. "[It's] going back to old myths about sports to make people feel better about offering up their sons on the altar of masculinity."
This tie between football and assertion of masculinity is why both Zollweg and Coakley think players and fans feel so threatened. The violence of the game makes it the ultimate showcase of masculinity. Zollweg said making the game safer is, for some, a symbol of the "feminization of America."
On a national level, football is emblematic of American exceptionalism. "It's tied up with power and domination and protecting territory," said Coakley. The game is virtually non-existent in other parts of the world—it is something America has all to itself, this grueling and intensely physical game in which only the hypermasculine succeed.
But in his view, its importance in society, particularly in college life, is an illusion. "Campuses can certainly live without football," he said, adding that if football were eliminated, you wouldn't even notice that it used to be there 10 years down the road.
"We overemphasize the importance of football on college campuses simply because it's so visible and so loud and so in-your-face," Coakley said. Eighty percent of people on college campuses, or even in big cities with prominent NFL teams, have no interest whatsoever in football, he said. It is the 20 percent who are interested, coupled with the boosters and the media, which creates the misconception. "Those people are making all the noise and, in a sense, leading us to think that football is more culturally relevant than it actually is."
A reason football is often such a focus on college campuses is that the sport is the only means through which many players can attend. Lucrative football scholarships are, for some, their only ticket to a top school.
"When [we] don't have a choice, we're going to put our bodies on the line," said Coakley. He believes that in the future the only thing that will keep people playing football and encouraging their children to play will be desperation.
"Who's going to be desperate enough to encourage their kids to play a sport in which their brain cells are going to be damaged?"