Why Do Good Athletes Have Bad Teeth?
Olympians are young and healthy, but they have a lot of dental issues.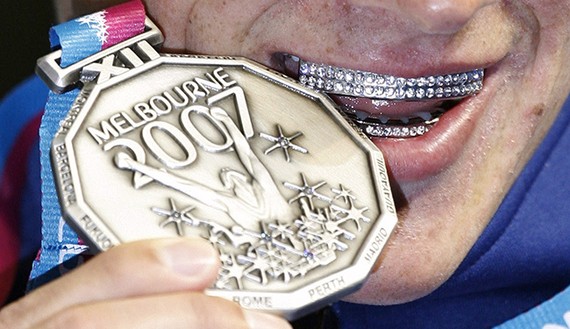 Olympic athletes—typically revered as the paragon of what a human body can be and do—are apparently not doing great where their teeth are concerned. In the International Olympic Committee's Consensus Statement on Periodic Health Evaluation of Elite Athletes, released in March 2009, the body called for more studies to "assess more accurately the oral health of the athlete population," after noting several dental problems encountered by athletes at the 2008 Beijing games.
The scientific community obliged: A recent study published in the British Journal of Sports Medicine reported the fairly bleak dental situation at the London games in 2012.
Researchers looked at 278 athletes across 25 sports, primarily from Europe, Africa, and North and South America. More than 40 percent said they were "bothered" by their oral health—28 percent said it impacted their quality of life, and 18 percent felt it affected their training and performance in their sport of choice. Fifty-five percent of athletes had some kind of tooth decay, 45 percent had dental erosion, and there was a hearty amount of gingivitis as well.
The 2009 IOC report posited that the prevalence of tooth erosion among Olympians "may be an indicator of excessive use of sports beverages, which are acidic in nature."
You would think that athletes performing on the international stage would be able to afford a visit to the dentist now and then, but the mere fact of being an Olympian earns you zero dollars. The few athletes that are swimming in it get the cash for their money bathtubs from sponsorships or playing professional sports. But until they make it big, financial hardship isn't rare—take, for example, all-around gold medal gymnast Gabby Douglas, one of the biggest stars of the London games. Her mother declared bankruptcy shortly before the Olympics.
Certain countries (including the U.S.) offer bonuses for medaling—U.S. athletes get $25,000 for gold, $15,000 for silver, and $10,000 for bronze—but often, it doesn't pay to be an elite-level athlete. For example, a survey by the Track & Field Athletes Association revealed that 50 percent of the top 10 U.S. track and field athletes ranked in the top 10 for their events make less than $15,000 a year.
When it comes to health insurance, at least in the U.S., Olympians have the option of enrolling in Elite Athlete Health Insurance (EAHI), which is provided to the U.S. Olympic Committee (USOC) by Highmark. According to Mark Jones, senior director of communications at the USOC, any athlete that has EAHI has access to the National Dental Referral program, a partnership with the American Dental Association. The program includes dentists around the country who provide dental screening exams and routine, non-elective care to athletes for free.
But, this service is only available to those who have EAHI. The USOC website states: "Each National Governing Body (NGB) receives from the USOC a guaranteed number of EAHI slots to distribute to its Elite Athletes." And it appears that there aren't enough slots for everyone. For example, USA Swimming received 56 slots for 2013, and said that the insurance will only be offered "to athletes who are currently training and competing," and that athletes "must be currently ranked in the top 50 of an Olympic Event" to be eligible. USRowing received 48 slots for 2013 and gives priority to those who had EAHI in 2012 and those who are receiving other funding from the USOC already, filling remaining slots based on performance.
With free dental care tied to health insurance, and health insurance seemingly, at least sometimes, tied to performance, this means standout athletes are more likely to have access to dental care than lower performers. And the lower performers are more likely to be strapped for cash.