Study: Only Work Through Lunch If It's Your Choice
Employees are less fatigued if they choose to eat a desk lunch than if they feel pressured to.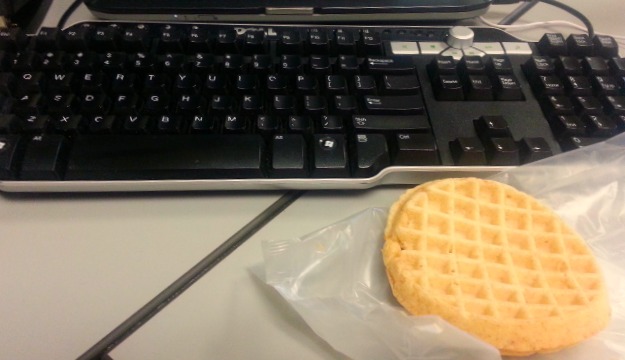 Problem: I'm working on this story while eating my lunch. Though I guess whether that's really a problem depends on your perspective, which is the issue that researchers dedicated 42 pages to in a study published in Academy of Management Journal.
They wanted to know the effect lunch breaks have on end-of-the-workday exhaustion, when all you want to do is crawl into bed, watch a little Netflix, and go to sleep. Specifically, they were interested in whether or not employees get to choose if they take lunch and how that affects fatigue. According to surveys cited by the study, about a third of employees said they felt pressured by their managers to work through lunch.
Methodology: Researchers surveyed 103 administrative employees at a "large North American university" over 10 days, asking them to complete questionnaires at the end of their lunch breaks to assess what they did on their break. They also contacted these employees' co-workers, to get their impression of how the employee was doing, fatigue-wise, at the end of the workday.
Results: Co-workers tended to report that the surveyed employees seemed more fatigued at the end of the day if they worked through lunch. This was also true if they did social activities during their lunch break, but not if they took the time to relax.
Employees' autonomy with regard to their lunch breaks played a significant role. If employees felt like they chose to work through lunch, they felt less tired than if they felt like their boss was making them work through lunch. Angry chewing definitely tires one out.
Implications: As the study notes, "no episode of the working day better reflects… autonomy than the ubiquitous break for lunch. Lunch breaks generally present employees with a mid-day opportunity to rest from work and consume food." Generally.
To keep employees fresh, then, some element of choice about their breaks, lunch in particular, seems like a good strategy. For what it's worth, I chose to work on this during lunch. And I'm still feeling pretty good.
---
This study, "Lunch Breaks Unpacked: The Role of Autonomy as a Moderator of Recovery during Lunch," appeared in Academy of Management Journal.