In Lieu of Candy, Woman Handing Out This Letter That Says Child Is Fat
Unsolicited neighborhood judgment is not how childhood obesity is best addressed.
An outspoken woman in North Dakota told a local news station that she will be distributing the following note to overweight trick-or-treaters tomorrow evening.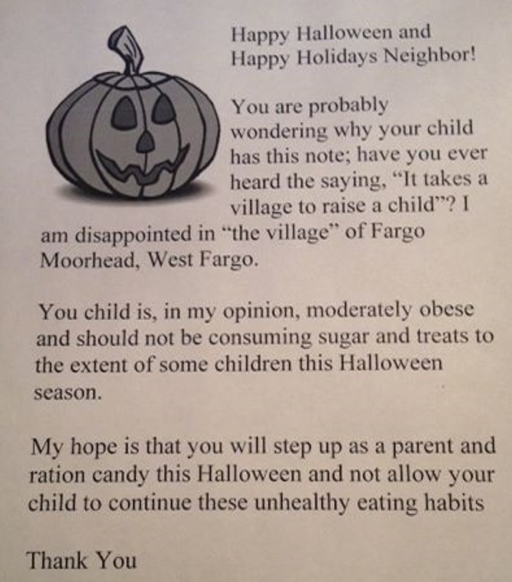 "I just want to send a message to the parents of kids that are really overweight," the author, known only as Cheryl, told Fargo Y-94 morning radio. "I think it's just really irresponsible of parents to send them out looking for free candy just 'cause all the other kids are doing it."
Dr. Katie Gordon, a professor at North Dakota State University, told the station that childhood obesity is best dealt with between parents, pediatricians, and the child. She is correct. The epidemic is serious, and it's everyone's problem, but its nature demands tact. Unsolicited neighborhood intervention like this is, as Gordon says, the "kind of thing that for some kids, if they're vulnerable, might trigger major problems." Good intentions can't justify adversarial execution.
In case you're late to the obesity-shaming conversation, making people feel bad can worsen rather than improve diet/lifestyle decisions, and shame-based campaigns do not go over well.