Hunks: How Ripped Became an Ideal
A historic look at images of masculinity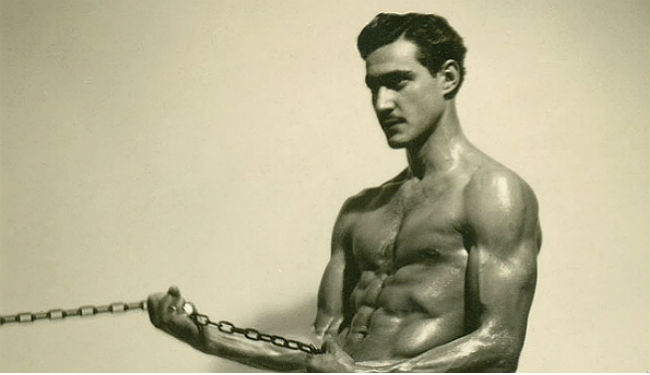 Not all purveyors of art think the male form gets enough attention. Exhibitions like Sascha Schneider's show at the Leslie Lohman Museum of Gay and Lesbian Art have highlighted the importance of the male nude and its relationship to history; but others, including the recent "Masculine/Masculine" retrospective at the Musée d'Orsay, have prompted the question: "Why had there never been an exhibition dedicated the male nude until … last year?" The answer: Unlike female bodies, which are supposedly mysterious and full of secrets, male bodies are boring—or at least they're presented that way. A new book, Universal Hunks: A Pictoral History of Muscular Men Around the World, 1895-1975, provides a little more perspective.
In Hunks, authors David L. Chapman and Douglas Brown trace the origins of the sculpted, nearly nude, or totally bare male silhouette across the globe. Their journey begins in Europe with Anglo-German "physical culturalist" Eugen Sandow and ends in South America with a snapshot of Hercules Cement—not because the West is the fount of all masculine identity or idealization, but because it was a tremendous exporter of those concepts at the time. The "male body factored prominently in the construction of modern national identities," write Chapman and Brown, and as the imperial powers of the day disseminated their own religious and sociopolitical standards, they also strove to shape the actual bodies of the people they encountered.
Still, the exchange (or replacement) isn't so cut and dry.
In India, Sandow's gospel of personal strength became interwoven with Indian nationalism and independence. In Senegal, where wrestling has its own tradition that predates European influence, the snapshots of warriors actually highlight the colonial interests of the photographers. And in the United States and beyond, models posing in men's magazines celebrated physical health and wellness, but also doubled as pin-ups for consumers of gay subculture. All of these photos generate a syncretic view of buffness that reveals the ways in which muscled men are more than stereotypical gym rats; they can also be cultural ambassadors.
The following photos and passages are excerpted from the book.
***
By the early twentieth century, Eugen Sandow was recognized as the most perfect example of the male human form, as evidenced by being featured in Baillière's Popular Atlas of the Anatomy and Physiology of the Male Human Body (London, 1908). It is the strongman's face and epidermis on the outside, but various fold-out pages reveal the structures within his muscular body.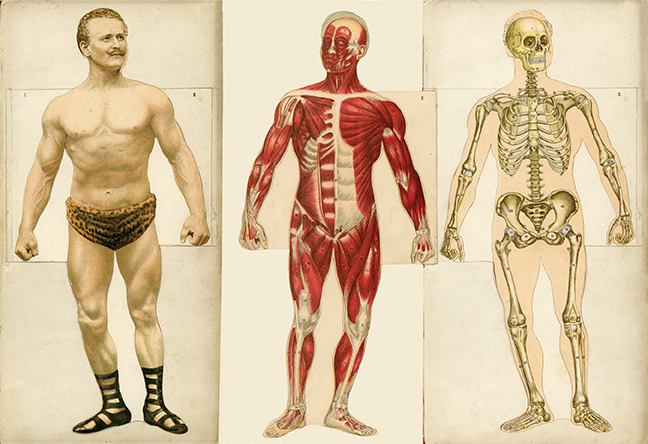 An embrocation is generally used by athletes to massage into sore muscles, and this die-cut advertising card is one of the finest. It shows a black boxer doing a one-arm lift of a dumbbell, but because the item is joined by a rivet in the middle, the figure can move back and forth. Dr. Will's Embrocation promises to make an Olympian out of anyone who uses it daily. This articulated advertisement was made in the early 1900s when many African-American boxers were popular in Paris.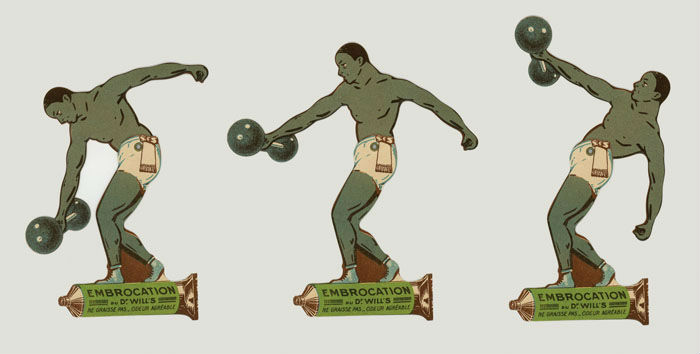 From 1946 to 1969, Henri Garsou (1914–69) ran the magazine Muscles from his home in the sleepy Belgian village of Andrimont. This cover from October/November 1959 features two models who demonstrate one of Garsou's favorite mottos: "The happy man does not wear a shirt." The magazine purported to encourage muscle building, but there was little doubt that its true target audience was the post-war gay subculture that was attracted to physique photos.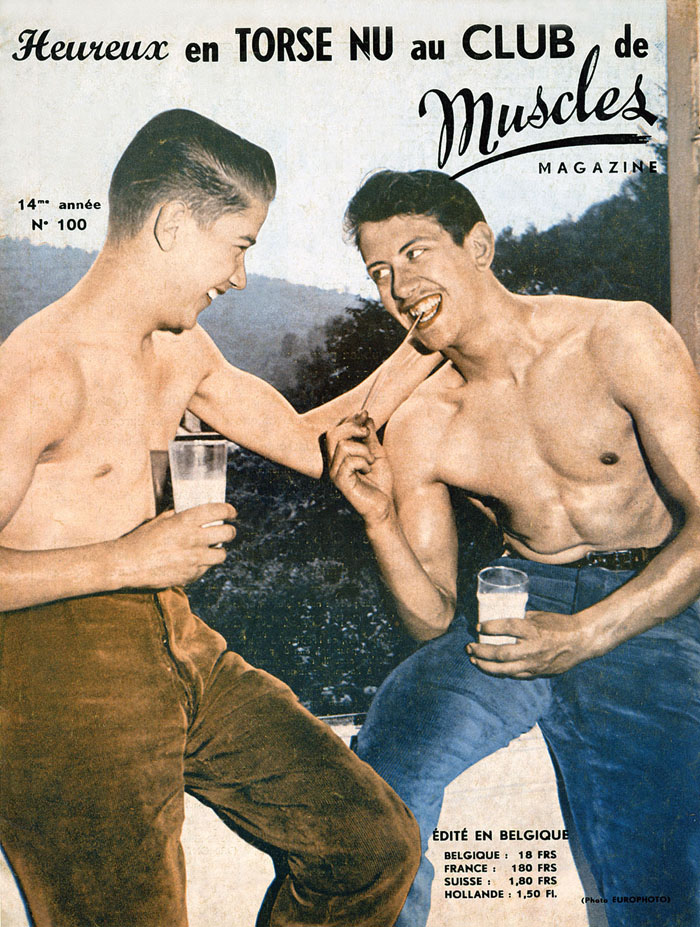 In this stereoview from 1904, two grapplers from Dahomey (now Benin) supposedly wrestle for a bride. Western interest in this previously little-known African country increased in 1903 due to a hit Broadway show called In Dahomey—causing many to run to their maps to find it.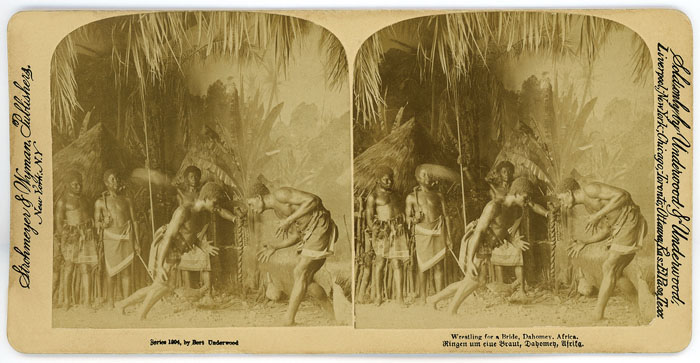 One African who traded on his physical attractions was Feral Benga (1906–57), shown here in a French magazine from 1934. It was said that he was the illegitimate child of a rich man from Dakar in Senegal. He was a dancer and model in Paris from the 1920s to 1940s, photographed and fawned over by just about every gay artist in France and New York (and there were a lot of them). George Platt Lynes and Carl Van Vechten both took his portrait; he was sculpted by James Richmond Barthé, painted by Pavel Tchelitchev, and appeared in Jean Cocteau's film Le Sang d'un Poète (Blood of a Poet, 1930).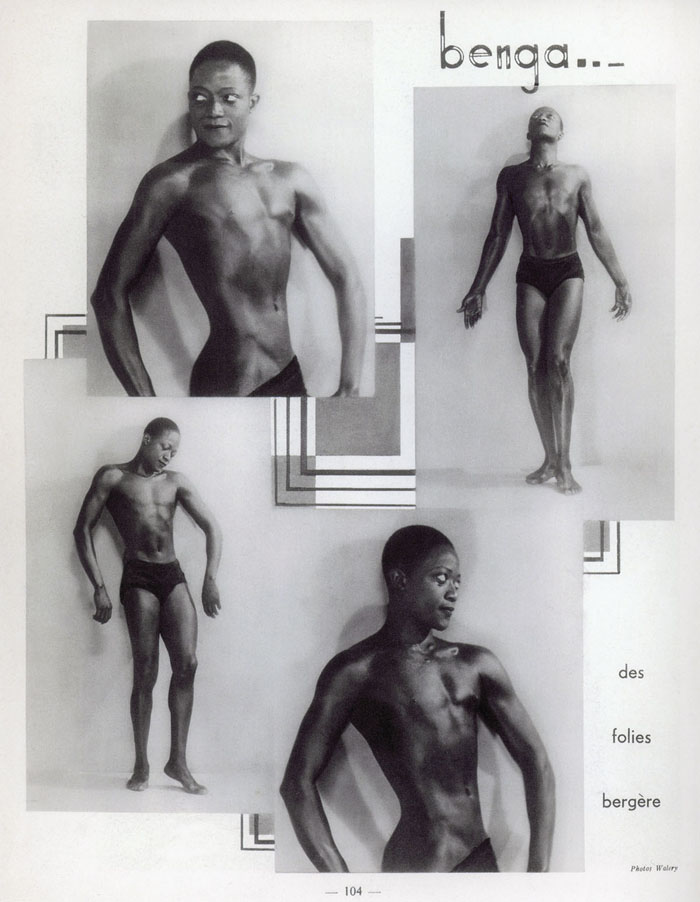 Shanghai has always been a very cosmopolitan city, and in the summer of 1946 when a group of men from the Stembera Institute of Physical Culture posed for this photo, it was not considered unusual for Chinese and Westerners to come together in a social and athletic organization. By 1949, however, this would all be a memory as Communist forces marched down the Bund, chased out the foreigners, and put all such clubs out of business.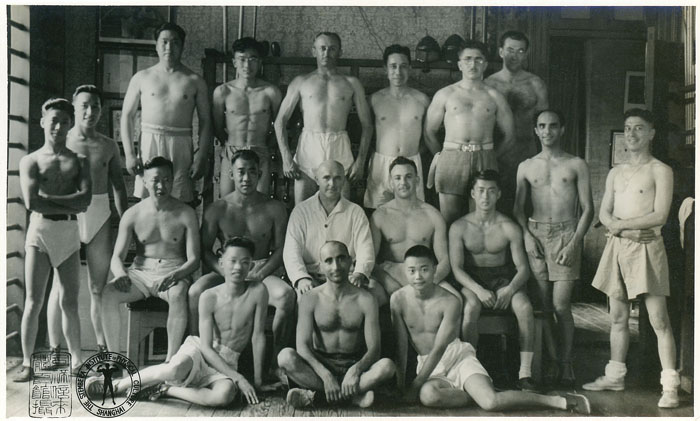 The British magazine Superman was first published in October 1930. It always featured a colorful cover with the image of some powerfully muscular man. In March 1939, Ramesh S. Balsekar's (1917–2009) portrait was on the cover. Balsekar was an extraordinary figure; he attended the London School of Economics, became president of the Bank of India, and rose to fame as a guru of the Hindu philosophy of Advaita.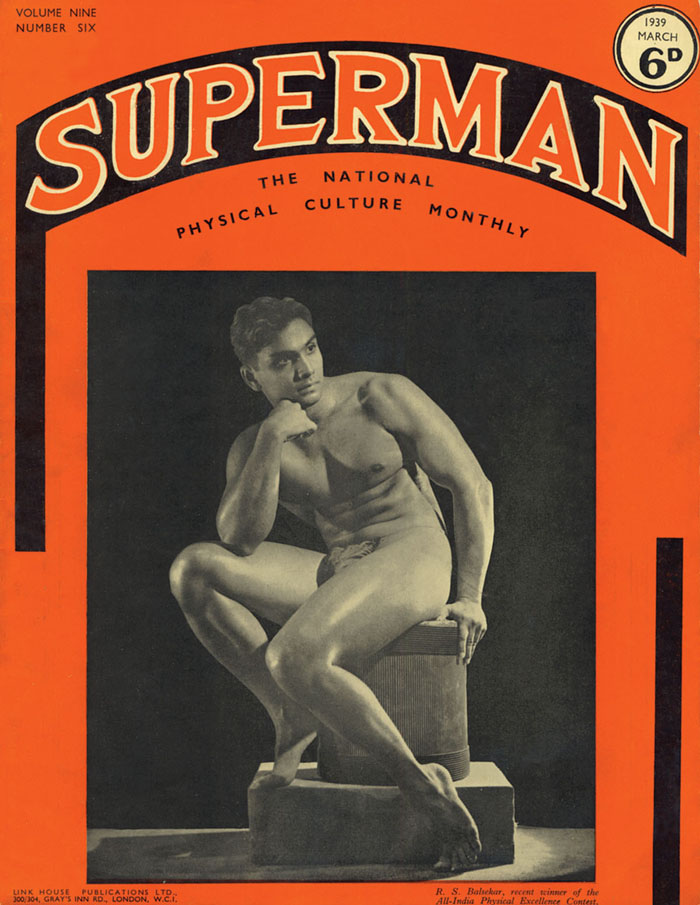 It would be hard to invent a more colorful character than Rafael Halpern (1924–2011), a prominent Israeli entrepreneur, an Orthodox rabbi, and a sometime politician. He was also an excellent bodybuilder and professional wrestler who fought extensively in North America and Europe. After retiring from the ring, Halpern opened several businesses in Israel and even invented a credit card that would not work on the Jewish Sabbath. French photographer Arax took this picture of Halpern in 1948; he was 24 that year, and Israel had just been born.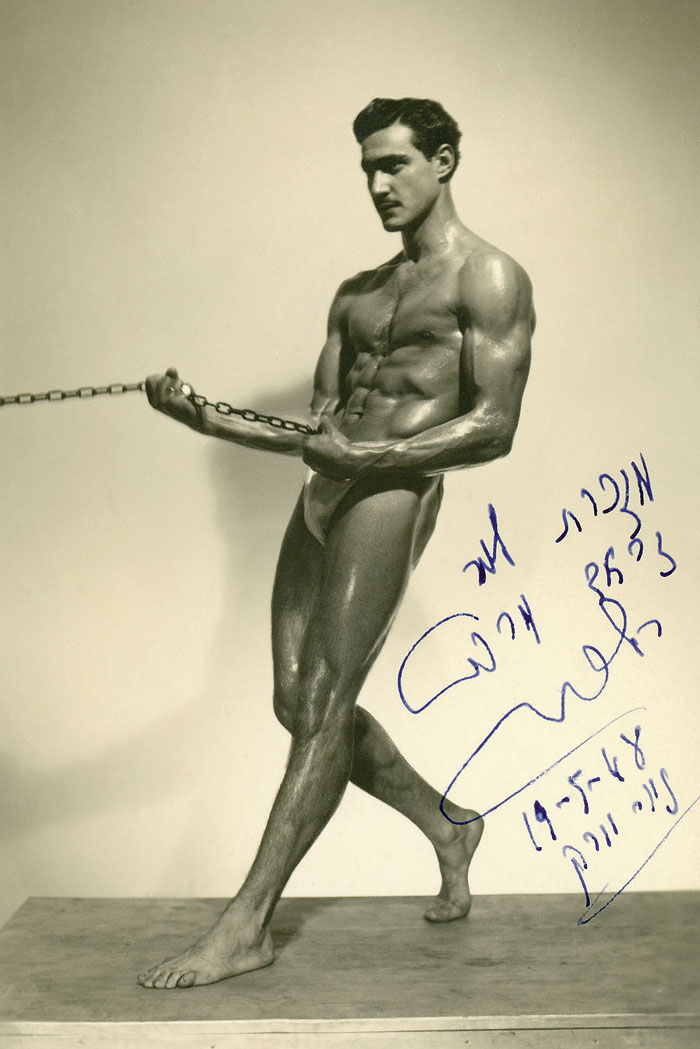 Karóll Studios of Havana was one of the pioneers of physique photography in Latin America. Karóll was Luis Cuento (1925?–79), who operated a photography studio in the 1940s and '50s that specialized in portraits of businessmen. The other side to his art was photographing muscular young men. Sources say that he was arrested shortly after the 1959 revolution because of the homo erotic nature of some of his photographs, but according to Cuento's relatives, he died in 1979 after a long struggle with Alzheimer's disease. Karóll's work has just recently been made known outside of Cuba. The photos above show him to have been a master of chiaroscuro lighting. Although the group shot is unidentified, it probably represents a pre-revolutionary weightlifting club.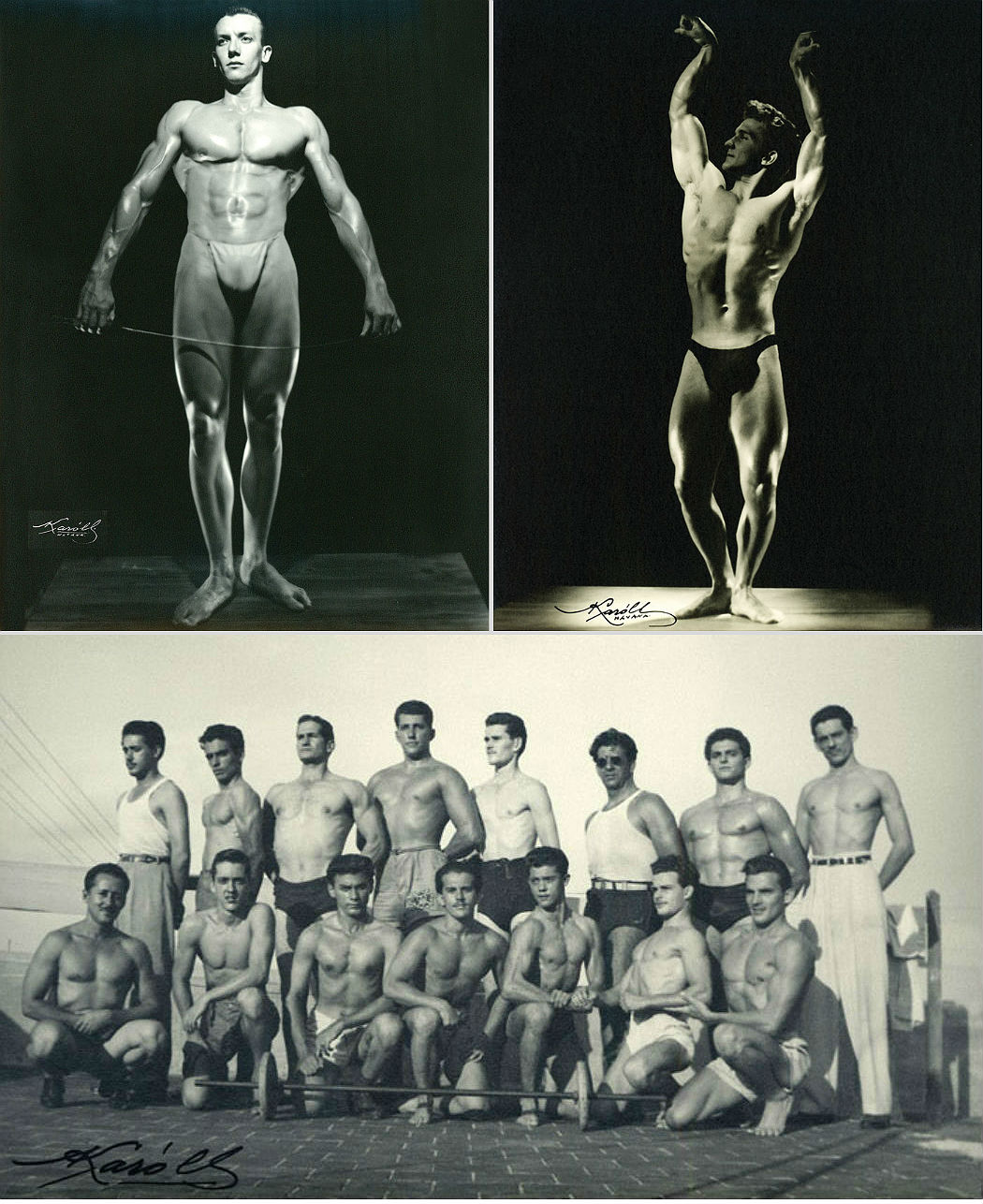 Fósforo Ferrero was a phosphorus dietary supplement that was supposed to make you smarter, livelier, and more pleasant. This postcard, sent from Argentina in 1955, encourages children to drink their Fósforo Ferrero so that they can become big athletes. The company that produced this compound was Spanish, but they advertised throughout the Hispanic world.