How Many People Have Enrolled in Obamacare?
Some of the state-run health benefit exchanges have enrolled impressive numbers, but a surprising number are still barely operational.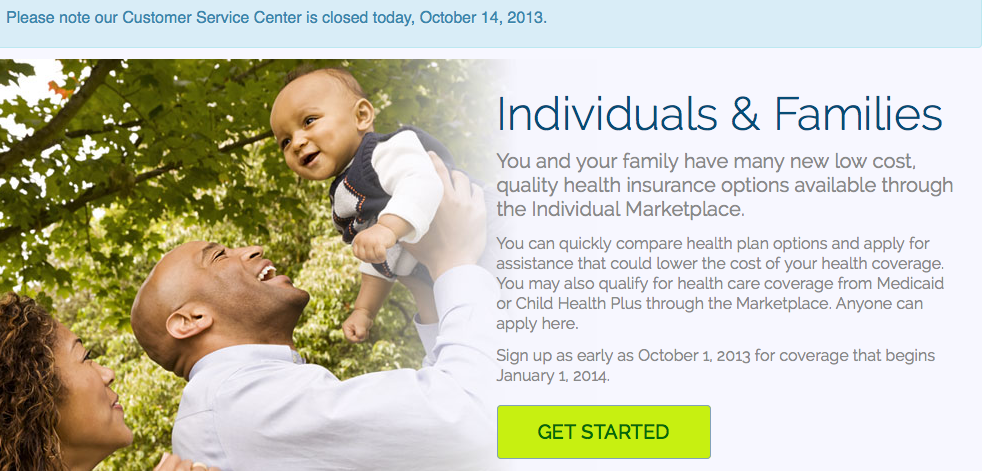 At least 115,000 people have completed applications through the state-based health insurance exchanges in the first two weeks of Obamacare enrollment, according to data made public by the states.
Because many of the states have released less than two full weeks of data, the true number of applications filed is likely higher. Still, even if all this enrollment were compressed into just one week, rather than spread out across two, the rate of enrollment so far is low enough that if you extrapolate it out it, the health-insurance exchanges would see only 2.76 million people enrolled at the end of the six month open-enrollment period. That number falls well short of the 7 million the administration has announced as its first-year enrollment goal and reflects the lack of enrollment reported through the federally-run exchanges, which cover 34 states, as well as troubles at the state exchanges.
That's right: Even as the disaster of Healthcare.gov has gotten a fair bit of attention, it turns out that a substantial fraction of the state-run exchanges also have been plagued by moderate to severe technical issues that have hampered enrollment. The verdict from trade publication MedCity News after the first day of state exchange enrollment was that six of the 16 state exchanges were failing. Two weeks after launch, several of the exchanges—including the ones serving Oregon, Vermont and Hawaii—remain hamstrung by technical problems, according to news coverage in the states.
The one bright spot in all of this is that these 115,000 people who have completed applications (though not necessarily picked and paid for a plan) collectively reside in less than a quarter of the states, while nearly 60 percent of the uninsured live in states that did not set up their own exchanges and have barely been able to enroll people. If that doesn't sound like a bright spot, think of it this way: The pace of enrollment is bound to go up as the problems with Healthcare.gov get worked out and more states—the other 75 percent, where most of the uninsured live—gain the technical capacity to enroll people. Enrollment also will likely increase as as the December 15 deadline for January 1 coverage approaches.
Meanwhile, in the small alternate universe of states where enrollment has not been thwarted by technical issues at the state or federal level, the data suggests what must be a welcome proof of concept for the exchanges. The demand is there and people are completing applications through the marketplaces at a solid clip where it's possible for them to do so.
---
State exchanges that have released numbers
* New York: "40,000 New Yorkers completed the full application process and were found eligible for health insurance plans allowing them to now choose the low-cost health care plans they applied for." NB: That does not mean they are now insured, or that all have chosen a plan.  —10/8, New York State of Health
* Washington: "Enrollments completed, total: 24,949" —10/14, Washington Health Benefit Exchange news release.
* Maryland: "Account-holders who have received eligibility determination, 10/1-10/10: 16,712." —10/11, Maryland Health Benefit Exchange.
* California: "16,300 applications had been completed." —10/11 The Associated Press
* Kentucky: "10,990 individuals are enrolled in new affordable health care coverage." —10/14, Kentucky.gov
* Connecticut: "Applications processed: 1,979." —10/11, Access Health CT
* Massachusetts:  "1,134 website visitors completed applications" through the Massachusetts Health Connector during its first week. —10/8, Boston Business Journal
* Washington, D.C.: "1,112 applications submitted."  —10/14, District of Columbia Health Benefit Exchange Authority
* Rhode Island: "580 people made it all the way through the process" at Health Source RI "in the first three days." —10/08, USA Today
* Colorado: Connect for Health Colorado "reports 226 enrollments in week 1 of operations, covering 305 people." —10/14, Brandon Rittiman of 9News.com in Denver
---
State exchanges with lingering technical issues
* Nevada: The Silver State Health Insurance Exchange and its state-built site, NevadaHealthLink.com, has had technical issues that have made it hard for people to enroll. That said, after the first week, "more than 2,000 people had submitted applications for available health plans" and  "more than 700 applicants had returned to the site to buy coverage," according to The Las Vegas Sun.
* Oregon: Cover Oregon is not yet fully operational online due to website bugs.
* Vermont: The state-built site, Vermont Health Connect, had some early loading issues, as well as ongoing bugs and glitches, according to the Burlington Free Press, that have forced a turn toward paper applications.
* Minnesota: The state's exchange, MNsure, won't release enrollment numbers until Oct. 16 because of technical issues that may have led to double-counting, according to the St. Paul Pioneer Press.
* Hawaii: The Hawaii Health Connector has had such serious issues that more than a week in it "hasn't been able to sell any insurance in Hawaii because of problems with the software at the heart of the marketplace," according to the Associated Press. Built by the same massive IT contractor as the federal exchange, the site is scheduled for an Oct. 15 relaunch, if everything goes according to plan.
* Idaho and New Mexico were setting up state-based exchanges but had to hand things over to the federal government to run at the last minute because they were so behind schedule. Thus they are effectively in the federal exchange system for the time being. As of October 14, the New Mexico Health Insurance Exchange was still reporting delays in being able to sign people up due to technical issues with the federal exchange site. So was Your Health Idaho, as of Oct. 11.