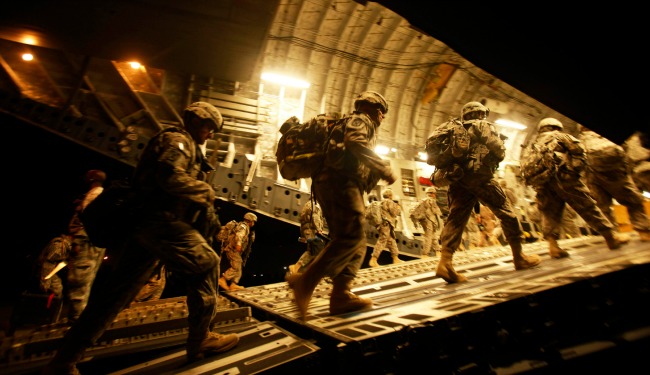 Even with a cane for support and braces on both knees from injuries while working on diesel engines in the Army, Tabitha Emo walks briskly, hurrying to an appointment at the James J. Peters Veterans Affairs Medical Center in the Bronx.
When she was a boy of six, Emo was already helping around her family dairy farm in western New York, about an hour south of Rochester, where the Allegheny Mountains cradle a town less than three square miles large.  Mending barbed-wire fences, flipping hay with the tractor, repairing machinery alongside her grandfather, she learned the family business. The work was fun—she didn't see it as masculine or feminine—and it prepared her for her later career as an Army mechanic. 
Now 37, Emo has lived as a woman for five years, though the stubble on her face and the depth of her voice never let her forget the male body she was assigned at birth. The Department of Veteran Affairs (VA) pays for Emo's mental health care and hormone therapy of estrogen patches and a testosterone blocker. But Emo has yet to complete her transition, because the VA does not provide for sex reassignment surgeries.
"I'm ready right now," she said of the surgeries, which can cost anywhere from $15,000 to more than $50,000, an amount she can't afford as an unemployed, disabled Army veteran living in a halfway house.
So she waits, and makes plans, hoarding pills. For Emo, it's a matter of which comes first, her full transition to a female body or her third suicide attempt.
***
The term "transgender" describes individuals whose internal sense of self as male or female, or gender identity, differs from the sex assigned to them at birth.  The term "transsexual" more specifically refers to those who are transitioning or have transitioned from one gender to the other. But these terms are not listed in the fifth edition of the Diagnostic and Statistical Manual of Mental Disorders (DSM-5), published in May 2013 by the American Psychiatric Association (APA).  The relevant diagnosis in DSM-5 is "gender dysphoria," revised from the previously-used "gender identity disorder."
"It makes an important point that identity is not what is disordered, but gender dysphoria is a set of treatable symptoms," said Dr. George Brown, the program director of health care outcomes at the VA in Washington, D.C. and professor of psychiatry at East Tennessee State University.
A diagnosis of gender dysphoria applies to individuals who identify with a gender other than their own, desire to transition to that anatomical sex, and experience distress or disability from the incongruence between their body and gender identity.
Transgender veterans can get transition-related health care at medical centers and outpatient clinics run by the VA: Hormone therapy, mental health care, routine health screenings, pre-operative evaluation, and post-operative care — everything but the actual operations.
In June 2011, the Veterans Health Administration (VHA) clarified VA policy on transgender health care with a four-page directive.  Although it didn't create any new benefits, the directive affirmed that transgender patients would receive all care included in the VA's medical benefits package, as do other veterans, without discrimination and "regardless of sex or sex reassignment status."  In February 2013, the VHA reiterated this directive and expanded the content to 13 pages.
"The goal of the directive is to ensure that we're all working toward the same goal, which is to provide high-quality care to transgender vets, including cross-sex hormones, psychological evaluation, and post-surgical recovery," said Dr. Jillian Shipherd, who helped draft the directive and is co-coordinator of lesbian, gay, bisexual, and transgender program for patient care services for the VA. 
The directive states, "VA does not provide sex reassignment surgery or plastic reconstructive surgery for strictly cosmetic purposes." It cites federal regulations that say medical benefits for veterans do not include "gender alterations" but does not explicitly define sex reassignment surgery as "cosmetic."
This policy functions as an absolute ban. The Department of Health and Human Services has also banned Medicare and Medicaid coverage for sex reassignment surgery in a determination that came into force in 1981 and has not been reviewed in the 32 years since, though a recent administrative challenge calls it outdated and discriminatory.
Despite the unavailability of surgery, transgender veterans have access to more care today than was available in the past.
"I first started with the VA in my transitioning, or attempted to, back in 2007 when I was still living upstate," Emo said.  "And at that time, the VA employee was telling me that transgender veterans could not get health care unless they had already transitioned and gotten the surgery."
But Emo needed hormones and psychotherapy before getting any surgery, as set out in the World Professional Association for Transgender Health's (WPATH) "Standards of Care for the Health of Transsexual, Transgender, and Gender-Nonconforming People." Headquartered in Minneapolis, WPATH is widely recognized as a leading organization for understanding and treating gender identity disorders.  WPATH's Standards of Care promote gradual transition, progressing slowly from fully reversible steps (estrogen or testosterone suppression), to partially reversible (feminizing or masculinizing hormone therapy), and then irreversible (surgical procedures).
During her service, Emo came out only on weekends, away from the military base, so she could dress up, put on makeup, and feel comfortable with people she had met online. Once she almost got caught by her sergeant when she returned to base with traces of makeup on her face; she made up a lie about playing a game.
The clothes make her feel feminine, she said, but it's not enough. "Until I can get rid of the male genitalia, until I can get some semblance of real breasts, until I can afford laser hair removal, I think I'm going to continue wondering or believing that people keep seeing me as male," she said, "and I don't like that."
WPATH's 2011 Standards of Care say that, based on current science and professional consensus, "sex reassignment surgery is effective and medically necessary" to treat gender dysphoria.
Left untreated, gender dysphoria can lead to psychological distress, dysfunction, and depression, according to the American Medical Association (AMA). And efforts to cope can further endanger a person's health, if he or she engages in substance abuse or self-mutilation, comes down with stress-related physical illnesses, or even attempts suicide.
Emo, too, has tried to harm herself.  She'd abuse her genitalia, hitting, punching, clamping down on it to stop the flow of urine by force, until she bled.  After her military service and a marriage she describes as a "sham" — "Military and marriage, the two Ms, are like the two last ditch efforts at masculinity," she said— Emo was incarcerated for more than 10 years in prisons for men, for a rape she claims she did not commit.  While there, she was attacked numerous times.  When it got to be too much, she swallowed an array of pills, whatever she had been able to procure from other inmates.  She became violently ill and vomited, her first attempt at suicide unsuccessful.  She was 26.
Then one day, she decided that, as dire as her circumstances were, "I'm going to live like I fucking want to, and they can kiss my ass."  She was tired of worrying, being anxious, being scared.  She let her hair grow and took to wearing pink women's sneakers with pink sweatpants. Later, during her stint in another prison, she found inspiration and a friend in Lisa Tyrrell, another male-to-female transgender inmate who had also served in the military.
And at age 32, still in prison, Emo started her own hormone therapy, buying the hormones from another transgender inmate. She started using her female name and worked with the Silvia Rivera Law Project in Manhattan to make it legal. After completing her sentence in August 2011, she moved to New York, hoping there to align her body with how she felt inside.
Not long after, in February 2012, Emo attended a support group in Manhattan for survivors of domestic violence. The group did a simple exercise: Fill both sides of a sheet of construction paper with pictures or words cut out from magazines, one side with what they saw in themselves, the other with what they thought others saw in them. Emo started getting depressed.
"The thing I remember is just having this belief that nobody's ever going to see me as the person I want to be, because I wasn't born that way." she said. "I'm always going to be perceived as male."
She was hospitalized that night.  Then, a few months later, almost a year into her new life in New York, she attempted suicide for the second time.
"I decided I was done with everything," she said.  "I took all my medications out of my bag … dumped a big pile on my desk, grabbed a jug of water out of my locker, and three handfuls, just shoved all the pills in my mouth and swallowed them all."
Then she lay down on the bed and started smashing her fist into the side of her head, trying to knock herself out.  The noise alerted others in the shelter, but Emo had locked the door to her cubicle.  As the noise continued, people climbed over the partitions to get into her room.
Two girls came over the wall and dragged Emo off the bed.  She started slamming her head into the metal bed frame, the wall, anything she could reach to cause damage. She hit her head against the floor until they managed to wedge a pillow under her head.
When she woke up a few days later at the Elmhurst Hospital in Queens, she was angry that they had saved her, angry that she was hooked up to an EKG and a heart monitor, angry that she had an IV in her arm and a catheter in her urethra.
When Tyrrell couldn't reach Emo by phone, she called around to all the hospitals in New York until she located her.
"It hurts me when she does things like that," Tyrrell said.  "It makes me feel bad.  It makes me feel like I'm not doing everything I can to help her."
At 51, Tyrrell would still welcome transitioning to female, but complications abound. She has a wife and three small children, is unemployed and looking for work, and has only recently begun her VA paperwork to start feminizing hormones and psychotherapy.
Her own countless attempts at suicide usually involved getting behind the wheel of a vehicle while intoxicated.  But each time, she survived, so she said she figured there must be a reason for that, in spite of everything.
"Sometimes, I feel no one wants me around," she said.  "Not loved, not wanted … and the best way to do myself in was at the bottom of a bottle."
Among transgender individuals, the attempted suicide rate is 41 percent, compared to 1.6 percent in the general population.  Of the attempts, 30 percent succeed.  No group has a higher suicide rate.
***
The AMA has noted that transgender health care involves services usually covered for other diagnoses, like mastectomy, breast reconstruction, hysterectomy, and other reconstructive surgeries.  According to the AMA, denying otherwise covered benefits "represents discrimination based solely on a patient's gender identity." 
In recent years, the health insurance industry has moved toward providing sex reassignment surgery. States like California and Oregon already provide their state employees with insurance coverage for sex-change surgeries, and California, Oregon, and Colorado also require private insurance companies to provide the full spectrum of transgender health care where medically indicated. What's more, insurance carriers such as Aetna, Cigna, and Humana have started to offer transgender-inclusive coverage, sometimes just select procedures, sometimes a full range of services including surgery. 
But coverage is far from universal. According to the Human Rights Campaign Foundation, a civil rights organization based in Washington, D.C., the majority of insurance carriers still categorically exclude all or most transgender health services. 
"Some people are concerned that including sex reassignment surgery for insurance coverage is going to greatly inflate everyone's rates, but it's so rare that it's going to have a negligible impact," said Dr. William Byne, a clinician at the James J. Peters VA Medical Center.
Byne has worked with transgender veterans since 2011 and with LGBT individuals for about 20 years. He sees the Patient Protection and Affordable Care Act of 2010— with its mandate of LGBT-inclusive health care— as setting the groundwork for reducing health care disparities and barriers to care in underserved populations. 
"I think we're entering into a new era for LGBT health," Byne said.  "It's either an era, or it's a window … a window of opportunity."
***
Two years after arriving in New York, Emo is no closer to getting surgery.  She is waiting to move out of the halfway house into independent housing.  She plans to save as much as possible from her social security income of $787 per month. Emo is also waiting for her disability benefits to start, for knee, back, and hearing problems that developed during her military service.  She would save what she could from that as well for her surgery fund.
On a Wednesday in August, Emo got up, dressed, and grabbed two full pill dispensers, the kind with each day of the week. She had been stockpiling her antidepressants and her testosterone blocker, which is also used to treat high blood pressure. She figured she could use them to dilate her blood vessels and make her blood pressure drop.
"That was the plan," she says.  "They were my means of killing myself."
It would have been her third suicide attempt.  Instead, she carried the pills around all day in her backpack, as she went from one appointment to the next at the Bronx VA.  In the afternoon, she walked into her psychologist's office, took the pill dispensers out of her backpack, set them down on the desk, and said, "I come bearing gifts for you."  
We want to hear what you think about this article. Submit a letter to the editor or write to letters@theatlantic.com.
Andie Shim
is a journalist based in New York City.