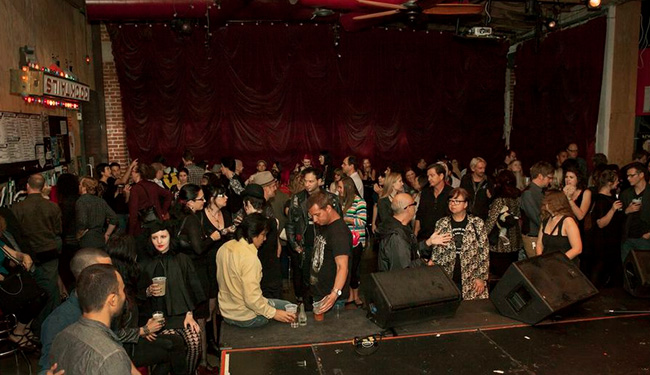 Last Friday night, onstage at a Los Angeles venue known for featuring indie bands, a goateed historian in a vintage purple corduroy suit and silver silk shirt beguiled a room packed with artists, writers, scholars, morticians, and other curious observers, with his research into bejeweled skeletons from the Roman Catacombs.
The topic of the night was death, but not in a horror-filled, Halloweeny way. The gathering drew an intellectually hip and increasingly death-conscious crowd of mostly 20 and 30-somethings, who had waited in a long line outside of the Bootleg Theater to get in. They sipped bottles of La Fin Du Monde and plastic cups of Populist beer from the Eagle Rock Brewery, and perused copies of the Lapham's Quarterly death issue between cabaret acts, which included a soulful shaggy-haired death gospel singer, a writer of death and obscure history, and a funeral director.  
The weekend-long Death Salon also featured presentations on decomposable garments for the grave, discussions on feminism and the funeral industry, and a Saturday night death soiree in Silverlake with "funerary treats," like cupcakes topped with edible tombstones. The event was part of a recent surge of people trying to demystify death through social and educational gatherings, one that is spreading across the U.S. and beyond with death dinners, death cafes (talking death over tea and cake), and waitlisted death-related classes on college campuses.