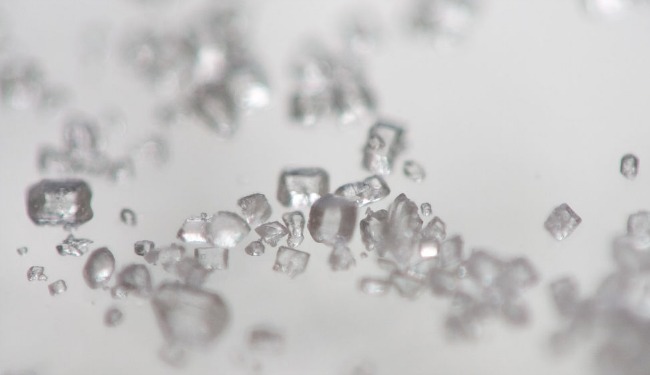 If you start with this:
Obesity (2009)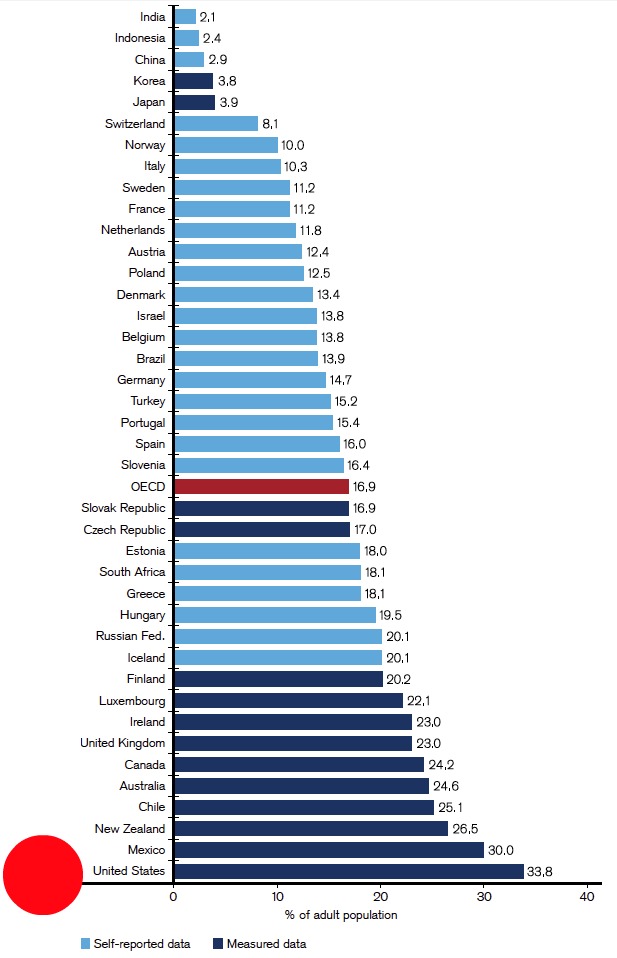 ... And pair with this: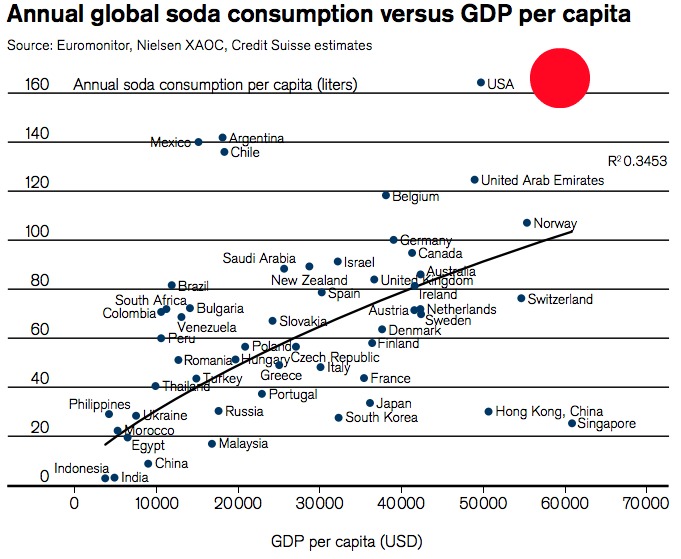 ... Charts like these paint a correlation that seems to be changing the world. Mexico, for example, is second in the world in adult obesity, first in type II diabetes (the leading cause of death in the country), and fourth in infant obesity. It's also second in added sugar consumption per person, and second in soft drinks consumed per person.
These illustrations come from a report out this month from the Zurich-based Credit Suisse Research Institute, titled "Sugar Consumption at a Crossroads." In it, researchers start with the basics of nutrition science and question common understanding along the way, and propose their most rational solution. 
By 2020, they write, the annual cost of obesity to the healthcare system globally is projected to reach $700 billion. The obesity epidemic and associated problems (heart disease, diabetes) result in costs that resonate across industries. That gets the attention of financial institutions, and the result is a look at the role of sugar in various forms in the obesity and diabetes epidemics from this international bank. The researchers break down science and policy from, as best I can tell, the vantage of economists just trying to understand what the science means for markets. The report is full of digestible assertions on contested/misunderstood topics, like:
Fructose and glucose are essentially same.

Fructose, also called fruit sugar, is one of three monosaccharides (along with glucose and galactose) that are absorbed during digestion. Fructose is mainly ingested in one of two forms, either sucrose (table sugar) or high-fructose corn syrup (also called high-fructose maize syrup, glucose fructose syrup or glucose/fructose).

Sucrose consists of equal parts fructose and glucose. High-fructose corn syrup (HFCS), on the other hand, usually has 55 percent fructose and 42 percent glucose (in HFCS 55) or 42 percent fructose and 53 percent glucose (in HFCS 42).

HFCS does have some important commercial advantages over table sugar, and is considerably cheaper, meaning it is now regularly used as the main sweetener in beverages. The temporal relationship between an increase in HFCS consumption (especially in sweetened beverages) and the increase in obesity has also elevated the focus on the potentially unique role that fructose may play in weight gain.

There have been a number of studies looking for differences in how the body metabolizes fructose compared to glucose. Unfortunately, many have been very short-term or carried out at levels much higher than the concentrations at which either nutrient is typically ingested. In addition, it is rare for either substance to be consumed in isolation in the human diet.

Our review of the latest literature and our conversations with experts in the field lead us to believe that, in general, the biological impact of fructose is essentially identical to that of glucose at the concentrations at which these nutrients are generally consumed. The American Medical Association has weighed in on the debate and concluded that it does not believe there to be any difference between HFCS and sucrose when it comes to causing or aggravating conditions such as obesity or diabetes type II.
Expert statements on this vary. Part of that may be due to lack of training in nutrition, despite its clear role in these massive epidemics. The report includes a survey of physicians in the U.S., Europe, and Asia: