Suicide and the Economy
"We never spoke of them. Why would we?" Learning the the truth about my great-grandfather, and 40,000 Americans during the Great Depression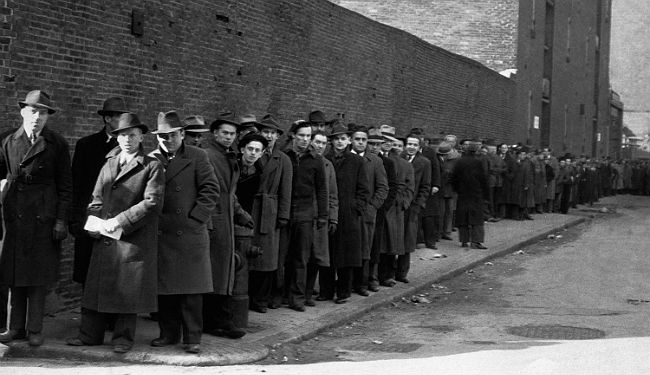 On April 12, 1937, the express train to New York roared across the New Jersey countryside. The train, a Pennsy Railroad electric locomotive the color of bull's blood, usually passed through the station at Elizabeth at about 50 miles per hour. On this particular morning, it came to an unanticipated stop. As the express rounded the curve, my great-grandfather jumped down from the platform, where witnesses reported he had been pacing for 10 minutes, and lay down across the tracks.
When the engineer was finally able to halt the train 100 feet past the platform, Roy Humphrey had disappeared beneath its wheels. His last act: raising his head to look at the oncoming train.
Roy was one of at least 40,000 Americans who took their own lives that year and the next, the two-year span that suicide rate spiked to its highest recorded level ever: more than 150 per 1 million annually. They are forgotten people, mostly men, and mostly brushed out of existence by a generation preoccupied by World War II and the post-war boom. Three-quarters of a century after Roy's death, I sat across from an old family friend, a woman in her 90s, who was eager to share stories of that monumental past – except when it came to my great-grandfather. When I finally asked her point blank if she had known him, her blue eyes focused.
"He killed himself, didn't he?" she asked, but it was more of a statement than a question. "Every family had a story like that. We never spoke of them. Why would we?"
My family had not only refused to speak of Roy, they rewrote the story of his death. Within hours, they closed ranks. A second cousin, a local policeman, told the newspaper Roy was subject to fainting spells. His mother said he died of a heart attack in a parking garage; according to another family story, he'd fallen in front of a train. Eventually, the lie became the truth. I flipped through the journals his mother wrote in 1950s. She mentioned Roy once, when a passerby reminded her of him. Then she went back later and whited out his name.
I didn't grow up knowing that Roy had killed himself, but I knew a shroud of mystery surrounded him. In 2008, just as the nation slipped into the Great Recession, the inconsistencies in the family story sent me in search of my great-grandfather.
I was working part-time at home and taking care of my two girls, 2 and 6. That part-time work turned out to be vulnerable in the economic collapse: My job was cut back. I had time on my hands. On a rainy Sunday in late September, I ignored the headlines about Lehman Bros. and looked up Roy's name in the New York Times archives, instead.
ENDS LIFE UNDER TRAIN

Former Lawyer and Customs Inspector Lies Down on Track

Elizabeth, N.J., April 12.

Roy L. Humphrey, 41 years old, a former Washington, D.C., lawyer and for the last five years an inspector in the United States Customs Service, stationed at the Barge Office in Manhattan, was killed instantly when struck by a Philadelphia-New York express train at the Pennsylvania Railroad station here today. The accident delayed service on the east-bound tracks for about ten minutes.

Witnesses, according to police, said Mr. Humphrey stepped from the station platform and lay down on the tracks as the express approached the depot.

The victim was born in Washington and attended Georgetown University. He was a graduate of the National Law School in Washington and practiced in that city for some time. Surviving are his mother, Mrs. Katherine K. Humphrey, his widow, Mrs. Frances Humphrey, and a daughter, Nancy T. Humphrey.
I attached the clipping to an email I sent to Roy's grandchildren and great-grandchildren, 13 people in all. What kind of anger could lead to an act by which he had forced someone else – the train engineer – to be complicit in his death?
As I began to look deeper into the story, I carried a couple of assumptions with me. First, I assumed there were likely to have been previous suicide attempts. Second, that Roy's suicide was linked to the economy. Neither assumption is correct enough, as I learned by talking to Alan Berman, the executive director of the American Association of Suicidology. People see being suicidal as a long-term state of mind, but most people who survive a suicide attempt do not later die by suicide. Being suicidal is better understood not as a permanent state but as an acute mental crisis. In the cases of public suicides the people committing the act are probably in the grip of magical thinking.
"They think, 'I will get attention in a world where I am feeling not attended'. What becomes magical is that they are dead; they will never feel attended," Berman said.
An article I read brought this point home. The handful of people who survived the leap from the Golden Gate Bridge told interviewers that as soon as their feet left the bridge, they regretted the act.
My second assumption, that "the economy," had somehow triggered Roy's act, was not specific or concrete enough. When it comes to understanding suicide (or maybe anything), specificity is important. "If we can figure out that which five or six pathways lead to suicide, we can interrupt the pathway," explained Berman.
Detailed studies of individual cases, or "psychological autopsies," might help researchers draw conclusions about causes, but autopsies have not been done in large enough volume. So correlations are the best we can do, but they need to be as specific as possible. Suicide is not strongly correlated to the economy, but to unemployment. In the modern era, for every 1 percent increase in the unemployment rate, there has typically been an increase of about 1 percent in the number of suicides, according to Steve Stack, a professor at Wayne State University.
Men still, more than women, define their self-worth by how much money they make and their occupations. That partly goes to explain why the suicide rate is three times higher among men than women.
"Failure in the primary adult male role (economic success) is more visible and obvious than failure in the primary adult female role, which is diffuse (success in relationships). Males are more likely to feel like failures in their primary role and therefore are more likely to suicide," Stack noted in a paper he wrote in 2000.
Before the Great Depression, my great-grandfather was on an upward trajectory. After Georgetown, he served in World War I on the Black Hawk, which laid mines in the North Sea. He married, earned a law degree, and went to work as an attorney in the D.C. courts. He and his wife, one of the first credentialed nutritionists, had one daughter, my grandmother.
In 1929 that upwardly mobile life came crashing down. He first lost his legal practice, and then his marriage. My great-grandmother went to live in a series of boarding houses, Roy moved back in with his mother, and my grandmother was sent to live with an aunt and uncle in Elizabeth.
By this point, I'd gone way too far not to keep going. I tacked a trip to Elizabeth on to my business travel to New York, and Aunt Laurie, the youngest of Roy's three grandchildren, agreed to come.
I figured the local newspaper would have covered the suicide in more detail than the Times, so one of our first stops was the library built in Andrew Carnegie in the early 1900s to serve those who were "industrious and ambitious; not those who need everything done for them, but those who, being most anxious and able to help themselves, deserve and will be benefited by help from others."
We opened the cracked glass doors of his grand structure to an unkempt lobby. Instead of the heavy wooden card catalogs that must have ruled the rooms 100 years ago, two- or three generations-old computers sat on folding tables. In Periodicals and Local History, the woman behind the desk looked up reluctantly from the National Enquirer's cover story on Farrah Fawcett's death: "Angel Gone."
"We're looking for the archives of the Journal," I said, naming the local newspaper.
"You can look," she said. "But you won't find much, unless you have the date."
"It's not indexed?"
"No, not much," she said, smiling widely.
"Luckily, we have the date," I said.
She shuffled across the room in big green Crocs to unlock the room where the microfilm boxes were kept. We had to feed the loops five or 10 inches at a time, until I neared April 12, 1937.
"Oh my God, there it is," Aunt Laurie said.
Dies Under Train In View of Crowd

Before a horrified group of passengers standing on the platform, a man about 60 years old, identified from papers found in his clothing as Roy L. Humphrey, of 238 Stiles Street, courted and met instant death when he laid down in front of a Philadelphia-New York express train.
The body was identified at the morgue, where police found a letter in his pockets, dated April 4, resigning from the customs service, and another dated April 8, asking to be reinstated.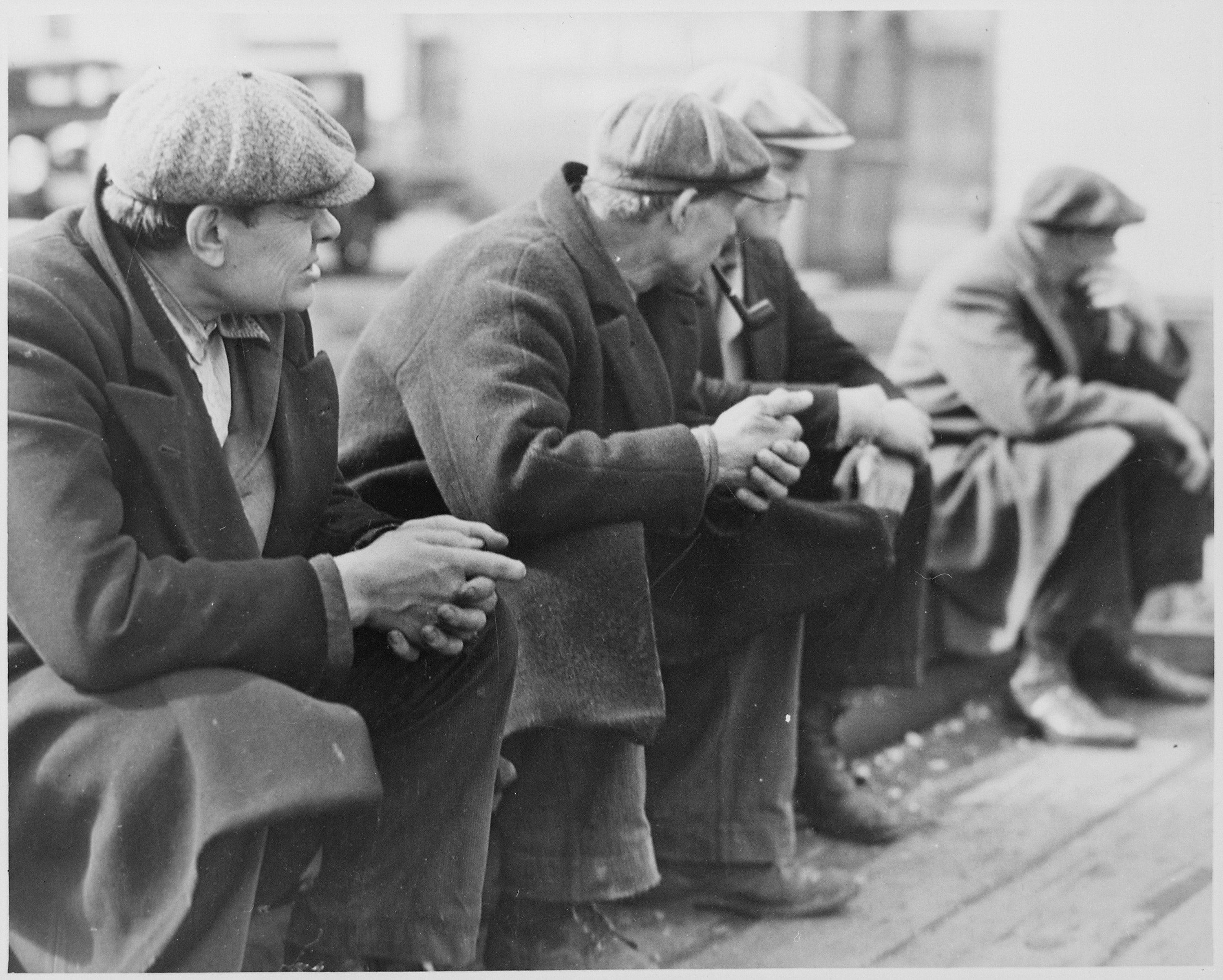 The letters made me wonder about his job – which was a particularly terrible one, I discovered when I called a customs historian. When the historian heard that he had committed suicide – I was conscious even as I spoke that "committed" implies a crime – she said, "I'm so sorry." The sympathy was for the stigma the act still carried, even 75 years later.
She told me how much of a comedown the job of customs inspector must have been for a lawyer. Inspectors in the New York harbor climbed swinging rope ladders up European ships, at all times and in all weather. Below decks were packed with animals. The fumes of dead or dying beasts killed some inspectors; others died in falls into polluted water.
Roy had only reluctantly taken the position: He had first been turned down for his hostility, "on account of his drinking, temperament, officiousness, antagonism and tactlessness," paperwork I requested from the federal employees warehouse revealed.
After six months of sobriety Roy applied again, and was accepted. He did the job for five years before he lay down in front of the train.
I imagined the slow descent of his pride, as I sat in an old coffee shop in Greenwich Village, on the street where he lived before he moved to New Jersey. He had ordered coffee here, I felt sure. He looked at the paintings, looked at the statues, looked through these window panes. They were now so old the slow-motion liquidity showed.
I had gone to the train station in Elizabeth. I imagined Roy's feet in formal black shoes and wondered if the sky that day had been the heartbreaking, beautiful cerulean that it sometimes is in early April.
Stigmas, of course, only have the power we give them. The stigma of unemployment helped send Roy and thousands of other forgotten men to their deaths – and still has an effect today. The suicide rates have spiked again following the onset of the Great Recession, rising to 124 per million in 2010 from 115 per million in 2007. The stigma of suicide is in effect, too: Some of those people will be forgotten.The salad came with two perfect black olives placed at the corner. I ate them at carefully regulated times, one when the plate was half empty and one when it was clean except for a slight sheen of oil. I thought, if only he had been able to see beyond that particular day; if only he could have seen that tomorrow would be a different day, perhaps his feet might have stayed on the platform instead of leaving it for the rail bed. Then my grandmother would have finished growing up with a father.
"For some people, that's the best they can do: Live in denial," said Judy Tunkle, a Baltimore-based therapist known for her work with survivors of suicide. "They just kind of leave the death of their loved one behind. It's heartbreaking."
The stigma of suicide changed the way my family communicated about and remembered Roy. Three women accompanied his body to Arlington for burial: his mother, his ex-wife and his daughter. As far as I knew, none of the three ever spoke of that trip or the circumstances of his death.
Tunkle said she finds people who deal with survivors' guilt are those who learn to speak about the loss, gradually refining their narratives to include actions they took to help the person before he or she died. "I tell people the guilt is something they're responsible for. The shame is something they're living with."
A family that communicates none of the loss damages probably itself, Tunkle said – which made me wonder, of course, what would have been different in my family had Roy not been brushed away. Gram, his mother, became a caregiver for the next generation of children, though the whiteout in her journal hints across the years at her guilt. Frances, his wife, continued her career, working as a nutritionist for a boy's school in Baltimore. She fell in love with a married dean at American University and had an affair that lasted for 20 years. My grandmother married a soldier, raised three children and worked for the federal government. She always hated graveyards and never visited graves, which may explain why, when I found Roy's grave at Arlington, I found the tombstone misspelled.
I called the cemetery to ask them to change it, expecting it would take months. After Aunt Laurie sent evidence of the correct spelling, the stone was corrected within a few weeks.
Not long ago, I asked my cousin if he wanted to see the new stone. He is a geologist at the University of Maryland. We are two of Roy's descendants, a scientist and a writer, each in our own way devoted to the idea that the more we understand, the less we fear. The record stood corrected in a reassuringly solid and concrete way, with a recollection not of Roy's death but of his life. Etched in marble, the words read: In Memory of Roy Lanier Humphrey, World War I.