Study: A Way to Get Over Fear, While Sleeping
Subjects who underwent exposure therapy while asleep showed reduced fear responses both while sleeping and after waking.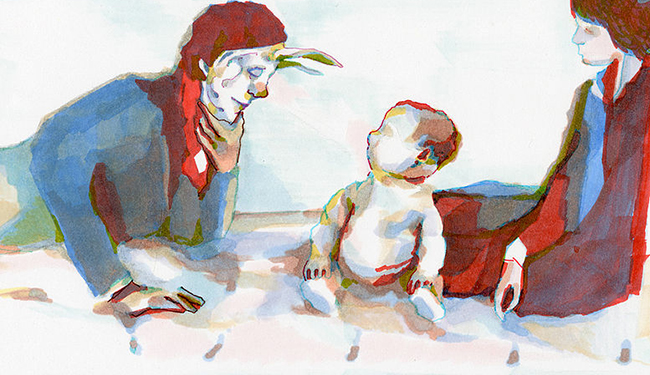 Problem: The general condition of fear, I guess, is the problem. Or, rather, irrational fear, since it is logical and handy to be afraid of things that are actually dangerous. A proven method of getting rid of irrational fears like, say, clowns, or spiders, is exposure therapy. The more you face your fear, the less it will scare you. But exposure therapy is unpleasant, for obvious reasons, and a new study published in Nature Neuroscience looks at whether it can be done successfully while the subject is asleep.
Methodology: The researchers had to first create fear before they could get rid of it. They used some classic conditioning moves, pairing small electric shocks with images of faces and distinct smells, causing subjects to sweat and grow anxious when they saw certain pictures or smelled certain smells, in anticipation of the shock.
Then they gently wafted the offending smells into subjects' nostrils while they were napping, specifically waiting for them to enter slow-wave sleep, the stage of sleep during which the brain replays recent memories. Researchers then tested subjects' reactions both while they were sleeping and after they woke up.
Results: Subjects initially started sweating in their sleep when they smelled the odor related to the shock, but as they continued to smell it over time, their responses lessened. The reduced response carried over to their waking lives as well. An MRI showed that subjects' brains were reacting less strongly to the faces and odors than they had prior to the sleep exposure.
Implications: A control group, which received exposure therapy while awake and watching a documentary, did not show reduced fear the way the nappers did, which suggests that there's something about sleep, specifically, that lets researchers target and ameliorate fearful memories. But this finding is limited, of course, to very recent memories. It's unclear if something similar would work for long-held fears linked to memories from farther in the past.
---
The study, Stimulus-specific enhancement of fear extinction during slow-wave sleep, appeared in Nature Neuroscience.