How Male Power Spreads HIV
The roles of gender and stigma in the epidemic in the Mexican state of Chiapas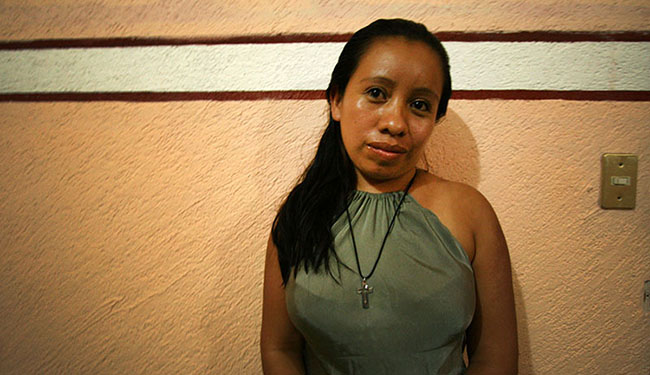 In a bright pink tank top, a black skirt, and three-inch heels, Sandra Villarreal Martinez walked confidently to the front of a small group of women, ages 38 to 55, sitting in plastic chairs on a cement patio. They are all HIV positive.
She offered them a big smile as beads of sweat accumulated on her forehead. "I'm here to talk to you about condoms," she said, holding a small package into the air. "How many of you have used one of these before?" she asked. Some women fanned themselves with their notebooks, gazing into the distance. Some looked to the others for consolation, visibly uncomfortable. Finally, María stuck a lonely hand into the air. "Great," said Sandra. "And do any of you know how to open a condom?"
The group was silent. From the back corner, the sole male attendee stood up. "I can show you how." The women giggled. "First off, no teeth and no scissors," he said, taking the condom out of Sandra's hand. "And remember to check the expiration date." He tore the package open and pulled the condom into the Chiapas sunshine.
It was 10 a.m. on a Tuesday in La Reforma, a small refinery town in the northeastern corner of Chiapas, the southernmost state in Mexico.
The workshop marked the first time that women living with HIV in La Reforma had ever met or spoke openly about their condition. Over the next hour, each of the five women in attendance told her story. Tears came easy as they described the moment they received their diagnosis, the children and grandchildren who brought meaning to their lives, and the fears that continued to haunt their thoughts. All the stories had one common thread: each of the women at the workshop got HIV from their long-term partners, most of them from their husbands.
The unfortunate reality is that for women living in rural Mexico, marital sex represents the single greatest risk for HIV infection. The state of Chiapas is no exception. Gender inequality is high and economic opportunities available to women in the state are low. Compounding this reality are the stigma and social norms that have prevented effective sexual education campaigns. For married women in Chiapas, abstinence is nearly impossible and condoms are difficult to introduce into relationships where the power balance is stacked against them. In short, men don't want to wear condoms and women, economically and culturally dependent on their husbands, can't afford to lose them. For each of the five women in the workshop, the cost was HIV.
"Machismo is deadly," said Adela Bonilla, 61, the director of Nuevos Códices Compatía A.C., an organization that works statewide to empower women living with the virus. As she talked, she handily swerved her car around large sections of the gravel road to La Reforma that had been washed away by recent rains. The town lies six hours to the northeast of San Cristóbal de las Casas, a colonial city in the central highlands, popular among tourists. Her right mirror dangled by a few strips of duct tape. To the left, tall limestone walls cast long shadows over the road that, to our right, quickly fell away into dark canyons. Over the next two days, together with Sandra, a local organizer, Adela would hold two HIV workshops in La Reforma and Pichucalco.
Adela shook her head as she drove. "The fact is, most women are extremely embarrassed about the fact that they are living with HIV," she said. "They have been rejected by society and live behind a smoke screen. But in the end, they did nothing wrong."
The state of Chiapas is the poorest in Mexico. It is home to a highly indigenous, dispersed, and rural population. In 2012, 75 percent of residents lived in poverty. The state also trails the nation in several indicators of public health. For every 100,000 residents, Chiapas has a mere 93 doctors and 45 hospital beds, the lowest rates in Mexico. The lack of medical infrastructure in the state has particularly affected women, leading to high rates of maternal death and the spread of infectious disease, such as HIV.
The first case of HIV in Mexico was recorded in the year 1983, two years after the United States recorded its first instance of the virus. In 2012, 0.3 percent of the total Mexican population was living with HIV as compared to 0.6 percent in the U.S. In Mexico, as in the U.S., the epidemic is concentrated among men, who represent 82 percent of the documented cases in the republic. Nationwide, 54 percent of all HIV cases were transmitted through homosexual or bisexual behavior. By comparison, 61 percent of all new HIV cases in the U.S. are among gay and bisexual men.
But in rural Chiapas, HIV has a different face. Last year it was estimated that 60 percent of all cases in the state were contracted through heterosexual activity. Nationwide, women represent 18 percent of HIV cases. In Chiapas, that number jumps to 27 percent.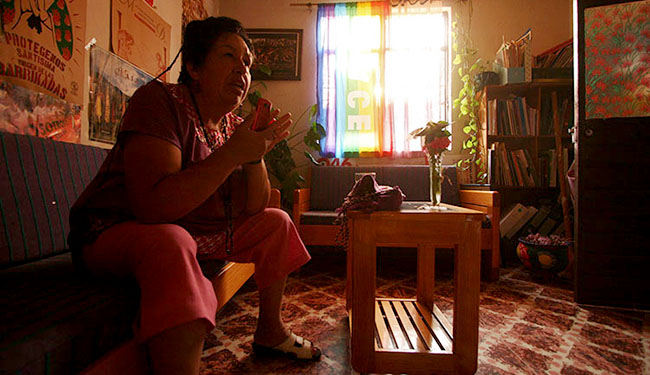 "AIDS has completely changed the way we think about love, fidelity, and marriage," said Martha Figueroa Mier, director of the San Cristóbal Women's Collective. The collective has been operating for 24 years, primarily on cases of domestic abuse and rape. "Whatever problem women have," she said, "when they come to us our advice is a) file a police report, but only if you want to, and b) definitely take an HIV test."
In the words of Jennifer Hirsch, professor of sociomedical sciences at Colombia University, in rural Mexico "women are infected by the very people with whom they are supposed to be having sex—indeed, according to social convention in Mexico, the only people with whom they are ever supposed to have sex." Male infidelity in Mexico does not represent any sort of major social transgression, a statement that is not true for women. Gender ideologies have created relationships of power where decisions about the female body, such as whether or not to use a condom, are commonly in the hands of men. It is a patriarchal set of norms, beliefs, and actions that make women particularly vulnerable to infection.
"In this state, men get as many women as they want," Sandra said. "They are the ones who make money, have a car, and can pay for sex outside of the relationship." It is a simple statement that Sandra knows to be true. As a young woman, she found herself on the other end of this equation.
At the age of 18, Sandra was picked up off the streets of Pichucalco. She was approached in the early morning by a man who promised her a job in his restaurant in the nearby town of Juarez. Uneducated, unemployed, and without many prospects before her, Sandra agreed. For the next three years, the man held her captive and prostituted her against her will to up to 30 men a day. They each paid her boss $20 to $30; she occasionally received $4 or $5.
At some point, Sandra realized that she was also being drugged. Large portions of the day were missing. She tried several times to escape, each attempt more desperate than the last. The clients rarely used protection, a decision that was always out of Sandra's hands. When she was 21, she got pregnant. In a decision that she still believes was the worst in her life, she aborted. Shortly thereafter, a couple that cooked and did finances for the boss helped her escape. Traumatic as it was, it was not at the brothel that Sandra contracted HIV. Back in Pichucalco, months after escaping, her new boyfriend knowingly infected her with HIV when she was 22.
Sandra has now been living with HIV for eight years and despite all that she has endured, she continues to draw inspiration from those traumatic years. "There's a reason I lived to tell about this," she said. "The only reason I wasn't killed in that brothel was because a higher being had a plan for me." Sandra now spends her free time, together with her sister Zuleyma, telling her story at hospitals, schools, and jails and taking anyone who will accompany her to get an HIV test. "Everyone in town knows I'm HIV positive," she said. "It is who I am and I won't lower my head because of it."
Sandra's doctor, Manuel Lopez Vidal, is an HIV specialist at the hospital in Pichucalco. "The biggest challenge that we see in this hospital is self-rejection among women living with HIV," he said. "Sandra visits patients here, gives them hope and shares her experiences. She's a major reason why any of what I do has worked." In a state where speaking openly about HIV means crossing clearly drawn lines of social courtesy, Sandra is making waves.
In 1988, Susan Sontag wrote that those living with AIDS in the U.S. would die a social death long before their bodies succumbed to the disease. In 2013, in Chiapas, this is still true. Diseases such as cancer are treated as uninvited or unexpected arrivals into the human body, but HIV is described as the consequence of morally deplorable or sexually promiscuous behavior. The high levels of stigma that continue to surround HIV in rural Mexico have thwarted educational efforts and hindered productive dialogue on a state level.
"In the last 10 years, the stigma and discrimination surrounding HIV is the thing that has changed the least," said Dr. Jimenez Vasquez, who works at a state-run medical clinic in Tuxtla Gutiérrez, Chiapas's capital. As a result, many women and men living with the virus in Chiapas have kept their diagnosis from their family and closest friends, creating false ailments to explain doctor's visits and destroying any piece of evidence that could reveal their secret.
When Luciana was 19, she contracted HIV from her partner Mateo. The couple has now been living secretly with HIV for three years in a multi-family house in San Cristóbal. The couple asked that the interview be held on the roof to avoid any eavesdropping by housemates. "They think that you're doing a report on diabetes," Mateo said. "We have erased our names from every bottle of medication and we burn papers so that people don't find out," he added. "I would lose my job and they would chase us out of this town if they knew."
Mateo contracted HIV in 2009 during one of his then-frequent visits to the brothels in San Felipe, a town on the infamous 'trailer route' running through Guatemala and up the coast of Chiapas. His long-time partner Luciana is from the indigenous community of Huistán, but her family moved to San Cristóbal several years ago.  "I was angry with him when I found out," she said. "I knew exactly how he got it and there was nothing I could do."
Even now, there is little that Luciana can do. She has no job, speaks limited Spanish, and has three children to care for. Mateo, three years into treatment, feels deep remorse for behavior that, as he explained, was quite normal among his friends. "I know that my friends go to brothels, and I wish I could tell them about what happened to me," he said. "But they wouldn't take it right. They would be suspicious of me or accuse me of having HIV." Mateo suspects that many of his friends have the virus already. "It's a chain that has to be broken at some point," he said.
Stigma and discrimination in the state are still widespread. In 2004, the gynecologist and ex-mayor of Tuxtla Gutiérrez, Francisco Rojas Toledo, supported measures that would keep children born with HIV from attending public schools. Two years earlier, in 2002, the state became the center of national controversy when an eight-year-old girl was expelled from a public school after parents discovered she was living with HIV.
"We formed in 2002 to take the emblematic case of the eight-year-old girl banned from public school," said Dr. Alejandro Rivera Marroquín, the director of the Comprehensive Family Health Action Collective (CIFAM). Openly gay and HIV positive, Alejandro has received national attention for his advocacy work in the HIV community. His small office in the state capital serves as a safe place for HIV positive men and women seeking anti-retroviral treatment and psychological support. With urgent energy, he jots down statistics on a pad of paper as he talks.
"HIV is an indicator of the political, economic, and social situation in any given place," he said. "The question is: Why did HIV reach you? This is a breeding ground, and in Chiapas there are a series of situations that put you in that vulnerable place."
For Rolando Tinoco Ojanguren, director of the Center for Health Research in Comitán (CISC) and professor of gender and health at the College of the Southern Border in San Cristóbal, the NGOs can only do so much without the help of the state. "In Chiapas, we are now accustomed to poverty," he said. "We don't need interventions, we need a fundamental change to the system."
In the meantime, Rolando continues to work alongside Adela, Sandra, and with other NGOs determined to make a small difference in the lives of individuals living with HIV.
Back in La Reforma, a woman named Agustina tells her story at the workshop. It has been one year since she received her diagnosis. Through tears, she described her most desperate moments. "I didn't want to go on living when I found out," she said. "I didn't sleep for weeks." Adela took her hand. With seven children, Agustina contracted HIV from her husband after being faithful to him for more than 15 years. "He left me," she said, her hands covering her face. "He left me with my seven babies and with HIV," she said. The group fell silent; Agustina gasped for air.
"What would you women say to Agustina?" asked Adela.
"You have to live every day!" said María. Agustina started to wipe her tears. "That she has support," said Sofía. The women nodded. "You have to remember you're not dying," said Sandra. "You're going to live with HIV for a long time."
Over the course of the three-hour workshop, it seemed as though years of shame, sadness, and isolation fell from the shoulders of women who, in some cases, had kept their diagnoses a secret for nearly a decade. At the end of the workshop, Sandra and Adela handed out condoms and set a date for their next meeting. María, one of the youngest women in attendance, stood up before the other women had a chance to leave. "What do you say we all have dinner together at my house next week?" she asked. Sandra and Adela smiled. "We could all bring something, talk about how we are feeling."
The women agreed. After stacking the plastic chairs, they each thanked Adela and Sandra and made their way towards the hospital exit. At 1 p.m., the ice cream vendor in the parking lot was getting good business. The palm trees offered specks of shade on otherwise steaming pavement and a few men slept in a service truck parked on the side of the road. The women didn't rush off. Some of them even lingered in front of the hospital, taking in the mid-day sun. "I can do this," said Agustina. "This isn't going to be as bad as I thought."