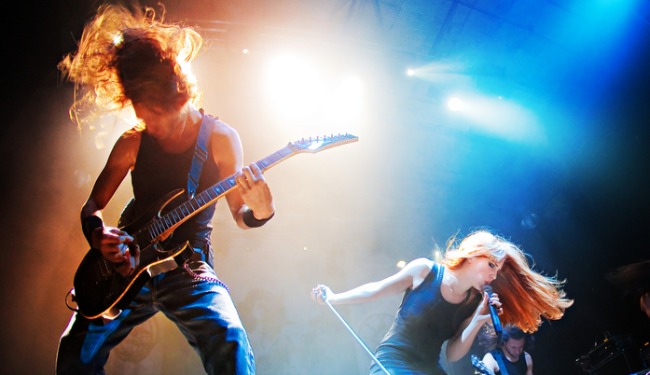 When I was 13, I dreamed of kissing boys in the backseat of a car while Scorpions, a German hard rock outfit, crooned "Winds of Change" from the car stereo. It's still kind of a bummer that never happened: Boys at my high school were much more infatuated with the idea of making out to Dave Matthews Band, and I had to work with what I could get.
I'd known for a long time that my love for heavy music wasn't shared by many of my peers. I'm sure there were other girls like me out there—ones who'd owned a tape of Guns N' Roses' Appetite for Destruction since they were six, other kids who thought Mötley Crüe's "Dr. Feelgood" was a song about a nice guy who just wanted to share his "sugar" and "candy cane" with his friends. I just never met many kids, especially girls, who liked music on the louder end of the spectrum—I chalked that up to being quirky.
Though loud music always had some place in my heart, it wasn't until my early 20s when I truly fell in love with the power of the riff. And it wasn't because I wanted to feel angry. Loud music had the opposite effect on me: It calmed me down.
I started to do this thing where at the end of a long work week, stuck in the corner cubicle of a windowless room, I'd go to this crappy club in my town that booked a lot of loud bands and stand right up next to the speakers, close enough that I could actually feel the music passing through me. It was like meditation. Something about the way the bass would actually shake my bones and internal organs was cleansing. It was in those moments, my senses overloaded, that I felt like I could take a full breath again.