Science Toward 'Beer as a Sports Drink'
In different places, public health means different things.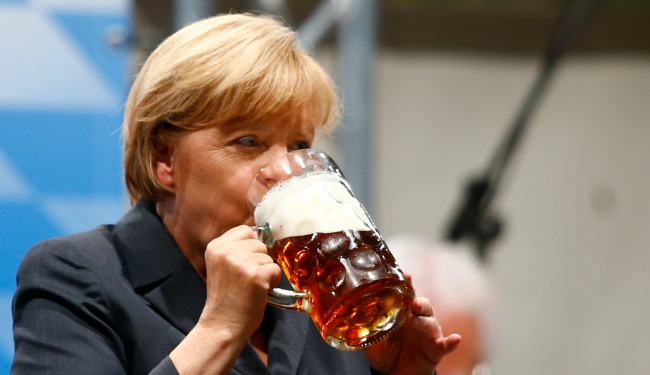 "This is definitely not a good idea ..." says lead researcher Dr. Ben Desbrow, of drinking beer to hydrate after exercise.
That didn't stop him and colleagues at the School of Public Health at Griffith University in Queensland, Australia, from seeing what happens.
In the ongoing journey to calculate one true "ideal dose" of alcohol, data keeps telling us that geography matters. Health effects are different depending on where studies take place. We're still learning how cultural/biological factors shape the way alcohol affects our bodies, though we know we regard drinking very differently in different places.
Research like Desbrow's is indicative of one such cultural talking point. His team is trying to find a more viable way for people to consume a lot of alcohol without the dehydration that makes us sick. Naysayers might note that hangovers can serve a purpose—deterring people from drinking too much. Sometimes. And that it's strange for doctors to try to create a beer that could take that away. The alcohol would still cause cirrhosis and esophageal cancer, etc. Some might say.
On that note, in the International Journal of Sport Nutrition and Exercise Metabolism, Desbrow et al produced one of the most interesting abstracts I've seen:
---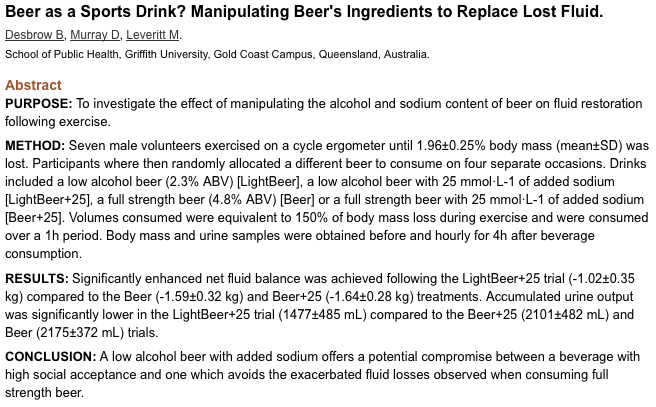 The idea is that with less dehydration comes less hangover. Alcohol is a fluid, but it's also a diuretic; its net effect is dehydration. So they had people exercise until they lost about two percent of their body mass, then drink various kinds of beer. Some of it had extra electrolytes.
But Desbrow's specially formulated salty, watered-down beer—even though it sounds delicious—did not not keep people any better hydrated than old-fashioned light beer.
Light beer did do better than regular, though.
Another aspect to consider generally, when trying to craft a beer that doesn't cause hangovers, is that dehydration isn't the only pathology involved in hangovers. Headaches, for example, seem to be related to acetate, which is a a byproduct of our cells metabolizing other alcohol byproducts. Mix all the Gatorade you want into your beer (please don't); your mitochondria will still make acetate.
Desbrow justifies their work in full: "This is definitely not a good idea, but what we've found is that many people who sweat a lot, especially tradesmen, knock off work and have a beer. But alcohol in a dehydrated body can have all sorts of repercussions, including decreased awareness of risk. If you're going to live in the real world, you can either spend your time telling people what they shouldn't do, or you can work on ways of reducing the danger of some of these socialized activities."
Must we live in the "real world"?