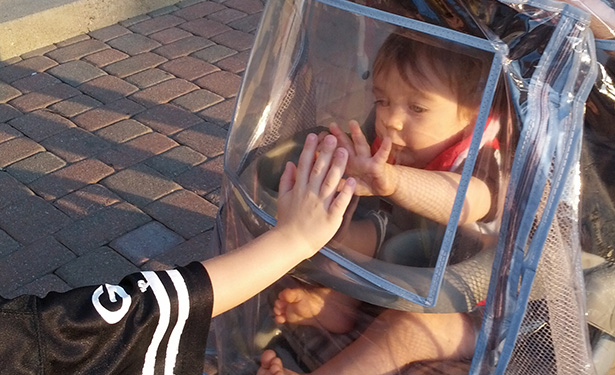 I met two-year-old Jameson Golliday on a patch of lawn in Bloomington, Illinios. He had blue eyes, dark hair, and wore a striped shirt, shorts, and Crocs. He followed his mother, Jennifer, 31, as she pushed a wheelbarrow around the yard, picking up sticks. The neighbors were burning lawn debris and fly ash was swirling in the sky, big fluffy flakes, falling lightly all around us. Jameson's brother, Shawn, 5, was wearing a Star Wars t-shirt and tossed a plastic sword to his grandfather. There was the bat-bat of plastic, and things quickly turned Galactic.
Jamie and his mother retreated to a quiet spot in the yard. She lets him run free in the backyard, but he can't play with other children or touch high-contact surfaces such as playground equipment.
"It's super sad," Jennifer told me. "He sees kids off in the distance and points at them. I know he wants to interact."
Jamie was born with X-SCID, or "bubble boy disease," which means he has no immune system. At birth he had no mature T-cells, the rugged soldiers of the immune system that sense and fight infections, due to mutations in the IL-2 gene on his X-chromosome, which rendered the gene non-functional.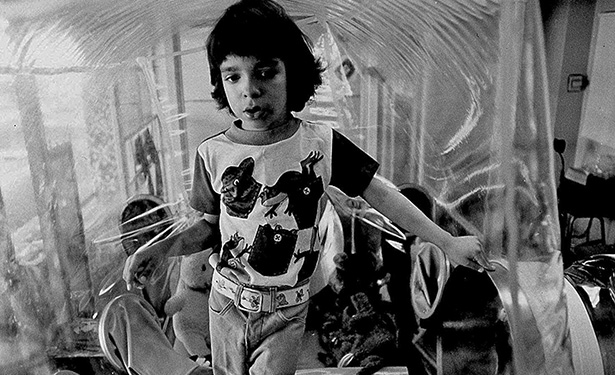 David Vetter was the most famous bubble boy. In the 1970s and 1980s he lived in a bubble, using only items sterilized with 140-degree ethylene oxide gas. Doctors tried a bone marrow transplant from his sister to introduce working T-cells into his system. But the Epstein-Barr virus was sleeping in the marrow, and it triggered the growth of many tumors. Vetter died at age 12.