How Sleep Deprivation Makes Us Want to Eat Fat
New research shows decreased activity in the parts of the brain that regulate "food desirability."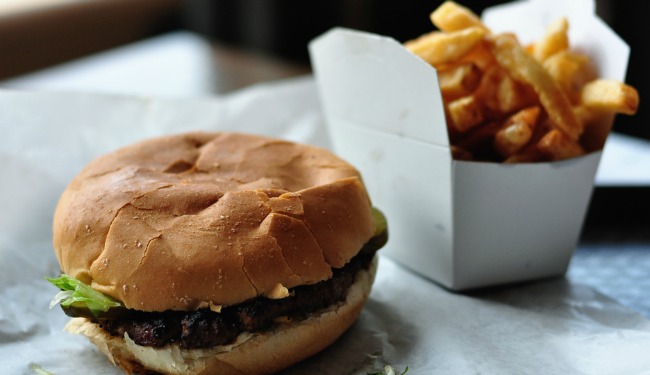 Over the past 30 years many studies have shown that sleep deprivation correlates with gaining weight. How exactly that works in our brains still isn't clear, though.
This week adds a small  but interesting study (23 subjects) that looked at real-time brain imaging while people ate different kinds of food while sleep-deprived and rested. It found that "reward centers" in our brains seem to respond more strongly to fatty and sweet foods when we are sleep-deprived. We also generally make less "rational" (more impulsive) decisions when we're sleep-deprived, and this study showed that insular and frontal cortices that regulate "food desirability choices" were visibly less active when we haven't slept.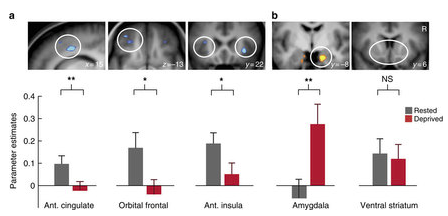 Nature Communications
Matthew Walker, a professor of psychology and neuroscience at UC Berkeley, is the lead author of "The impact of sleep deprivation on food desire in the human brain" in the current issue of the journal Nature Communications.
"I think you have about 16 hours of optimal functioning before the brain needs to go offline and sleep," Walker told Anahad O'Connor at The New York Times. "It's the single most effective thing people can do every day to reset their brain and body health."
After that we go into a stress-response state where calorically-dense foods seem more desirable from a self preservation standpoint. Walker believes that this study "provide[s] an explanatory brain mechanism by which insufficient sleep may lead to the development/maintenance of obesity." That is, among multiple other proposed bodily mechanisms.
Walker has also done interesting sleep-deprivation research looking at its relationship to mental illness. (It involves us turning to "emotional Jell-O.")
All of this in case you aren't already worried that you're not getting enough sleep, and that anxiety isn't making you seek out waffle tacos.