Getting Hormones and Surgery for Transgender Prisoners
The Army's blanket denial of hormone therapy and gender reassignment surgery to Chelsea Manning may not be the final word on the matter.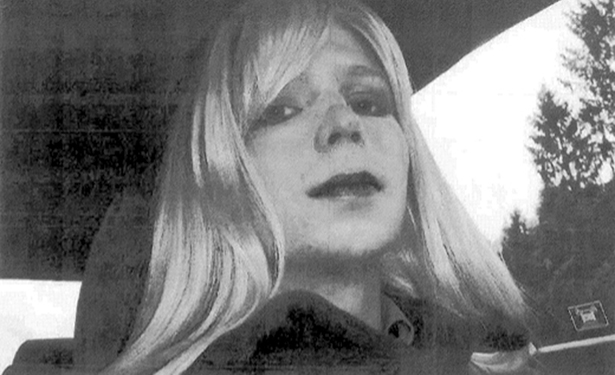 Yesterday, one day after the whistleblower formerly known as Pfc. Bradley Manning was sentenced to 35 years in prison for leaking thousands of classified documents, Manning announced that she has embraced her true gender identity and would like to live out the rest of her sentence—and the rest of her life—as Chelsea Manning, a woman. So how does the criminal justice system care for the health and well-being of transgender prisoners?
Access to transition-related healthcare services, such as hormone therapy and sex reassignment surgery, has been a major concern for transgender prisoners and advocates. Before 2010, it was the policy of the U.S. Bureau of Prisons to provide hormones at whatever level was maintained prior to the incarceration. After a 2010 lawsuit, however, the bureau reformed those regulations to include transgender women who did not begin hormone therapy until after their incarceration—and today, for the most part, transgender prisoners are able to access necessary hormone therapy. When Pfc. Manning mentioned in her statement that she would like to begin hormone therapy "as soon as possible," the Army quickly released a statement saying that it "does not provide hormone therapy or sex-reassignment surgery for gender identity disorder."
"It seems odd that the Army would make a determination on Manning's healthcare needs before they've even had an assessment," says Masen Davis, the Executive Director of the Transgender Law Center. "Manning has the right to access necessary medical care while she is in prison, which may include estrogen. That should be determined by a doctor and the patient, not by bias."
Although transgender inmates are not currently able to receive sex reassignment surgery while incarcerated, in 2012 a U.S. District Judge ordered Massachusetts prison officials to provide sex reassignment surgery to Michelle Kosilek, a transgender woman serving life in prison for murder, on the basis that the surgery would meet Kosilek's "serious medical need." The Massachusetts Department of Correction is currently appealing the decision, but according to Jennifer Levi, Director of the Transgender Rights Project for the Gay and Lesbian Advocates and Defenders (GLAD), the decision opens the door to the possibility that transgender inmates might be able to access sex reassignment surgery.
In the past, transgender prisoners were assigned to either a men's prison or a women's prison based on whether or not they had already undergone gender reassignment surgery prior to the incarceration. Prisoners who had not had gender reassignment surgery, such as Pfc. Manning, were placed in prison according to the gender they were assigned at birth, regardless of how long they had been living as their true gender or how many previous transitional medical treatments or surgeries they had already undergone. This practice attracted particular controversy in 1994, when the Supreme Court ruled that prison officials had violated the cruel and unusual punishment clause of the Eighth Amendment after Dee Farmer, a male-to-female transgender prisoner who had already received breast implants but not yet had genital reassignment surgery at the time of her incarceration, was repeatedly raped at the men's prison to which she had been assigned. Fortunately, though, the Department of Justice's 2012 Prison Rape Elimination Act took landmark steps to protect all prisoners, including transgender prisoners, from sexual assault.
"The new guidelines require a case-by-case consideration for housing transgender inmates in either male or female facilities," Davis says. "There is no longer a one size fits all approach—instead, it's based on an individual assessment of what would make the most sense for that person." Davis added that these guidelines do not currently apply to military prisons. Manning has been assigned to a men's military prison.
Transgender prisoners, and especially transgender women, are also at a much higher risk of violence and sexual assault. Historically, transgender prisoners have been placed in "non-punitive administrative segregation"—a euphemism for solitary confinement—for their own protection. Although that practice sometimes did succeed in keeping transgender prisoners away from potentially violent fellow inmates, it was also socially isolating, precluded transgender prisoners from participating in social and recreational activities, and had serious consequences for inmates' mental and emotional health. The 2012 DOJ guidelines include limits on the extent to with protective segregation can be used on transgender inmates, although Mara Keisling, the founding Executive Director of the National Center for Transgender Equality, says there has not yet been an audit to measure how successfully those measures have been implemented.
"The reality is that every credible medical organization has recognized gender identity disorder as a legitimate medical condition, and that the appropriate standard of care includes hormone therapy and surgery," Levi says. As for Pfc. Manning, transgender advocates say that the Army's decision to deny her access to hormone therapy will likely be challenged.
"It is illegal in the U.S. to withhold legitimate medical treatment from prisoners," Keisling says. "What the Army said today about Private Manning's care is not the last word on the issue."