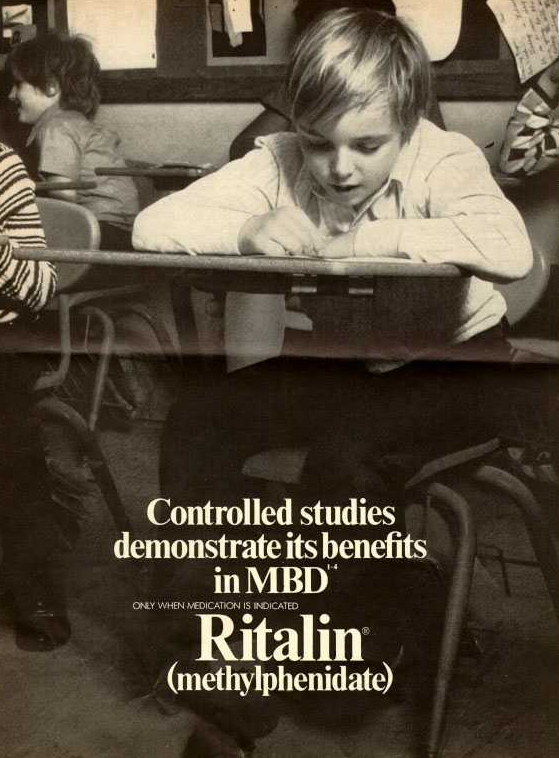 In the mid twentieth century, amphetamines could treat just about anything. In a 1946 medical journal article, Dr. W.R. Brett documented the effectiveness of benzedrine for narcolepsy, Parkinson's disease, alcoholism, sea sickness, barbiturate intoxication, inability to control urination, "problem children," anesthetic overdose, epilepsy, morphine addiction, schizophrenia, migraines, heart block, multiple sclerosis, myasthenia gravis, muscular rigidity, cerebral palsy, hives, painful menstruation, colic, radiation sickness, and low blood pressure.
Not only did physicians regularly recommend amphetamine as a nasal decongestant, obesity treatment, and as one of the first widely used medications for depression, but up until 1965 people could also self-medicate over-the-counter at will.
The popularity may have been in part because amphetamines hit our brains with some extra dopamine (in a "tonic" fashion that's subtler than the "phasic" mechanism of drugs like cocaine), but they also really did work for many of the advertised purposes. In 1967, around 8 billion amphetamine tablets were sold in the U.S. as treatments for obesity alone.
They fell out of favor among medical professionals for most conditions, though, as tends to happen for drugs with amphetamine-grade addiction potential. Not only did we find more effective treatments for things like depression, but it also became apparent — as the National Institute on Drug Abuse now warns — that central nervous system (CNS) stimulants "can lead to feelings of hostility or paranoia, even psychosis." That's in addition to potentially catastrophic bodily concerns like cardiac failure, seizures, irregular heartbeats, and "dangerously high body temperature."