Cronut Burger: Canada's Brazen Move in Great Pastry Wars of 2013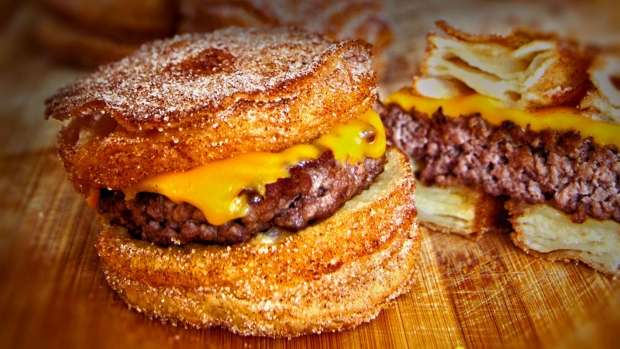 Throughout the latter half of August, the Canadian National Exhibition will feature an experiment—from artisanal burger purveyor Epic Burgers and Waffles and Canadian pastry shop Le Dolci—that's being called by Toronto's CTV News the "Maple Bacon Jam Cronut Burger."
This comes after French chef Dominique Ansel debuted and trademarked the name Cronut™ in New York in May. His SoHo bakery continues to enjoy massive demand for the croissant/donut, with lines that sometimes stretch multiple city blocks and fascinate American cultural critics. Though the Cronut™ has since been spun off—in Australia and Europe, in South Korean Dunkin' Donuts as "New York pie donuts," among other places—do not put it past a French pastry chef to be proactive in protecting his domain. Ansel's legal team already put a forcible end to a Santa Monica bakery's "Kronut."
Like the language of pastry, the trademark is international. Continued creativity in the realm of food portmanteaus is encouraged. The Cronut™ is nothing if not a lesson in accountability.