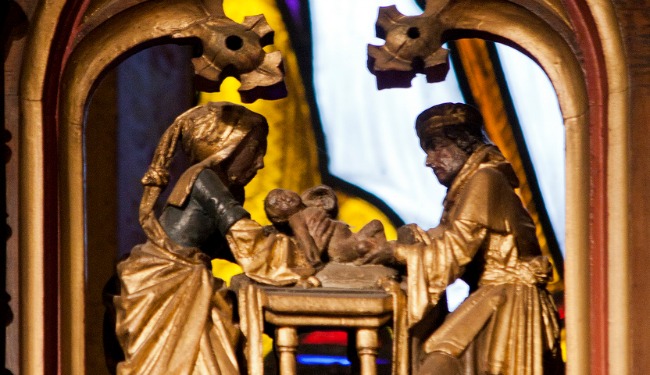 The deadlock began around week 20 of my pregnancy, when my mom casually asked about when and where our son would be circumcised.  I presumptuously told her we weren't going to do that. Then I saw the surprised look on my husbands face.
"We're not?" he asked.
Sensing an opportunity to mount an offensive, my mom backed him with the full force of the guilt-inducing tone she'd perfected over the years. "But honey, it's not natural to leave your son uncircumcised," she said.  "You don't want to do that to him, do you?"
Quickly realizing that I would never win a drawn-out argument, I decided to end the conversation. To do this, I summoned the petulant teenager lying dormant inside me—something that only a mom can awaken in a 33-year-old woman—and said, "Actually mom, circumcision is the exact opposite of natural. That's the whole point, to do away with the 'natural'." Then I gave my husband the 'you'd like to have sex with me again, right?' look and said to him, "We'll talk about this later."
But we didn't.  We avoided the conversation until a full week past our little boy's due date, and it seemed like our little boy might never arrive until we made a decision.
When we finally started talking, we quickly realized that neither of us had any rational reason to feel strongly about the subject. We hadn't done any research, nor did we have any current medical information. This is just an emotional topic, in which opinions tend toward the extreme.