Poised to Crown: What Happens When a Baby Won't Come Out
Reproductive-physiology talking points at the height of Royal Baby Fever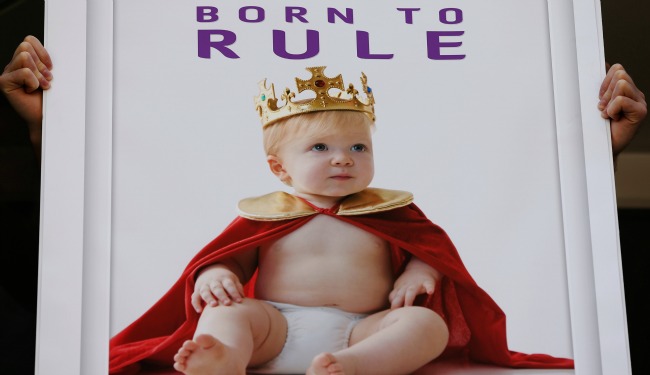 Duchess of Cambridge Kate Middleton and Prince William remain poised to deliver their first of many beautiful, ethereal children at any moment. The official due date of the third-in-line to the throne remains clandestine, though. We know it's "July" -- but the Royal July can stretch well into August.
Self-described Royal Baby expert Chiara Atik tells me that last week the rumor was July 16, but now it's July 23.
Then a couple hours ago, The Sun Newspaper reported that Kate and William left their home abruptly bound for London. They must be going to the hospital. But, no, it was a stunt with Kate and William lookalikes ... orchestrated by The Sun Newspaper.
That was completely uncalled for, Britain. Some of us have a lot of money riding on naming pools (Ruth, Abacus, Triscuit). If we could take this a little more seriously and get a verdict by this weekend ... it would be good.
The art of inducing labor has a long, contentious history. By common definition "postterm" pregnancy is after 42 weeks. If you've been gestating for more than 42 weeks (294 days), call a physician. The placenta is not made to last forever, and after 41 weeks, risks to fetal health increase. At 43 weeks, the risk of death is twice what it is at 41. When a baby is postterm, it's also more likely to be male. And more like to be big. They don't stop growing, which only makes labor more intense.
The most common way we induce labor medically, aside from targeting the scrutiny of a worldwide audience onto one woman's reproductive system, is simply by giving intravenous oxytocin -- also known as the "love hormone." That is, the very same oxytocin that supposedly makes us monogamous conformists and better able to handle social rejection. It's the hormone that the body naturally releases to make the uterus contract; we just give more of it. Which is pretty safe.
Many experts recommend inducing labor if it's still not happening between 41 and 42 weeks -- although at 41 weeks, 527 inductions would be necessary to prevent one death; at 43 weeks, 195 inductions would prevent one death. Even though only six percent of U.S. pregnancies go into a 42nd week, inducing everyone at 42 weeks would cost the system an estimated $100 million per year.
For those mothers and obstetricians who opt not to induce medically, or who are just generally nearing the 41st week and tired of sweating and carrying the thing around, there are other methods of various degrees of validity that some believe might induce labor, including walking, spicy food, breast stimulation, castor oil, primrose oil, and old-fashioned sexual congress.
So raise a flag if you see Kate and William doing/purchasing/ingesting any of those things. Until then, keep working on your renderings of the child.
And, sound advice for expecting mothers and Royal Baby enthusiasts alike from Dr. Rebecca Starck of the Cleveland Clinic yesterday: "What triggers labor is still unknown ... but if you're expecting and past your due date, a good idea would be to try to relax."