The Story of the Black Band-Aid
A reinvention of "flesh-colored"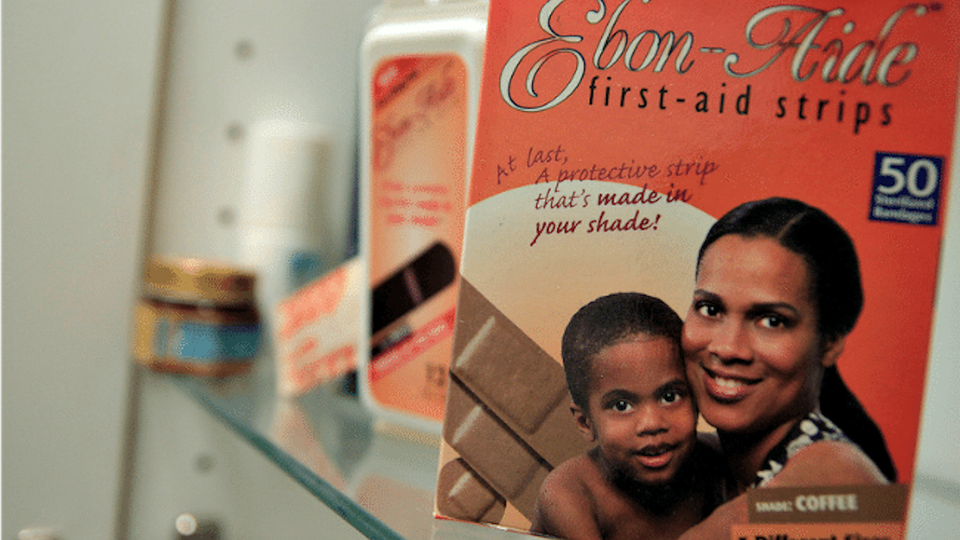 Since its unpretentious invention in 1920 by Johnson & Johnson in New Brunswick, New Jersey, the Band-Aid was long manufactured in a single color: a soft pink. In a 1955 TV commercial, the company showed one on the hand of a Caucasian woman: "Neat, flesh-colored, almost invisible," a voice-over said.
Orundu Johnson, a 66-year-old African American woman living in Harlem, remembers. "The bandages would say flesh color, and I'd explain to my kids, 'Well, that's not your flesh.'
The irony of African-Americans sticking pink patches on their darker flesh did not go unnoticed by the black liberation movement either. In White Is, a militant cartoon book published in 1969 at the initiative of Harlem-based activist Preston Wilcox, a drawing depicted a young man in Black Panther garb with eyes rolled upwards, fixated at the protuberant white adhesive bandage on his forehead. The caption read: "White is a flesh colored band-aid."
Johnson & Johnson, the market leader, estimates that it has sold more than 100 billion Band-Aids worldwide. As of 2011, the multinational claimed 62 percent of the adhesive bandage sales in the United States. While there are now clear Band-Aids, it is still to the chagrin of Orundu Johnson that none of the dozens of designs, from the standard beige to the model embellished with Muppet characters, are made to blend with African-American skin.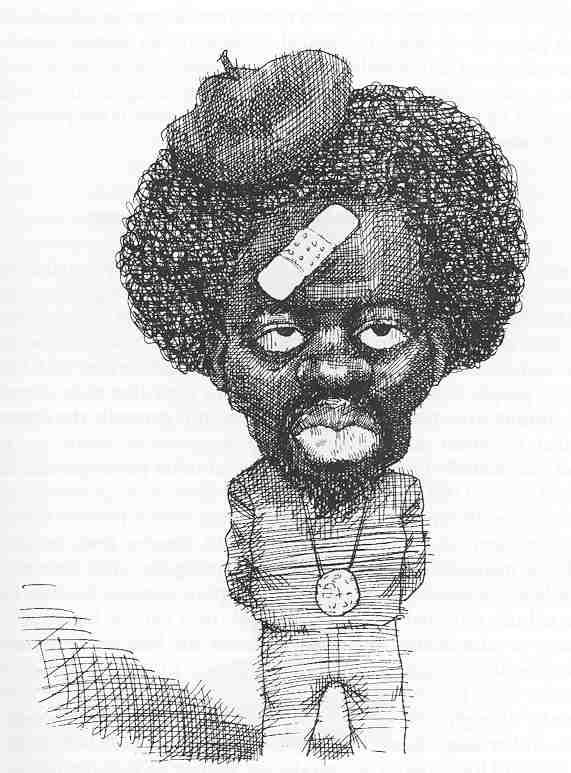 Grove Press
The persistent market gap for black bandages doesn't surprise marketing consultant Pepper Miller. In recent years, the African-American population has become a driving force in the U.S. market at large, increasing at a faster pace than that of the rest of the country and projected to represent a market share worth $1.1 trillion by 2015, according to Nielsen. That was not always so, though. Cosmetics giants such as Cover Girl and Estee Lauder only began offering makeup lines for dark-skinned women in the 1980s.
It was 15 years ago that New York entrepreneur Michael Panayiotis created Ebon-Aid. The orange box read: "The bandage exclusively designed for people of color," and they came in shades called black licorice, coffee brown, cinnamon, and honey beige.
Johnson recalls the day she found Ebon-Aide in a Harlem pharmacy. She bought dozens of boxes. For her kids, but also to pack into the first-aid kits of the Harlem school where she worked as a director. "It was always a political statement for me," she said.
But one day, Ebon-Aides disappeared from the shelves. Johnson reached out to the manufacturer repeatedly.
Panayiotis remembers her requests.
A Cyprus-born father of two, Panayiotis thought he had found a niche market with promising returns when he launched Ebon-Aide. Retail giants from Wal-Mart to Rite Aid agreed to carry his product. "We found out with our market research that between the African American market and the Hispanic market we would capture about 25 percent to 28 percent of the market," he said. "We wanted to do all the first-aid products in black."
But Panayiotis was frustrated by the placement of his product, which usually ended up on separate shelves dedicated to satisfying the needs of Afro-American customers. "If you don't show it to people, how are they going to buy it?" he said.
By late 2002, out of an original lot of 1 million boxes of bandages, he had sold only around 20,000. After losing his original $2 million investment -- including $600,000 to manufacture the product in South Korea and Canada -- Panayiotis' company folded.
He stored his inventory in a 10,000-square foot warehouse, donating the bandage boxes little by little to whoever showed some interest, and selling the last lot to a Miami company. Panayiotis, now 65, has since moved on to run an IT service company.
Los Angeles-based marketing consultant Harry Webber, who was responsible for the advertising of Johnson & Johnson's Band-Aid between 1963 and 1968, said that the product's flesh color was "a non-issue" during his years promoting it. "Johnson & Johnson's consideration was this was a mass market product, and as mass market product you look at what is the largest faction of that market and you create the product for that faction," he said. "So for non-whites, at that time being between 12 percent and 15 percent of the total population, there was no way anybody was considering making a Band-Aid Brand adhesive bandage to mask the color of skin that is the complete spectrum, from pink to ebony."
Panayiotis, for his part, said the he felt the market was ripe for his product once more. "Still today, after so many years, I get phone calls and emails by people who want to see it."
"You're going to see it in the market again," he said.