Study: Infections May Make Us More Vulnerable to Depression
People who were hospitalized for an infection were 62 percent more likely to later develop a mood disorder.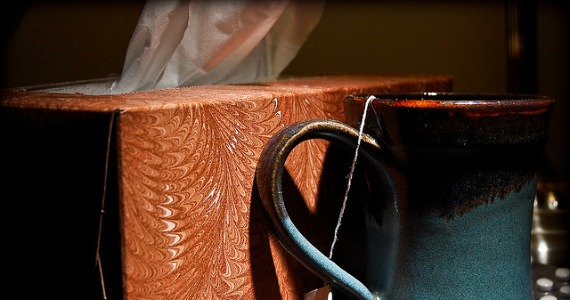 RL Hyde/Flickr
PROBLEM: Standard symptoms associated with infectious diseases can include fatigue, loss of appetite, apathy, decreased social interaction, impaired concentration, and sleep disturbances. The current thinking is that this so-called  "sickness behavior" is the way humans and animals alike devote all of their resources to fighting off infection. And emerging research suggests it may more more than a coincidence that those same symtoms also characterize clinical depression.
METHODOLOGY: Researchers from Aarhus University and the University of Copenhagen, in Denmark, along with colleagues at Johns Hopkins University, traced patient information for over 3.56 million Danes from 1977 to 2010. They tracked whether they'd been hospitalized for an infection -- anything from hepatitis to a respiratory infection to a UTI, and whether they had been diagnosed by a psychiatrist with bipolar disorder, depression, or another mood disorder.
RESULTS: Having been hospitalized for an infection increased one's risk of later developing a mood disorder by 62 percent. As patients acquired more infections, their odds of developing a mood disorder increased proportionally: five hospitalizations for infections increased their risk by almost five times. The association remained significant over 15 years after the infection was treated.
Having an autoimmune disease also raised one's likelihood of developing a mood disorder, by 45 percent. The two diagnoses appeared to interact: the risk for people with autoimmune diseases who had an infection in the past year more than quadrupled.
IMPLICATIONS: While some past evidence has suggested that in certain "vulnerable" patients, the systemic symptoms of an infection can devolve into depression, the study's authors believe that the association found here has to do with a weakening of the blood/brain barrier caused by inflammation. While they can't prove causation, it's possible that the body's immune response directly affects the brain. This would explain why the association was stronger for people with autoimmune diseases.
---
The full study, "Autoimmune Diseases and Severe Infections as Risk Factors for Mood Disorders," is published in the journal JAMA Psychiatry.