Study: How Much You Exercise Matters More Than How Often
Sweating for 20 minutes a day doesn't seem to be better than 80 minutes every four days.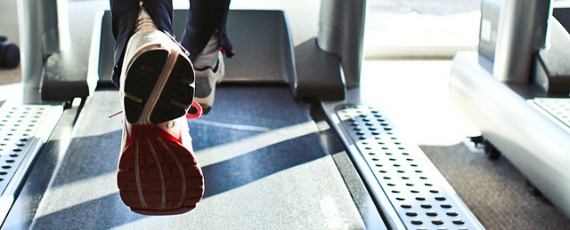 eccampbell/Flickr
PROBLEM: The powers that be prescribe at least 150 minutes per week of moderate-to-vigorous exercise in order for you to be considered "healthy." If you're diligent, that's about 20 minutes a day to check off your to-do list. But if you'd rather get it all over with and then not have to think about it for another week, would you get the same outcome from knocking out all two and a half hours at once?
METHODOLOGY: Researchers at Queens University recruited 2,324 Canadian adults from a nationally representative sample and had them wear accelerometers for a week to measure their activity. They took the participants who were obediently getting their 150 minutes and divided them into two groups based on how they distributed their time: those who worked out more than five days per week, and those who logged the minutes over one to four days' time. All of the participants were also tested for metabolic syndrome, which is diagnosed by the presence of three or more symptoms: high blood pressure, high triglycerides, low HDL cholesterol, high blood glucose or diabetes, and large waist circumference.
RESULTS: The vast majority of the participants didn't get enough moderate-to-vigorous exercise, and they were almost four and a half times more likely than those who did to have metabolic syndrome, as well as more likely to have any of the individual symptoms. Among those who met the activity requirements, after controlling for age and sex, there was no significant difference between those who did less, more frequently and those who did more, less frequently.
IMPLICATIONS: The discernible difference between the two styles of exercise was a behavioral one: the infrequently active group ended up getting less exercise, overall, than those who worked out near-daily. Hence, the reason why experts might advise the shorter, more frequent route: both endurance and motivation fade when you skip too many days between workouts.
---
The full study, "Is the frequency of weekly moderate-to-vigorous physical activity associated with the metabolic syndrome in Canadian adults?" is published in the journal Applied Physiology, Nutrition, and Metabolism.