Study: 'Distracted Walking' Causes More Injuries Than Distracted Driving
Even when they're not texting, just talking on the phone puts pedestrians at risk.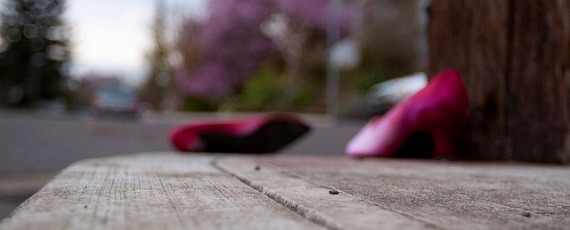 danillustrated/Flickr
PROBLEM: Because people absorbed in a conversation have trouble paying attention to anything else, we're beginning to realize that even hands-free devices don't make driving while talking on the phone much safer. But even though they have less to pay attention to, "inattention blindness" can strike pedestrians, too. In just one example, people who were using their cell phones while walking "were less likely to notice a clown on a unicycle" that passed by. One in three people don't put their phones down even to cross a busy street.
METHODOLOGY: Ohio State University researchers Jack Nasar and Derek Troyer collected information on cell-phone related emergency room visits from the National Electronic Injury Surveillance System (the same database that brought us "The Top Ways We Injure Our Genitals"). They looked at all injuries for pedestrians, bicyclists, and motor vehicle drivers between 2004 and 2010.
RESULTS: Nasar and Troyer's dive into hospital case studies brings us schadenfreudic gems like this: "28-year-old male walked into pole talking on phone and lacerated brow." And this: "14-year-old male walking down road talking on cell phone, fell 6-8 ft. off bridge into ditch." Notice that these people were talking, not texting. In fact, 69.5 percent of the injuries that occured during this time came from people who were distracted by a conversation; texting only accounted for 9.1 percent. The majority were under the age of 31 (because, Millennials), and men were injured more often than women.
The number of injuries more than doubled, from 256 to 1,506, during the time period studied, and until 2010, they rose at about the same pace of injuries attributed to distracted driving: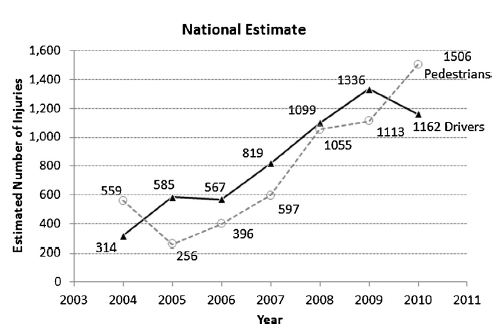 IMPLICATIONS: These numbers don't include people who chose not to seek out emergency care, or who died on the scene, and the authors have reason to believe that in reality the total number of pedestrian injuries was much higher -- as many as 2 million in 2010. If the downward trend for distracted driving injuries continues, we can probably attribute the reversal to cell phone laws and awareness campaigns. Maybe it's time we apply the same tactics to distracted walking.
---
The full study, "Pedestrian injuries due to mobile phone use in public places," is published in the journal Accident Analysis & Prevention.