Study: Better Athletes Have More Heart Arrhythmias
Irregular heartbeats were more common among the top performers in an extreme cross-country ski race.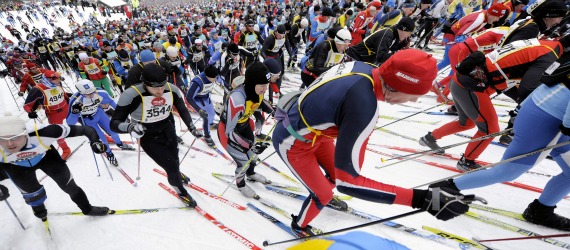 Athletes compete in the world's longest cross-country ski race. [Reuters]
PROBLEM: Extreme endurance athletes, like long-distance runners, bikers, and even cross-country skiers, tend to have enlarged hearts. Also known as "Athlete's Heart," the condition may be associated with an increased risk of heart problems. Within this already elite group, are those who push themselves the hardest even more at risk?
METHODOLOGY: Researchers based in Uppsala and Stockholm studied almost 53,000 cross-country skiers (mostly men) who managed to complete the Vasaloppet -- the longest cross-country ski race in the world -- between 1989 and 1998, and followed up with them through 2005 using national health registry data. They grouped the participants into quartiles based on the number of races they'd completed and their finishing time, excluded anyone with a history of cardiovascular disease, and controlled for age and other factors.
RESULTS: Those who completed five or more races in a ten-year period, or who placed among the top 25 percent of finishers, increased their risk of developing some form of cardiac arrhythmia -- either an irregular, abnormally fast, or too slow heartbeat -- by 30 percent. 
Between each quartile for the number of races completed (from one to five or more), the risk of arrhythmia increased by 10 percent. A similar trend occurred as finishing time decreased, although this did not reach statistical significance.
IMPLICATIONS: The Vasaloppet's participants, compared, to "average Swedes," have "lower incidence of physical and mental illness, tobacco consumption, fat intake, and higher fiber consumption." But compared to one another, the top performers were more likely to experience heart irregularities than other, still-extreme-but-less-so athletes.
The researchers didn't find any evidence for the athletes being at an increased risk of the most serious forms of heart failure, like cardiac arrest, and don't necessarily recommend that people cut back on the number of 90 kilometer cross-country megaraces they compete in. Nonetheless, the correlation between increased physical activity and increased heart health may not be as straightforward as we'd like to assume. 
---
The full study, "Risk of arrhythmias in 52 755 long-distance cross-country skiers: a cohort study" is published in the European Heart Journal.