AP
Last week at the annual meeting of the American Medical Association in Chicago, the organization's delegates voted for the first time to designate obesity a disease. How should the rest of us respond? When we meet obese people, should we cast them a knowing glance of concern and ask how they are doing? Should we send flowers and "get well soon" cards to obese family members and friends?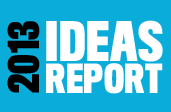 Modest ideas that can change the world.
See full coverage
Should the U.S. declare war on obesity, as we once did on cancer?
If obesity truly is a disease, then over 78 million adults and 12 million children in America just got  classified as sick. Their ranks have included a number of prominent people, such as actors John Goodman and Kathy Bates, musicians BB King and Aretha Franklin, politicians Al Gore and Newt Gingrich, professional athletes John Kruk and Charles Barkley, media personalities Oprah Winfrey and Michael Moore, and Microsoft CEO Steve Ballmer. Everyone has friends and acquaintances who now qualify as diseased.
Yet many sensible people, from physicians to philosophers, know that declaring obesity a disease is a mistake. Simply put, obesity is not a disease. To be sure, it is a risk factor for some diseases. But it would be as false to say that everyone who is obese is sick as to say that every normal-weight person is well. Hence the AMA's vote raises some key questions. Why did it take this action? What is problematic about treating obesity as a disease? And how should sensible people think about obesity?