A Racial History of Drowning
So that eventually every kid learns to swim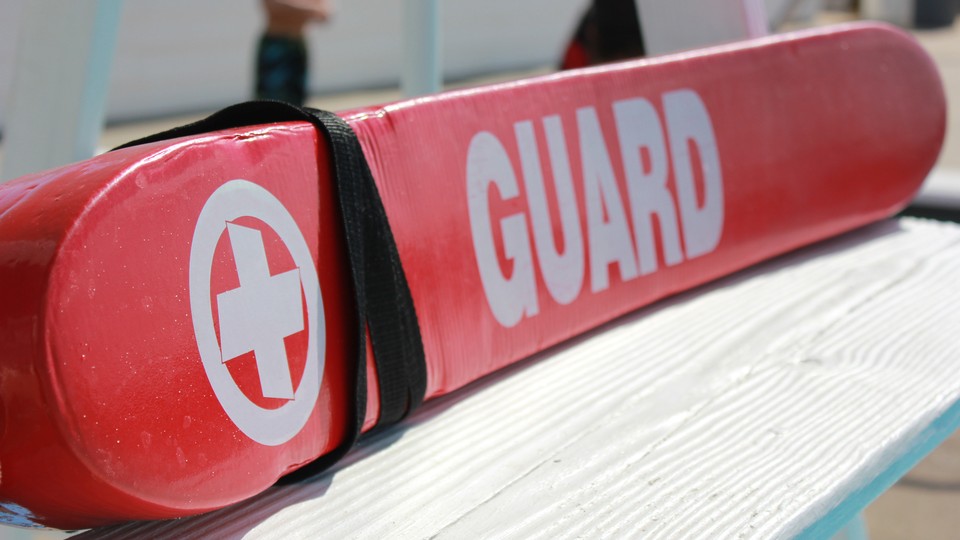 According to the USA Swimming Foundation, about 70 percent of African-American children, 60 percent of Latino children and 40 percent of white children are non-swimmers. Lack of access and financial constraints account only partly for these numbers. Fear, cultural factors and even cosmetic issues play a role as well.

"Before the Civil War, more blacks than whites could swim," Lynn Sherr, the author of Swim: Why We Love the Water, said in an interview. "There are many stories of shipwrecks in which black slaves rescued their owners."

But as Ms. Sherr learned from Bruce Wigo of the International Swimming Hall of Fame, segregation destroyed the aquatic culture of the black community. "Once whites discovered swimming, blacks were increasingly excluded from public pools and lifeguarded beaches," Mr. Wigo told her.

As a result, many minority parents never learned how to swim. Adults who can't swim often fear the water and, directly or indirectly, convey that fear to their children.
Cultural difference in the arena are slowly normalizing thanks to the work of people like 29-year-old African-American Olympic gold-medal swimmer Cullen Jones, who works in his spare time as a motivational speaker "dedicated to helping minorities learn how to swim." He was the second black swimmer to ever win gold, after Anthony Ervin in Sydney in 2000. Meanwhile, for better or worse, Ryan Lochte is the one who has a TV show.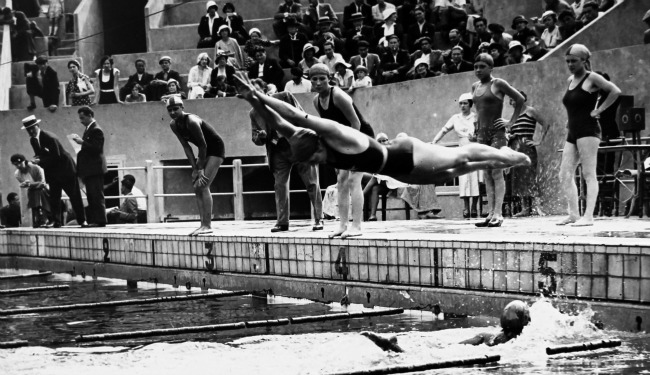 It wasn't until August 25, 1981, that Charles "Tuna" Chapman became the first black person to swim the English Channel -- 106 years after the first white person did it. He was the 220th person overall.
Tuna said at the time, "Black people haven't been exposed to swimming, and they believe they're going to drown ... the majority of the population is gripped in fear of water."
Lee Pitts corroborates the history for the International Swimming Hall of Fame:
The African American experience of exclusion from the opportunity to swim in Fort Lauderdale [home of the National Swimming Hall of Fame] was commonplace throughout America in the first half of the twentieth century, leading to what has been described as a cultural disconnect between the Black community and swimming. One of the tragic consequences of this disconnect is that African Americans drown at a significantly higher rate than Whites.

While it is true that most African Americans do not connect with swimming, African Americans have an amazingly rich swimming history that dates back to pre-slavery days in Africa and the impact of swimming on the Civil Rights Movement toward the demise of the Jim Crow laws of the south was enormous. Before the slave trade began, Africans living in coastal communities were observed by early European explorers to be excellent swimmers. But as the slave traders invaded Africa, swimming became a dangerous pastime.

In his memoirs, Boyrereau Brinch, known by his slave name, Jeffrey Brace, told of a festive afternoon in the 1740s, when he and thirteen of his friends went swimming in a river. When they got out of the water, they were surrounded by white men with dogs who succeeded in capturing 11 of them. One moment he and his friends were engaged in what Brinch described as a "delightful sport;" moments later he was bound, gagged, and "fastened down in the boat," surrounded by the "horrid stench" of his captors.
Meanwhile there are still occasionally overt sorts of pre-civil right discrimination across the U.S., like this sign on a Cincinnati pool in ... 2011.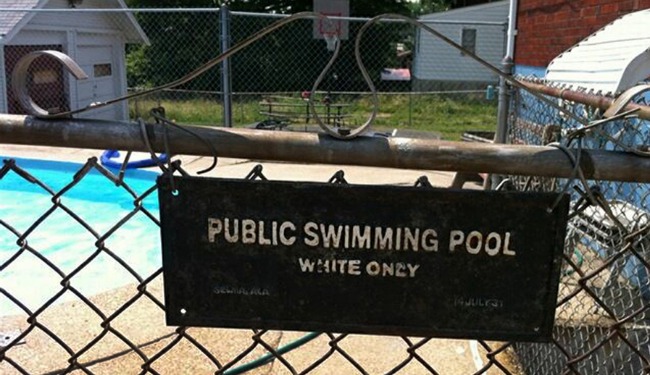 (Reuters)
The Ohio Civil Rights Commission ruled that in posting the sign, landlord Jamie Hein had indeed violated the Ohio Civil Rights Act. The sign is a replica of one dated 1931 from a Selma, Alabama pool.
Hein contested, "I don't have any problem with race at all. It's a historical sign."
So yes, children should be taught never to roughhouse in water and never to hold another child underwater.