A Better Way to Die
Bringing together medicine and spirituality for end-of-life care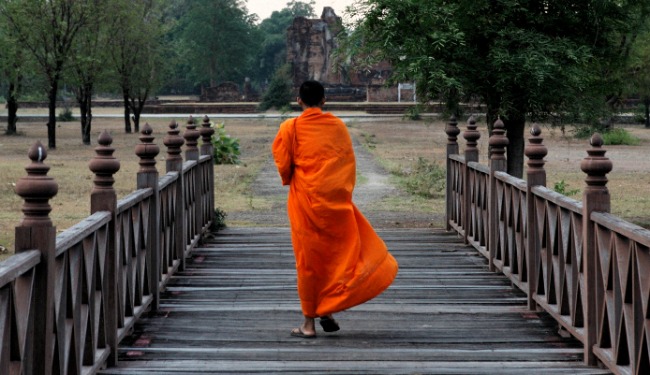 Roberto Trm/Flickr
As Seigan Glassing walked down the sterile, white hospital corridor, he thought of a poem written by well-known Zen master Kozan Ichikyo shortly before his death.
Empty handed I entered
The world
Barefoot I leave it
My coming, my going --
Two simple happenings
That got entangled.
Seigan paused outside one of the identical doors of the neurological unit, marked only with a number. He mulled over the words of the poem, letting them mingle, listening to their rhythm, refocusing. He was tired but not exhausted, nearing the end of his hospital shift. He straightened his Buddhist monk uniform and ran his hand over his clean-shaven head before adjusting his glasses.
As he entered the room he met a scent of flowers. The night lights of the city spilled in through the window and 57-year-old Cleo (as she was named in a transcript), her head heavily bandaged, held out her hand to greet him. Her long, dark hair was streaked with grey and she lay propped up in her hospital bed.
"You're the Buddhist chaplain aren't you? I've been waiting for you," she said. "Please sit down. Do you have some time for me?"
"Of course," Seigan said, taking a seat next to her. "Tell me how you're doing, how you're feeling right now."
Cleo was admitted to the hospital after suffering a major seizure one day while doing her laundry. A brain biopsy a few weeks later revealed a glioblastoma, an aggressive and malignant form of brain cancer. The surgeon laid out the prognosis, cut and dried: she had less than three months to live. He urged her to go ahead with surgery and a chemotherapy follow-up. It would give her perhaps an extra nine months to a year, he said, but ultimately the cancer was terminal. Cleo explained how, despite her initial reaction to let nature take its course, she felt she should go ahead with the surgery for the sake of her 87-year-old mother, who was devastated by the diagnosis.
Seigan listened carefully.
"Can I challenge you for a little bit?" he asked. "What do you really want?"
It's the question that is slowly but steadily refocusing end of life care. As a member of the interdisciplinary palliative care team at one of New York's major teaching hospitals, Seigan is part of a growing push to make health care more holistic -- treating the whole person rather than just focusing on the disease. Trained as a chaplain through the New York Zen Center for Contemplative Care (NYZCCC), he works to champion patients' quality of life and help them prioritize their personal goals and values.
"I encounter people at a vulnerable time, a time of crisis," Seigan explained. "I'm there to walk them through this journey in some way -- not fix them so much as to listen, to offer or reflect back to them their strengths, fears, their own existential support systems and what gives them meaning in their life."
The message that the palliative care team is trying to convey to the world of aggressive medical intervention is a straightforward one: healing people doesn't necessarily mean saving lives. "More and more we are refusing to acknowledge important aspects of what it is to be human, including death," Seigan points out. "People want to talk, they want to be heard and understood. But a lot of the time what we see in health care is a breakdown of communication."
Part of the problem, palliative care nurse practitioner Cathy Mondonedo argues, is that doctors have come to see death as failure, prioritizing extension of life over quality and comfort -- a mentality that is then projected onto patients and their families. "Its not that physicians aren't well-meaning, they just don't know how to approach this topic and don't want to look like they are giving up, but aggressive treatment is not always the best option," she said. "It's important that people are given realistic expectations about their illness so that they have time to have these difficult conversations and make plans for the future."
But confronting death is not easy. The Journal of Palliative Medicine reported in 2010 that only around 20 percent of terminally ill elderly patients had their end-of-life wishes documented in their medical records. Much of the painful end-of-life decision-making is then shifted onto family members, who are frequently left feeling isolated and pressured into pursuing invasive treatments. As a result, despite the majority of Americans voicing the desire to die in comfort at home, CAPC statistics show that around 80 percent of deaths still occur in hospitals and intensive care units.
Many doctors fail to call in the palliative care team when patients are terminally ill, fearing that it looks as though they should expect the worst. Yet the resounding response from patients and families who have experienced the interdisciplinary benefits of palliative care, within a hospital or at home via hospice, was that they wished they had known about it sooner.
When she was diagnosed with pancreatic cancer, Ruth, 83, said it was like receiving a knockout punch. "That blew my mind," she remembered. After the initial shock subsided there was a terrible sense of déjà vu, Ruth's son had died of the same disease five years earlier.
The sun streamed into the front room of their house in the Rockaways as Ruth's husband Joel* helped her to take her pain medication, reading from a neatly typed schedule. She would be allowed another dose in a few hours, he told her. The coffee table was piled high with photo albums, and a bowl of fresh fruit stood next to a huge bouquet of slightly wilting flowers, sent by their son's partner for the anniversary of what would have been his 55th birthday. "I don't want to throw them out," said Ruth with a smile.
She readjusted her slight frame in the large, yellow armchair, her patent, silver shoes catching the sunlight. "There comes a time when you know you're not going to beat nature," she said. "But I want to be comfortable and I don't want to be in pain, that's all I'm asking for. When I have no pain I can get up and get dressed. I don't have to worry." She paused, staring out of the large, white-framed window, "I just want to stay as far away from the hospital as possible," she added.
With the help of the palliative care team, managing the physical pain, nausea, and fatigue has become the focus of Ruth's treatment. Her specialized prescriptions are customized and altered according to her developing symptoms, giving her the freedom to continue with her daily routine as far down the line as possible. "Most doctors can only diagnose and then prescribe, they don't have the time or the expertise to work with you on the trial and error. Palliative care is a wonderful thing." She looked down at her folded hands for a moment. "My son didn't have any of this. He was in terrible pain all the time."
Ruth explained her new routine with measured precision. She and Joel only plan day to day, nothing in advance. Their focus is now on quality rather than quantity. Life has taken on a more immediate aspect, rooted in the present. They savor daily pleasures like speaking on the phone with friends, listening to music and reading the newspaper. "I want to know that my home is there for me," Ruth said, "that my family is there for me and I'm surrounded by the meaningful things."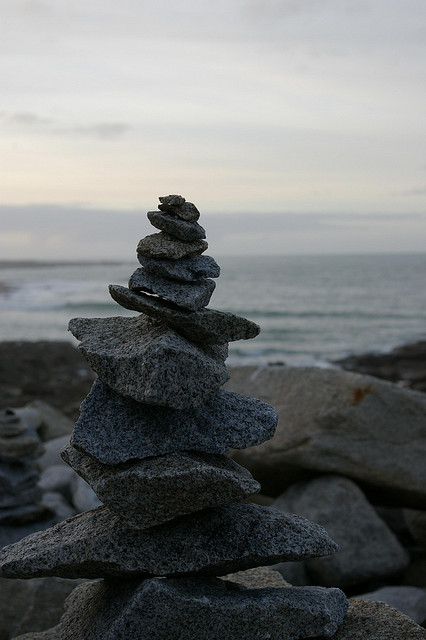 g0upil/Flickr
Around her, the living room walls were lined with paintings and prints accumulated from years of vacations and trips abroad. Small ornaments were neatly arranged next to framed photographs and books were stacked in piles around the room. "So many people don't even know about palliative care," said Ruth. "It's an important step forward for medicine. I feel very lucky to have it."
Over the past six years palliative care has been one of health care's fastest growing practices, becoming ever more widely accepted by patients, by doctors, and by hospitals. The number of teams has doubled, new fellowships have been added and the Center to Advance Palliative Care (CAPC) reports that 63 percent of hospitals with over fifty beds now have a palliative care team. Research has also shown that hospitals could save $6 billion a year in costs by fully integrating palliative care programs across the U.S.
But its use is not universally popular -- there are those who believe that making palliative care a specialty adds confusion to an already baffling health care system. A study conducted this year in The New England Journal of Medicine by Dr. Timothy Quill and Dr. Amy Abernathy voiced concerns that the growing acceptance of palliative care as a specialist field could actually encourage patient care to become further fragmented. The authors suggested that primary care clinicians and specialists may begin to assume that basic psychological and social support for patients with life threatening illnesses is not their responsibility -- a huge problem given that the current number of interdisciplinary palliative care teams won't be able to fully supply demand for years to come.
Educating doctors and specialists about the role of palliative care has also been an ongoing battle in America's hospitals. "One of the most common misconceptions about palliative care and hospice is that they speed up the dying process, but that's just not true," said Dr. Craig Blinderman, a palliative care specialist. "It's about managing symptoms and tailoring a patient's care to their values and goals, whatever those are." Indeed, according to a 2010 study published in The New England Journal of Medicine, terminally ill patients who received early palliative care experienced less depression, had a better quality of life, and survived longer than those who were given "life prolonging" treatments or even just standard care.
"One of the biggest obstacles that we have is in the current lexicon of medicine," said Fran Heller, a senior palliative care social worker, who works closely with patients' families during times of crisis. She argues that physicians, nurses, and social workers need to readdress how they speak about the dying process. "Too often the doctors refer to it as withdrawal of care" she said, shaking her head. "We never withdraw care -- we withdraw treatments."
Seigan suggests that the change in attitude towards end-of-life care needs to start from the roots of medical practice, teaching clinicians a more contemplative approach to health care. "Doctors are currently educated to be clinical and to be detached," he said. "I've heard many young doctors speaking about a patient only in terms of the evolution of the disease, totally forgetting the fact that it's a human being they're discussing."
The convoluted sting of death can be made even more overwhelming for patients and families by the ever-increasing cost pressures that end-of-life scenarios currently present. Around 25 percent of all Medicare spending is funnelled into end-of-life treatments, but a study conducted by Mt. Sinai School of Medicine found that beneficiaries still had to spend an average of $38,688 on medical bills in excess of Medicare during their last five years of life -- frequently crippling amounts at a time already fraught with pain and anxiety.
What the end-of-life process quickly highlights, Seigan says, is that a patient's experience of pain can come in many forms. Buddhist chaplains are taught not to separate the physical and the spiritual well-being of a patient, but to view them as interdependent, co-existing forces. As well as assessing the present moment, preparation for the journey ahead often involves looking back. As Seigan listens to his patients, he works to help them identify the painful issues they wish to heal, leave behind, or simply come to terms with in the time they have left. He draws out thoughts, feelings, and reflections, encouraging the patients to explore and question them.
"Sometimes the most direct way to see something is by looking at it from a different angle," he said. "Illness can bring deprivation in all senses of that word and when we are deprived there can be anxiety, there can be fear, there can be isolation, loneliness, all of these things come up." He points out that the goal of his chaplaincy is not to dictate or prescribe, but instead to help the patient work towards their own sense of spiritual and psychological well-being -- to help them help themselves. "If I can help bring them a sense that they are not alone, that they have been heard, that their pain has been understood by another person, I think I've done my job," he added.
In the hospital oncology unit, 74-year-old Ursula (as she was named in a transcript) wrapped her grey sweater tightly around herself. Sitting on the white, starched hospital bed, she leafed through a photo album page by page, letting her eyes run over each scene. Her second bout of lung cancer had been further complicated when she contracted pneumonia, but it wasn't the physical pain or shortness of breath she continually experienced which was weighing on her mind. Rounds of chemotherapy had drawn the color from her cheeks and left her frail and delicate, but she spoke with energy and fervor as Seigan sat by her bedside.
"It's always around this time of night that my thinking kicks in and I start ruminating, then it gets hard to sleep" Ursula said.
"Ruminating about what?" Seigan asked, noticing her increasing anxiety.
"I can't forgive myself for not knowing," she stuttered.
Seigan waited for a moment before continuing.
"What do you mean?" he said.
She turned her gaze towards the window. "I didn't know that my children were being abused. Right under my nose. I let them down. I was going through my own hell and I had no idea what was going on."
As the tears streamed down her cheeks she described her rage at the hurt her late husband had caused her family. She was glad he had died in pain, she said, and she could never forgive him. Seigan encouraged her to explore her feelings. "You have every right to feel angry... what frightens you about your anger? ... What happens when you keep it inside?" Her answers came quickly, words, memories, and regrets spilling out. She paused for breath and Seigan drew the conversation back to her children. Her bedside table was covered with cards and flowers from their visit earlier in the day, handwritten notes of love and support, arranged neatly beside her.
"Tell me more about them. What does it feel like to be forgiven?" Seigan asked.
She described her three children and how proud of them she is, two of them are married to "wonderful people" and she adored her grandchildren. "I'm blessed to be loved. I am so grateful to have my children back in my life. I was such a lousy mother and now I'm trying to make up for it," she said, as she wiped away the tears.
She showed Seigan the photo album that her children made for her, filled with photos of a safari holiday the four of them took together. "I love animals of all kinds," she said. "I feel so connected to them."
Seigan continued. "Could you imagine that your feelings, especially your anger, are like wild animals: they're part of you. How do you respond to animals again?"
Ursula thought for a moment, running her hand over the photographs. "By respecting them, not being afraid, accepting them for what they are," she answered slowly.
It's a reflection that Seigan firmly believes about death itself -- that it's part of the natural process of life. "Each one is different; the conclusion of a unique story," he said, sitting in his hospital office. He's seen the patients who felt ready, the ones surrounded by love and support, the unhappy, lonely endings, those in denial, those who fought desperately for their last breath, and those who welcomed it. "I think if we were to ask what is a good death, everyone would answer that question in a different way," he murmured.
Seigan used the analogy of a sunset to illustrate the elusive quality of death. Everything is heightened and intensified, he observed, emotions and thoughts and fears are brought to the surface. "When the sun sets there's a lot more color, there's a lot more drama," he said. "But sometimes it can be minimalist, dark or foggy, obscured by clouds."
Above all, death is something that Seigan believes should be treated with dignity and respect.
---
Names of patients have been changed. The author had no access to hospital records.