Study: Parents Who 'Clean' Pacifiers With Their Mouths May Be Protecting Kids From Asthma, Allergies
At 18 months, babies who had come into repeated contact with their parents' saliva were 12 percent less likely to have asthma and 37 percent less likely to develop eczema.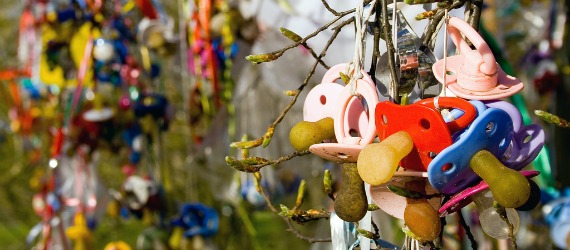 @boetter/Flickr
PROBLEM: The properly cautious parent is advised to soak their baby's pacifier daily in equal parts white vinegar and water, and, each time it hits the floor, to wash it in hot, soapy water. The "hygiene hypothesis," on the other hand, posits that when kids are overly sterilized, they never learn how to fight off pathogens.
METHODOLOGY: Pregnant women in Sweden were invited to participate in a study lead by researchers at the University of Gothenburg. Specifically targeting families where allergic disease was prevalent, they interviewed the new parents of 184 infants every six months about their pacifier cleaning processes, and asked them to keep journals tracking their behavior. The researchers collected the infants' saliva in order to analyze their oral microbes, and the babies were tested for an array of allergies at 18 and 36 months.
RESULTS: When their parents "cleaned" their pacifiers by sucking on them, the infants at 18 months were 12 percent less likely to have asthma, 37 percent less likely to have eczema, and trended toward a lower likelihood of being sensitive to airborne and food allergens than the children whose parents rinsed or boiled their pacifiers. At just four months, the researchers were able to tell the difference between kids whose parents were mouth-cleaners and those who were not just by analyzing the bacterial DNA from their spit.
When they tested the infants again at 36 months, they were no longer significantly less likely to have asthma or be sensitive to allergens. But they remained 51 percent less likely to have eczema. 
IMPLICATONS: The word "clean" is in quotes here for a reason. While the parents were removing physical signs of dirt, they were in fact making the pacifiers dirtier, imparting "a complex mixture of aerobic and anaerobic bacteria" to their infants. (Kissing, write the authors, would likely do the same thing.) Because those bacteria are basically harmless -- the kids whose parents used mouth-cleaning weren't any more likely to develop respiratory infections -- this was actually a good thing, affording them increased immunity, at least temporarily, from allergic diseases.
---
The full study, "Pacifier Cleaning Practices and Risk of Allergy Development," is published in the journal Pediatrics.