Study: Happiness Comes Easier With Upbeat Music
Resarch subjects were better able to will themselves into positive moods while listening to rousing symphonies.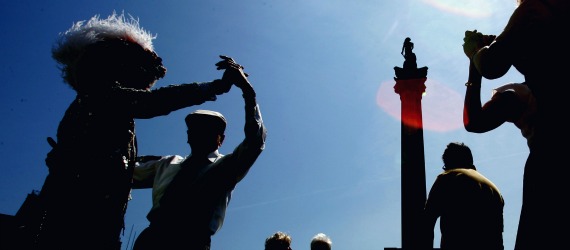 Toby Melville/Reuters
PROBLEM: Making a conscious effort to be happy, according to researchers, is responsible for as much as 40 percent of the variation in how good people actually feel. But trying too hard can backfire: a 2003 study found that when people "try to feel happier" while listening to classical music, they end up feeling worse than if they had just sat and listened.
METHODOLOGY: Researchers at the University of Missouri recruited 167 "generally well-functioning" students and attempted to manipulate their moods. About half of the participants were told to "really focus on trying to feel happier" while listening to music. Some were played the piece used in the 2003 study: Igor Stravinsky's "Rite of Spring," which is characterized as "complex and discordant," and thus kind of a downer. Others were played Aaron Copland's "Rodeo," a more upbeat and generally positive piece. The other half were instructed to "just relax and be yourself" while listening to the music, and explicitly told not to try to improve their mood.
After 12 minutes of listening, the participants were asked to rate their mood on a sliding scale from "very negative" to "very positive," and to indicate, on a scale from one to 15, how much they agreed with positive mood descriptions like "happy," "joyful," and "satisfied."
RESULTS: Participants who listened to the Copland tune while trying their hardest to feel happy finished out the study in a significantly more positive mood. Everyone who listened to Stravinsky, on the other hand, ended up at about the same level, which was also more or less equivalent to the mood of people who listened to Copland without making an effort to feel happy.
IMPLICATIONS: The researchers went into this study with the assumption (based on past experiments) that it is indeed possibly to talk yourself into being happy. Here they showed that context matters in making self-pep-talks effective. For those who don't want life to always feel like a high-energy, major-key Copland tune, however, it's yet to be determined if discordant music can help us become more emotionally complex.
---
The full study, "Trying to Be Happier Really Can Work: Two Experimental Studies," was published in The Journal of Positive Psychology.