Study: Babies Like Watching Puppets Who Are Different From Them Get Hurt
Nine and fourteen-month-olds prefer "individuals who treat similar others well and dissimilar others poorly."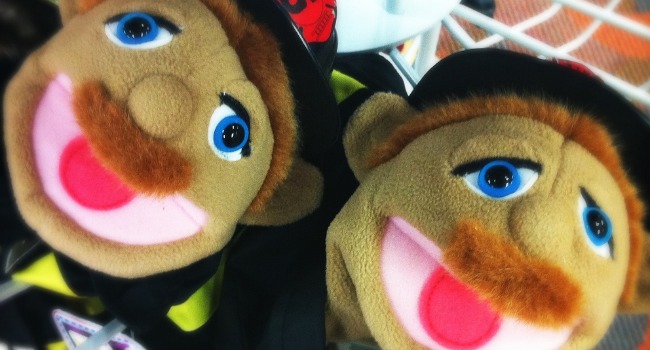 PROBLEM: People are not always good to each other. We do know that babies prefer faces similar to their own and are better at processing emotional cues and distinguishing between people of their own ethnicity. I'm not saying you're racist, babies, but it does seem like you could be cooler.
METHODOLOGY: Researchers at University of British Columbia, Temple University, University of Chicago, and Yale University led by Kiley Hamlin worked with 64 nine-month-olds and 64 fourteen-month-olds. They first established whether each baby preferred graham crackers or green beans. Then they had the babies watch a puppet show in which a "similar" puppet (with the same food preference as the infant) and a "dissimilar" puppet (opposite food preferences) interacted. (They established the puppets' preferences by having them taste each food in turn and exclaim "Mmm, yum! I like [food name]!" toward one type of food and "Ew, yuck! I don't like [food name]!" toward the other.)
Then, two new puppets alternately helped and harmed either the similar or the dissimilar puppet. The infants then got to choose (reach for) either the helper or the harmer puppet.
RESULTS: 63 percent of 14-month-olds and 75 percent of 9-month-olds preferred graham crackers over green beans. (Science!) 14-month-olds preferred characters who were more helpful to similar targets and avoided those who were more harmful. In the dissimilar-target condition, in contrast, 14-month-olds showed the opposite preferences: They preferred characters who were more harmful to the dissimilar target, and avoided those who were more helpful. "A developmental trend was observed, such that 14-month-olds' responses were more robust than were 9-month-olds'."
At no age did the babies prefer helpers (or harmers) across the board -- the puppet's attributes seemed to determine how the baby felt about it being helped or harmed.
IMPLICATIONS: The authors conclude, "These findings suggest that the identification of common and contrasting personal attributes influences social attitudes and judgments in powerful ways, even very early in life." My immediate reaction is that this invokes all societal ills; racism, sexism, foodie-ism, and every other sort of discrimination against those dissimilar to us, at least partly as inborn instincts to overcome. The paper does note that "there was no effect of puppet color." And again, as much as one could potentially make of this, it's babies watching puppets eat graham crackers.
---
The full study "Not Like Me = Bad: Infants Prefer Those Who Harm Dissimilar Others" is published in the journal Psychological Science.