How Exercising at Work Saves Money
Creation of worksite wellness programs is promoted by parts of the Affordable Care Act. If your office doesn't have a gym, it soon might -- out of the company's interest.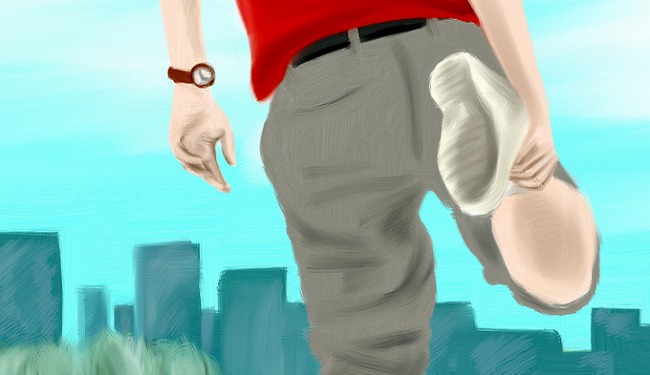 sebastianfritzon / flickr
Ever since Karen Straub had her thyroid removed because of cancer in 1999, she has struggled with her weight. She became diabetic and suffered from terrible acid reflux. So when her boss, California State Controller John Chiang, started a worksite wellness program for his staff, Straub decided to give it a try. She joined new Weight Watchers at Work meetings during lunch on Thursdays. She beams activity data from her accelerometer to the Healthrageous website, which allows her to track her activity and interact with her co-workers through a social media platform. She and her colleagues now compete to see who will be the top walker each week. She walks during her work breaks and for 15 minutes at lunch on most days. Since starting the program, Straub has lost 27 pounds. She doesn't have to take pills for her diabetes anymore. Her acid reflux has disappeared.
Chiang's job is to make sure California's tax dollars are well spent -- to root out waste, fraud, and abuse of public funds. Recognizing that the healthcare costs of state employees and retirees were among several threats to the state's fiscal health, Chiang commissioned a study to determine the proportion of costs that were due to modifiable factors such as diet, exercise and smoking. "We all understand that healthcare costs are spiraling out of control," Chiang said.
The California Public Employee's Retirement System health program covers nearly 1.3 million active and retired government employees and their families. Of $1.6 billion spent on healthcare for state employees in 2008, 22 percent was on high blood pressure, heart disease, stroke and kidney disease -- much of which could have been prevented through diet and exercise. The Urban Institute, which conducted the study, estimated that if changes in diet and exercise could reduce the prevalence of these diseases by 5 percent to 15 percent, it would save the state $18 to $54 million per year.
Unlike other worksite wellness programs -- CVS Caremark's, for example, has been lambasted in the media for fining employees $600 if they don't undergo an annual wellness review -- Chiang's program has been very popular among his staff, in part because he seems truly committed to improving their health and morale. Chiang is now working with Service Employees International Union (SEIU) local 1000 -- California's largest state employee union representing 95,000 members -- and others to pilot a worksite wellness program at the California Department of Public Health and the department of Health Care Services.
According to Sarah Zimmerman, deputy chief of staff for SEIU local 1000, "It's not Big Brother because they're designing something that is meaningful to them." The union's involvement has helped identify important obstacles to worksite wellness. A common request has been for flexibility around the scheduling and length of lunch and work breaks to allow employees to attend onsite exercises at lunch or simply walk outside. "A lot of times, managers don't know what is allowed or encouraged," said Zimmerman. "Sometimes it is simply clarifying what the policy is."
Blue Shield of California, which partnered with Chiang in developing the wellness program for his office, has also been experimenting with Wellvolution, a worksite wellness program for its own employees. According to Bryce Williams, Vice President for Wellbeing at Blue Shield CA, "the mantra of going to the gym for 20 to 30 minutes a day, 5 days a week, and changing your diet such that it is low salt and low sugar and low fat and fun free -- that model hasn't worked." His strategy has been to "make the environment such that the healthy choice is an easy choice." Making healthy choices easy choices has included thought to food placement in cafeterias: placing salad bars in the flow of traffic, healthy items at the cash register, soft drinks behind glass at the back, etc. Food is also labeled with Weight Watchers points to help those enrolled in the program.
Lisa Krieger, an employee of Blue Shield of CA, joined Weight Watchers at Work through the Wellvolution program. Krieger, like most working moms, finds it hard to make time for herself. At least at work she can count on breaks and her lunch hour; there are no such breaks at home with the family. After starting Weight Watchers at Work "the weight just started falling off," said Krieger. And once she'd made some inroads through her diet, she had the energy to start exercising. Krieger used to weigh 100 pounds more, the equivalent of strapping three toddlers the size of Krieger's daughter to her frame. She used to get hot and sweaty with the slightest exertion; now she spends her evenings playing with her kids in the backyard. She used to snore and wake up in the middle of the night; now she sleeps well and feels "like a human in the morning."
"I recently got promoted at Blue Shield. I think the confidence and self esteem [that came with the weight loss] had a lot to do with me getting that promotion," said Krieger.
One common refrain I've heard is that losing weight initially through diet made it possible to exercise and lose even more. Linsey Webb, another Blue Shield of CA employee, felt great after losing 47 pounds through the Weight Watchers at Work program, and then wanted to do something more. She started with one boot camp class at work and then signed up for more. Like Krieger, Webb now sleeps better and finds it easier to keep up with her kids at home. "I had a lot of back pain when I was heavier," said Webb. "My back is perfectly fine now." Healthy habits have the potential to ripple through the rest of the family too. "We all go on walks. We try to make healthy choices when we shop or eat out. We go for hikes or find active things to do together," said Webb.
In addition to providing employees with a gym that has cardio equipment and weights as well as various exercise classes at no charge, Blue Shield of CA is bringing exercise into the office itself with treadmill desks, which max out at 2 mph, and stand-up workstations. Employees of Blue Shield of CA can sign up for up to three one hour shifts at the treadmill desk per week. According to Webb, who processes claims while on the treadmill, "at first it was kind of weird," but the treadmill desk has proved popular and is now constantly booked for use. As these new desks and workstations catch on, Blue Shield of CA is partnering with researchers at Stanford University to study their impact and how best to offer them to their employees.
Four out of five Blue Shield of CA employees have participated in at least one aspect of the Wellvolution program, including biometric screening, Weight Watchers at Work, fitness classes and events and quit smoking classes. Between 2008 and 2012 smoking rates dropped by 48 percent, regular physical activity increased by 32 percent, and rates of high blood pressure declined by 66 percent. Williams is now marketing the Wellvolution program to other businesses.
About two-thirds of employers offer worksite wellness programs, and with the Affordable Care Act authorizing grants to small businesses to set up such programs, that proportion is likely to increase over the next couple years. But not all worksite wellness programs have been successful in making their employees healthier or reigning in healthcare costs. The success of Safeway's much touted wellness program in reducing healthcare costs -- which inspired worksite wellness provisions in the Affordable Care Act -- turned out to be false. Safeway, too, offered employees onsite gyms with classes and subsidized cafeterias with healthier foods. Safeway's health care costs dropped by 12.5 percent after the company overhauled its benefits plans in 2006, three years before its Healthy Measures program started, but then resumed climbing. Only 11,000 of Safeway's 200,000 employees participated in Healthy Measures. The produce managers, deli counter workers and cashiers that make up the majority of Safeway's workforce didn't have access to the gym, cafeterias and other amenities at company headquarters.
My family's experience with worksite wellness programs is typical of many. We were given a small incentive to complete an online baseline health risk assessment, and then given recommendations on how we could be healthier. We each got calls from a nurse to discuss these recommendations, but neither of us had the time for that in the midst of our busy workdays. Worksite wellness programs won't save employers money -- and may in fact further drive up costs -- if they aren't designed to help employees actually change their habits.