The Modern Female Eunuch
Historically, low levels of testosterone seemed to make eunuchs ideal negotiators. Their highly specialized and respected roles are now being filled by women.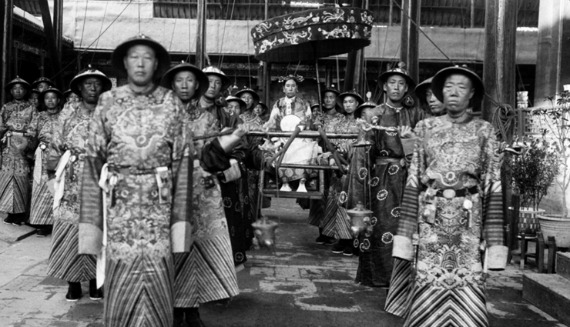 Qing Dynasty Imperial Dowager Empress of China with palace eunuchs [Wikimedia Commons]
Germaine Greer's 1970 The Female Eunuch gave eunuchs a bad name. Applying the term for castrated males to women's political and social disempowerment, Greer overlooked the fact that actual eunuchs -- and other men with low testosterone -- have occupied some of the most powerful positions in government and the military throughout history.
Only a few countries, and a handful of U.S. states, continue the practice -- long considered barbaric -- of actually castrating males. Even then it is voluntary. Today the term "emasculate" is typically used to imply political impotence rather than literally severed or nonfunctional testicles. Since eunuchs are without functional testicles, they are both sterile and deprived of the testosterone that promotes male characteristics.
Although Greer negatively equated women's disenfranchisement with castration, it is ironic that women, more than ever, fill roles historically and exclusively held by eunuchs. In fact, eunuchs ran the show in many settings and for a long a time. Historically, males were castrated before puberty to prepare them for governmental service. Classicists mostly agree that eunuchs served dynastic governments so well, and were not a threat to the dynasty, because they had no descendants of their own to favor. But they were also recognized for being more competent and accomplished in certain administrative areas than non-castrated males.
Eunuchs were not just bureaucrats and functionaries. They were the generals, diplomats, and negotiators in some of the most preeminent and enduring governments that ever existed. Castrated males were key to the functioning of some of the largest and longest-lasting dynastic governments across Asia from biblical times to the collapse, roughly 150 years ago, of the Ottoman and Chinese empires. They filled nearly all senior government posts. Many were warriors and military leaders. Indeed, Narses, the senior general under the Byzantine emperor Justinian I, was a eunuch. The world would be very different today if, 1,500 years ago, Narses hadn't destroyed the Ostrogoths and saved the Roman Empire.
Clearly, eunuchs were far from being "wimps" because they lacked "balls." Take, for example, one of the most brutal power-brokers known to history, the eunuch Mohammad Khan Qajar. Khan unified Persia in 1795 and set up a dynasty that ran the country for 130 years. Sir John Malcolm, a contemporary British historian, describes Khan as methodical and calculating, yet he also pointed out how insightful and knowledgeable Khan was about the character and feelings of others.
Both historical accounts and contemporary research on how testosterone affects personality reveal that eunuchs had traits that made them different from intact males, and in some ways more like females. Their astuteness and objectivity in assessing others' strengths and weaknesses made them particularly effective as bureaucrats, diplomats and tacticians -- quite the opposite of what most people now think of when they hear the word "eunuch."
When researchers examine how males and females differ in personality, one of the most consistently documented differences has been in agreeableness.
Women in the maternal role, who have multiple offspring, need to be good negotiators in order to resolve conflict among their children in a way that maximizes their number of surviving descendants. It is thus not surprising that many studies show that agreeability is higher in women than men. That alone could lead natural selection to favor females to be low in testosterone. Indeed recent data from our own and our colleagues' labs on the effect of testosterone deprivation on adult males indicates that castration increases agreeableness and tends to push male behavior towards that of the female end of the spectrum.
High testosterone males are more disagreeable -- rather than only being more aggressive -- than females or low-testosterone males. In his book about testosterone and behavior, Heros, Rogues, and Lovers, James McBride Dabbs said that if there was one word that characterized an excessively high testosteronic individual, it was "obnoxious."
There is little doubt that testosterone makes many men more abrasive, insensitive, less contemplative, less empathetic, and less tactful than most women. These are not beneficial traits for someone in a position of power with the mission of solving problems by avoiding, rather than entering into, conflict.
Dabbs studied testosterone levels in men and women in a wide variety of professions. In his investigation of the military, he found that generals had the lowest testosterone levels and combat soldiers the highest. In the heat of a battle, in a life or death situation, acting fast is often more important than thinking about options; one needs to shoot first and (perhaps) think later.
But to win wars on a larger scale -- or better still, to avoid them in the first place -- one needs to be a strategist able to envision both sides when conflicts are looming and to avoid letting situations escalate out of hand. Being low in testosterone helps one to think before reacting, to consider options and to envision outcomes. These skills are impeded by high testosterone and it thus benefits senior strategists in both military and non-military situations to have low, or even castrate levels, of testosterone.
To do their tasks well and to maintain government stability, the eunuchs needed to be both agreeable and conscientious. Although the data are not as statistically significant as on agreeableness, studies on the personality of testosterone-deprived adult males also suggest that lowering testosterone may, in fact, enhance conscientiousness.
As diplomats, eunuchs had to negotiate peace with neighbors to avoid dangerous conflicts. That is what is meant by good diplomacy, which is a product of agreeability and to some extent, a by-product of low testosterone. Diplomatic solutions are hard to achieve when one is high on testosterone and roaring for a fight.
In the modern world the most empowered negotiator on the planet is the U.S. Secretary of State. It may be more than a coincidence that three of the four most recent individuals to occupy that role have been women: Madeleine Albright; Condoleeza Rice; and Hillary Clinton. These women have filled a post that would have commonly been held by eunuchs in the Byzantine, Ottoman, and Chinese empires.
As secretaries of state, women are now key players in keeping peace on earth at a time when confrontations between Christians and Muslims have been intensifying. Women have thus filled the diplomatic roles that eunuchs filled when the Christian and Islamic worlds -- the Byzantine and Ottoman empires -- first came into conflict centuries ago in what is now the Middle East. Back then, many of the military leaders on both sides were eunuchs.
The similarity between modern women and eunuchs also shows up in data on life expectancy. Men don't live as long as women and the difference in longevity has been linked to testosterone. Recently historians studying court records from Korea have confirmed that eunuchs of the past also lived longer than their male contemporaries of similar socioeconomic status.
Still another way that empowered women appear to be converging on the eunuchs of history relates to reproduction. Before the development of the contraceptive pill, the fertility of women often trapped them in traditional patriarchal families. Empowered women today have far fewer pregnancies than they would have had in the past. The most powerful women in the world -- the top 20 percent on the Forbes' list -- have on average 1.65 children. The collective fertility of Hillary Clinton, Condoleeza Rice, and Madeleine Albright is four children between the three of them; 1.33 kids per person. This is admittedly more children than a eunuch in Constantinople would have had, but it is still below the replacement level of two children per generation.
The cry for reproductive freedom that was so central to the feminist movement when Greer wrote her book sees its fruition in a social class of females with low or no reproduction. The modern feminists, who limit their reproductive prolificacy, and thus ascend politically, arguably emulate eunuchs more than they imitate modern intact males.
RECOMMENDED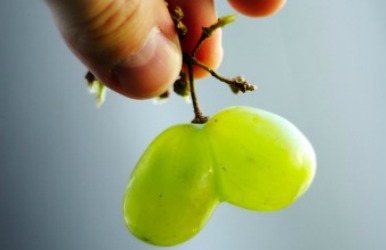 Ultimately, of course, true empowerment and liberty for women will come when they can have a full reproductive life and political power. Thanks to feminist activists like Germaine Greer -- and thanks to the legalization of safe and effective contraceptives -- women in the western world now have the freedom to be the top public servants in contemporary society. These are honorable positions best managed by individuals with lower testosterone than the males elected to be their superiors.
The modern female eunuch, like the eunuch of the past, is far from the metaphoric disempowered individual depicted in Greer's book.