The Case for Teaching Kids 'Vagina,' 'Penis,' and 'Vulva'
Sex-abuse prevention educators want children to understand that "private parts" are off limits to others. But they also want kids to be comfortable using what linguists call "standard" dialect for these parts, rather than euphemisms and colloquialisms.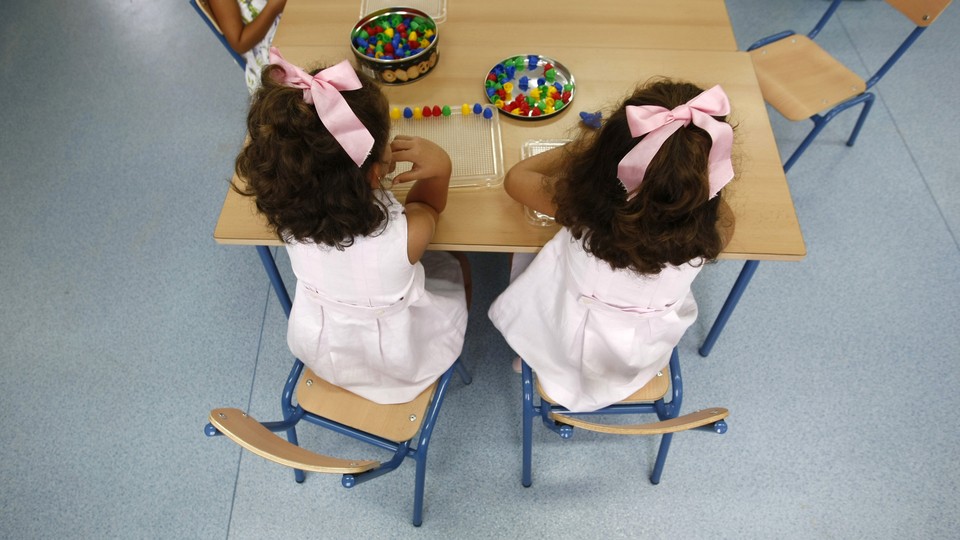 normanack/flickr
One bright morning in late March, Kate Rohdenburg, a sexual violence prevention educator, sat cross-legged on the floor of a first-grade classroom. In her arms, she cradled two plastic baby dolls, one brown, one beige, each with its own miniature cloth diaper.
Thirty minutes into her lesson, Rohdenburg had already covered several foundational concepts of child sexual abuse prevention— consent, empathy, body rights, privacy.
"What body parts are the same?" Rohdenburg asked the 22 six-year-olds wiggling around her.
"Face!""Nose!""Belly!""Mouth! ""Toes!" The children called out.
"We all have a heart!" one child shouted.
"They both have penises!" shouted another, eliciting a burst of delighted giggles.
"Do you think?" Rohdenburg asked. "Does everyone have a penis?
"Noooo!" The children laughed in silly-you incredulity.
In the last year, Rohdenburg, who works in New England's Upper Valley, a region that straddles the New Hampshire-Vermont border, has said "penis" and "vagina" in the public school classrooms of more than 500 children, K through 12. She's said "penis" and "vagina" with their teachers and parents, too, some 400 or so in all. As part of the growing movement to implement abuse prevention in schools and other youth-serving organizations, Rohdenburg and other educators believe that teaching what linguists call "standard" dialect for body parts—rather than euphemisms and colloquialisms—is important. Teaching children anatomically correct terms, age-appropriately, says Laura Palumbo, a prevention specialist with the National Sexual Violence Resource Center (NSVRC), promotes positive body image, self confidence, and parent-child communication; discourages perpetrators; and, in the event of abuse, helps children and adults navigate the disclosure and forensic interview process.
Despite evidence of their protective value, the words cause trouble sometimes. Two weeks after Rohdenburg gave her lesson in March, as required by a new state law, a biology teacher at a public high school in Idaho said "vagina" in one of his classes. Several parents filed complaints against the teacher, Tim McDaniel, and now he is under investigation. Last June, Michigan State Representative Lisa Brown was banned from Lansing's state house floor after she said "vagina." One sexual-abuse prevention trainer in New England tells the story of a mother who discovered her first-grader had learned the word "penis" in school. The mother pulled her daughter from class. "You've destroyed her innocence!" she shouted at the school's counselor.
Yet while cases like these make headlines, educators increasingly believe—and parents seem increasingly to accept—that teaching and using plain and accurate language to describe the human body can help children live healthier lives. "We need all adults to be partners in teaching healthy childhood sexual development," says NSVRC's Palumbo, and "square one is body parts." Educators and parents should communicate accurately, without stigma or shame, she says. This helps children who "have important health questions or an experience they're concerned about talk with adults about their concerns," whether the child is seven or seventeen. Parents are children's most important teachers, it's true, but, as educators like Palumbo notes, not every one of the 55 million children who goes to school in America each day comes home to a CDC-ideal "safe, stable, and nurturing environment." One study indicates 34 percent of child sexual abuse offenders are family members. Meanwhile, one in ten students reports being sexually victimized by school employees, predominantly teachers and coaches.
Anthony Rizzuto, Ph.D., is the child psychologist who oversaw implementation of prevention education in Catholic schools and churches in more than 360 Boston parishes, more than 210,000 children in all, in the wake of revelations of widespread abuse there. It was a time of very high emotion, Rizzuto says, with "a lot of anger, a lot of distrust." The issue of language came up at just about every informational meeting held, Rizzuto says. "In response, we described the relevant research and the reasons for using anatomically correct terms—to give children the language they need should they need to report, especially should they need to report to law enforcement or the department of social services." While it's hard to measure the impact of teaching anatomically accurate terms within the context of the comprehensive programs put in place, Rizzuto says, "the children came to learn that school and church was a safe environment to disclose and that if they chose to do that, people around them would know what to do to make it stop." Reports were tracked, he says, and indicated "an increase in children who were self-disclosing ... Children got comfortable, and started coming to teachers and parents."
Back in the classroom, Rohdenburg held the dolls. "Babies have some body parts that are the same and some that are different," she said. "With the diaper on, it's really hard to tell which parts are different—unless we know which private part the baby has. I called it a private part. Why?"
"Because it is!" the children answered.
Here lies the heart of the matter, when it comes to sex-abuse prevention: Educators like Rohdenburg want children to understand that their "private parts" are just that—private and off limits to others. But they also want students to be comfortable talking about these body parts, and with the words that describe them. "We don't want kids to think they're going to get in trouble by asking questions about sexual matters and health," Palumbo says. When officials pull a teacher into an investigation or escort a legislator from her state house floor for using the word "vagina," or a parent removes a child from a class that uses the word "penis," children are more likely to think their questions will get them in trouble, she says. This shuts down communication, reinforcing the culture of secrets and silence perpetrators rely on for cover. This is why Rohdenburg holds meetings with school staff and parents before her classes, and explains to them the reasons she uses the accurate words that everyone understands.
Prevention educators like Rohdenburg and Rizzuto note that teaching the terms needed to describe the human body is only one small piece of a complicated puzzle. Ideally, current research-based prevention models are implemented systematically, and include policies and procedures for a safe school environment, training for all staff, parent engagement and education, and, finally, a child-focused curriculum that includes a language component. "In the end, we're talking about changing some of the deepest-set norms," says Monique Hoeflinger, senior program officer for the Ms. Foundation for Women's campaign to end child sexual abuse.
With the children chatting around her, Rohdenburg rested the dolls gently on their backs. She began to change their diapers, "because babies still need help." Careful to support the neck and head, Rohdeburg held up one doll.
"Penis!" The children shouted, seeing the diaper-free baby.
Rohdenburg held up the second baby.
"Vagina!" They called out, laughing.
"Sometimes we giggle because we don't talk about vaginas and penises a lot," said Rohdenburg matter-of-factly, after introducing another word, "vulva." "But it's a body part," she said, "a private body part."