Study: Beer's Taste Alone Gets People a Little High
Our bodies anticipate the effects of beer, releasing euphoric signals even before alcohol gets into our blood. Hence, "It's so good, once it hits your lips, it's so good."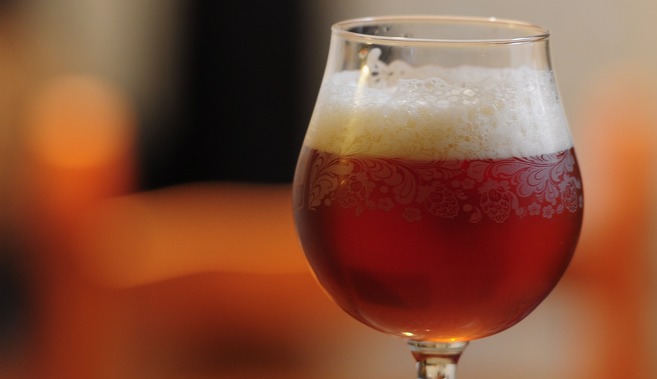 adambarhan/flickr
PROBLEM: If I were to list everything that causes brains to release dopamine -- the neurotransmitter that tells us we like doing something and should do it again -- we'd be here all day. So, here are all the things that cause brains to release dopamine: ... kidding! But alcohol, sex, love, exercise, sunshine, and methamphetamines are among them. How, when, and how much dopamine our brains release are integral to both happiness and addiction.
METHODOLOGY: Researchers led by Dr. David Kareken an Indiana University scanned the brains of 49 men, taking pictures with positron emission tomography while the subjects drank just a sip (15 milliliters) of Gatorade, and one scan while drinking the same amount of beer. Some of the men were social drinkers; some were heavy drinkers. None were non-drinkers. Some had a family history of alcoholism; some did not. 
Importantly, the scans took place before the alcohol would have time to get into their bloodstreams.
RESULTS: The brains of the men who tasted the beer released more dopamine from the ventral striatum than the men who drank the Gatorade. The men with a family history of alcoholism released more dopamine than the men without. The amount of dopamine released correlated directly with the man's genetic risk for alcoholism.
IMPLICATIONS: Our bodies anticipate the effects of alcohol by a conditioned response, like Pavlov's dogs. Our brains start to release euphoric signals in response to the taste of beer, even before alcohol even gets into our blood, because we seem to know what's coming. That effect is even stronger in people who are predisposed to alocholism.
Caveats: There's no reason to think this would not apply to women, too; this study just included only men. Also, the idea of tastes triggering dopamine release is not new, it's just of special interest in this case in the setting of alcoholism.
I have a short article in our magazine (out next week) about this same mechanism: the context effects of drinking in strange scenarios, and why we feel intoxicated more quickly at an in-office happy hour than at a favorite bar. So, more to come.
---
The study, "Beer Flavor Provokes Striatal Dopamine Release in Male Drinkers: Mediation by Family History of Alcoholism," is published in the journal Neuropsychopharmacology.