Study: 1 in 3 People Is Distracted by Their Phone While Crossing Busy Streets
Is it okay to hit them (lightly)?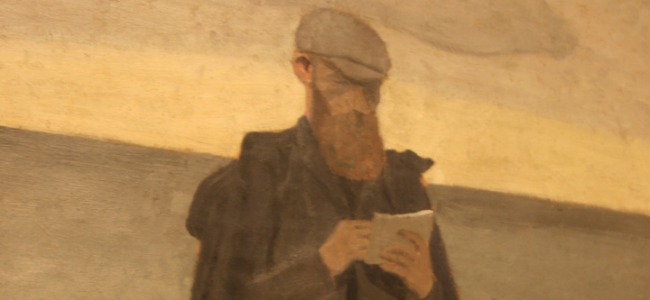 quinnanya/flickr
PROBLEM: Smartphones are the root of all societal ills, borne directly of Satan. Last spring, Michigan resident Bonnie Miller was texting when she walked heedlessly off of a pier and into Lake Michigan. Many cities have lately implemented distracted walking campaigns to promote pedestrians' awareness of their surroundings. In Philadelphia, crosswalks read "Look Up."
METHODOLOGY: Researchers at University of Washington's Injury Prevention Center secretly watched 1102 people crossing the street at "20 high-risk intersections during ... randomly assigned time windows," recording what they observed. As I imagine it, they did so from unmarked van.
RESULTS: 29.8 percent (nearly one third) of all pedestrians "performed a distracting activity while crossing." That further broke down to 6.2 percent talking on the phone, 11.2 percent listening to music (how did the researchers know it was music?) and 7.3 percent texting (how did they know they weren't playing a game or looking at Instagram or just wistfully rereading old texts from lovers past?). In any case, it's a lot of distracted people at busy intersections.
Also interesting but not unexpected, people texting took 18 percent more time than undistracted people to cross. The texting people were also almost four times more likely to disobey signals or to not look both ways.
IMPLICATIONS: The authors wrote, "Our findings suggest the need for intervention studies to reduce risk of pedestrian injury." Sort of. Although they didn't measure injuries in this study, so that is a bit of a jump. The pedestrians might not have been listening to music at all, but instructional podcasts about CPR or first aid or atonal sounds that convinced them to become an organ donor. They might have been texting or talking with their doctor about critical results. The things these people did accomplish in the throes of distraction may have made the world overall a safer, healthier place.
But that's probably just me giving humanity too much benefit of so much doubt. Never use a phone or other technology. Or else your city will start using your tax dollars to write "Look Up" on the ground.
---
"Impact of social and technological distraction on pedestrian crossing behaviour: an observational study" is published in BMJ Open's Injury Prevention.