Should the Modern Man Be Taking Testosterone?
Testosterone deficiency is exceedingly less common than marketing campaigns and "you only think you feel fine" culture would have us believe.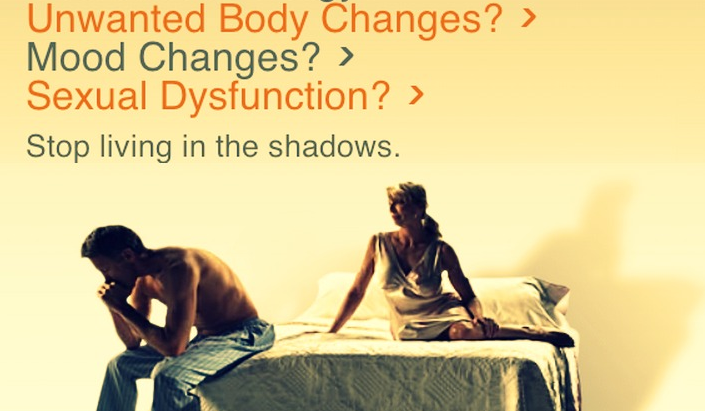 By now you've likely seen the commercials. Fit-looking middle-age men telling you how they put on weight, had less energy, and were no longer the sexual tigers they were in their twenties—until, that is, they started rubbing testosterone gel on their shoulder, upper arm, or abdomen.
Now they feel more like the men they used to be.
The commercials don't mention a 2009 study in the New England Journal of Medicine wherein a group of men on testosterone replacement therapy had more than four times the number of cardiovascular problems—so many that the study had to be halted.
They also don't make clear how risky exposure to testosterone gel is for others—female partners, children, even pets. The gel is actually notorious for transferring to others. It can cause excess hair to grow on women's faces and arms, deepen their voices, interrupt menstruation, and make them anxious and irritable. In children, exposure to testosterone gels and creams can cause premature puberty and aggression. And in pets, it can cause aggressive behavior and enlargement of the genitalia.
Commercials do mention other potential side-effects for the male user, calling them "rare," including swollen and painful breasts, blood clots in the legs, increased risk for prostate cancer, problems breathing during sleep (sleep apnea), change in the size and shape of the testicles, and a low sperm count. But you're not supposed to focus on the details. Instead, just think of the energy you'll have. The great sex you'll have. And the muscles. It will be a veritable second adolescence as your aging body bursts into new bloom.
Don't get me wrong. The medical experts interviewed for this article emphasized that low testosterone—also known as hypogonadism or hypotestosteronemia—is real for a slim percentage of men. They hastened to add, however, that a normal "T" level for one man may be low for another.
According to British Medical Journal (BMJ), the European Male Ageing Study has provided the best estimate of the prevalence of low T—defined as a combination of sexual symptoms and measured testosterone level—finding that only 0.1 percent of men in their forties, 0.6 percent in their fifties, 3.2 percent in their sixties, and 5.1 percent of men in their seventies would meet the criteria for the diagnosis.
Unlike menopause in women—when estrogen levels plummet and stop almost completely—testosterone levels in men normally fall by only 1 to 2 percent per year after age 40.
"Low T" is anything but inevitable. BMJ's Drug and Therapeutics Bulletin says that around 80 percent of 60-year-old men, and half of those in their eighties, have testosterone levels within the normal range for younger men. It concluded, "The evidence that an age-related reduction in testosterone levels causes specific symptoms is weak." The Food and Drug Administration (FDA) meanwhile has not approved testosterone use to improve strength, athletic performance, physical appearance, or prevent aging. And a 2004 report from the Institute of Medicine ("Testosterone and Aging: Clinical Research Directions") called TRT for age-related testosterone decline a "scientifically unproven method."
"A proportion of older men will predictably have testosterone concentrations below the normal range of healthy young men," wrote BMJ deputy editor Tony Delamothe, in a 2012 commentary. He added, "It seems a bit harsh to turn an age-related phenomenon into a disease, but that's what's happened."
In the age-old tradition of snake oil peddlers and traveling medicine shows, TRT is but the latest elixir from the fountain of youth. Offering a heady brew of hope and hype distilled at the drawing boards of advertising agencies, tubes of testosterone are the latest wares for the unwary.
So what is this Big T, anyway? Derived from cholesterol, testosterone is a steroid hormone—called an androgen—that causes the development and maintenance of masculine characteristics. It's mainly secreted by the testicles in males, although the adrenal cortex and ovaries in females also secrete testosterone—though only about one-tenth the amount as in healthy males.
Interest in testosterone began when farmers of old first noticed that castrated animals were more docile than their intact peers. Ditto for castrated humans. For human males with intact gonads, testosterone increases during puberty. It deepens the voice, increases muscle growth, promotes facial and body hair, and spurs the sex drive. Testosterone also is associated with personality traits related to power and dominance.
Testosterone levels fluctuate throughout the day, and are usually highest in the morning. They peak in the late teens to early twenties, after which they decline slowly, but steadily, as men age. Although there is no standard definition of "low" testosterone, a healthy range spans between 250 to 1,100 nanograms per deciliter of blood.
Questions inevitably arise: If even scientists don't agree on what, exactly, "low T" means, how can anyone diagnose it? At what point is it problematic? And, most importantly, how can you know whether you are a candidate for TRT?
"I am very cautious about committing someone for life to medication," said Dr. Kathleen L. Wyne, who directs research on diabetes and metabolism at Houston's Methodist Hospital Research Institute and serves on the Sex Hormone and Reproductive Endocrinology Scientific Committee for the American Association of Clinical Endocrinologists. "That does frustrate patients because they have heard about [Low T] from TV and friends."
Although her male patients may or may not get the low testosterone diagnosis they believe Dr. Wyne should give them, they will get a comprehensive examination. Besides their testosterone level, she will look at their triglycerides, glucose (blood sugar) tolerance, liver enzymes, and other counts as well as the condition of their testicles. "I need to know if they're normal going into it," she explained.
Dr. Wyne told me that although she has seen an increase in male patients asking about low testosterone, she hasn't seen an actual increase in the condition itself. "I do see an increase in guys who are fatter," she said. "The question is whether, if you lose 15 or 20 pounds, your testosterone would revert [to normal]. We know that even 15 pounds makes a huge difference to their level. Most of these guys actually have 50 pounds to lose."
In Seattle, Dr. Bradley D. Anawalt, an endocrinologist and professor of medicine at the University of Washington, said it's challenging for physicians to tease out the actual causes of a man's low energy, drop in sexual interest, and other potential symptoms of low testosterone that may as likely be caused by something else.
"The hard part," said Dr. Anawalt, "is the man who is 50 pounds overweight and sedentary, who sees a TV ad and goes to see his doctor. Let's say he has a thoughtful doctor who does the right test, at the right time of day (morning), and the test comes back low. Many of these guys will have low or slightly low testosterone. We have no evidence for whether or not it's a benefit to give these guys testosterone." He added that concern about their testosterone level could be a good thing if it spurs men to lose weight and exercise. "A low testosterone level can be a marker of poor health," he said.
Dr. Anawalt called the diagnosis and treatment of low testosterone a careful balancing act. "You don't want to leave the impression that no one is at risk for low testosterone," he said. He explained that physicians need to be aware that men coming in with low libido, sexual function, osteoporosis, or new breast sensitivity might well have low testosterone. Besides measuring testosterone— usually two or even three times—confirmatory tests will also measure other hormones that regulate testosterone and sperm production in the testicle. "If they don't have that evidence," said Dr. Anawalt, "we will tell a man we don't think you're suffering from the effects of low testosterone."
Sometimes, low testosterone can actually be a good thing. In fact there are hundreds of thousands of men in North America at any given time whose T level is intentionally lowered using drugs derived from testosterone or estrogen. These are men being treated for prostate cancer.
Richard J. Wassersug, PhD, an adjunct professor of urology at the University of British Columbia, described his personal experience with androgen deprivation therapy (ADT). "If you are on ADT," he said, "and you see those Low T ads, what are you supposed to make of it? This produces a cognitive dissonance." He called the ads "hurtful" for suggesting that low testosterone makes a man less of a man.
Dr. Wassersug, whose background is in evolutionary biology, also noted that lower testosterone in older men may be adaptive, a positive benefit, as our bodies age and become increasingly frail. "The argument can be made," he said, "that it's not beneficial to have the mindset of a 19-year-old when you are 49-years-old, because if you are aggressive enough to get into a conflict with an actual 19-year-old, you are going to get killed."
When Solvay Pharmaceuticals, maker of market-dominating Androgel, launched its "Low T" campaign, in 2008, it claimed that 13 million American men over age 45 suffered from low testosterone, 90 percent of them undiagnosed. Its website, IsItLowT.com, showed dumpy, depressed men and their unhappy spouses remembering how it "used to be." Why settle for dumpiness and depression, the website and related TV ads suggested, when a little dab'll do you?
In its first year alone, 1.4 million prescriptions for AndroGel were written in the U.S., most of them for 50 to 59-year-old men. Today, numerous websites peddle the drug without requiring a prescription.
Interestingly, the Belgian company Solvay, acquired for €4.5 billion in 2010 by American pharmaceutical giant Abbott, didn't put its own or its product's name on the website. As AdWeek pointed out when the campaign launched, "One of the advantages of taking the unbranded route for Androgel is that the company does not have to warn consumers quite so prominently about Androgel's side effects."
Dr. Adriane Fugh-Berman, associate professor of pharmacology and director of the industry watchdog group PharmedOut.org at Georgetown University School of Medicine, calls this kind of direct-to-consumer pharmaceutical advertising "evil." She likened the efforts to sell TRT to earlier campaigns to push hormone replacement therapy for post-menopausal women. "They stole the playbook," she said. "This hormone is being thrown around like sugar water."
"By expanding the boundaries of this disease to common symptoms in aging males, such as fatigue and reduced libido, drug companies seek to increase their markets and boost their sales," wrote Barbara Mintzes, an assistant professor at the University of British Columbia School of Public Health, and Agnes Vitry, a senior research fellow at the University of South Australia, in a 2012 article in the Medical Journal of Australia .
In Australia, where it is illegal for drug makers to advertise directly to consumers—as it is everywhere except the United States and New Zealand— Dr. Vitry told me via e-mail that the country's FDA-like regulatory body, Medicines Australia, fined Bayer a minuscule, but symbolic, 10,000 Australian dollars for breaching MA's code of conduct in its TRT disease-awareness campaign. Although Bayer implied that low testosterone was the most prevalent cause of the symptoms described, and that there was a high incidence of low T, Vitry said Medicines Australia didn't nail Bayer for illegal direct-to-consumer advertising because its campaign "did not encourage patients to seek a prescription for a specific testosterone product."
These "disease-awareness" campaigns—ostensibly a public service intended to educate those potentially at risk about a condition they may not even have heard of but "could" have—are subtle, even insidious. They may not mention a specific product, but a bit of sleuthing reveals that their sponsors are usually pharmaceutical companies that "just happen" to manufacture products used to treat the real (or at least alleged) condition.
Dr. Fugh-Berman said these campaigns encourage men to "ask your doctor" whether their weight gain, falling asleep after dinner, reduced energy, and diminished sex drive are due to "Low T." At the same time, the companies are working other angles to influence doctors' prescribing practices through industry-sponsored continuing medical education (CME) courses and sponsored medical journal articles. They have even created a respectable-sounding journal called The Aging Male. Fugh-Berman said all these channels "are being used to persuade doctors they should be treating this."
After bombarding consumers with advertising, and massaging physicians with free meals and medical "information," the stage is set to seal the deal. "The fat guy has been seeing the ads on TV," said Fugh-Berman. "The doc has just come from a medical meeting where they were talking about how using testosterone can fight depression, etc., and they are being primed in a different way."
In the U.S., where millions watch the Super Bowl simply to see the clever and costly commercials, and where pharmaceuticals with potentially deadly side effects are pushed on the public at every turn, it's probably not surprising that ads for "Low T" are now splayed across billboards in Florida, with its huge number of older residents, or that a chain of "Low T Centers" has sprung up in Texas and around the heartland.
"Bring back the younger inner you," says the Low T Center. According to its website, its president, Mr. (notably not "Dr.") Mike Sisk, "created these centers out of a need." They promise their testosterone injections "do not just help boost a low sex drive but can also boost energy, decrease body fat, irritability, and depression." They go so far as to claim that "research finds testosterone replacement can solve long-term health issues like Alzheimer's and heart disease."
Best of all? It's easy. "Low T Center is set up so men can walk in, take a simple blood test, and know within 30 minutes whether or not they are a candidate for testosterone replacement therapy, or TRT. Men who qualify get their first injection on the spot, and will continue to come in three times per month to receive a quick testosterone injection."
Step right up! Right this way. Whether you take your "T" by injection, gel, patch, or subcutaneous pellet, the promise of eternal youth can be yours for the taking.
"I testified against one of these centers in Texas," said Dr. Fugh-Berman. "[The owner] offered me a free workup. I said thank you for your offer, what is it you charge for your first visit? Two thousand dollars? I said I feel fine. He said 'You just think you feel fine.'"
According to the Endocrine Society, the world's oldest, largest, and most active organization devoted to research on hormones and the clinical practice of endocrinology, "androgen deficiency"—another name for low testosterone— should be diagnosed "only in men with consistent symptoms and signs and unequivocally low serum testosterone levels."
The group's 2010 clinical practice guidelines make it clear that "the threshold testosterone level below which symptoms of androgen deficiency and adverse health outcomes occur and testosterone administration improves outcomes in the general population is not known." They also clearly advise against screening men in the general population to avoid "labeling and medicalization of otherwise healthy men for whom testing, treatment, and monitoring would represent a burden with unclear benefit."
Dr. Ronald Swerdloff, chief of the endocrinology division at the Harbor-UCLA Medical Center and a professor of medicine at UCLA's David Geffen School of Medicine, served on the panel of experts who developed the Endocrine Society's guidelines. He is also the principal investigator for one of the 12 sites of The Testosterone Trial in Older Men, a nationwide study funded mainly by the National Institute on Aging. The study of 800 men over age 65 with low testosterone is looking at whether men using AndroGel for one year, compared to placebo, will show improvements in walking speed, sexual activity, vitality, memory, and anemia. The study will be completed in June 2015.
"The hope," explained Dr. Swerdloff in a telephone interview, "is this will provide some clarity as to whether testosterone replacement therapy will benefit men in this older age group who clearly have abnormal testosterone and have some symptoms." He added, "We don't know whether it will be beneficial at all the endpoints we are studying, or be beneficial to some and not others. We don't know if the benefits occur at different blood levels that are attained in the individuals."
He said it's also important to point out there may be different thresholds for different people. "One man might get low libido at 325 milligrams per deciliter, while another might not get low libido until 450," he said. As for doctors who say that every man of a certain age will benefit from TRT, Dr. Swerdloff said, "It should not be treatment based on age. It should be treatment based on the best available laboratory and clinical data. Those patients who don't meet the criteria for treatment should not be treated unless there is some logical reason why they are outliers from the usual type of pattern."
Even before the study yields its findings, Dr. Swerdloff said a few important points should be emphasized. "I want to make it clear that this is not a made-up disease," he said. "It is well known in younger men that if you have a failure to produce normal testosterone, there are certain signs and symptoms that create a kind of syndrome. Treatment for low testosterone has been documented to be beneficial."
Barbara Mintzes, at the University of British Columbia, said in a Skype interview, "Androgel was approved for a real condition—men who have a number of clinical or acquired conditions that affect testosterone, either through the testes or pituitary gland. So testosterone replacement therapy makes sense, and producing it in a gel makes sense. Where there is an actual need for the product, there's nothing wrong with that." But, she added, "When this gets marketed for what is essentially healthy aging, the antennas go up."
Dr. Wyne, in Houston, said, "When I hear a catchy little phrase, or someone is trying to get us to use a drug that is not based on clinical data, the cynical part of me asks where did it come from." She added, "There is a very important role for testosterone replacement therapy. It's wonderful that we have all these options, but we need to be using them appropriately, in a safe and efficacious manner."
There's the rub, so to speak. Recalling the cautionary lessons learned about sex steroid hormone therapy in postmenopausal women from theWomen's Health Initiative, Dr. Brad Anawalt wrote in the Journal of Clinical Endocrinology and Metabolism, "We are threatened with a reprise of promiscuous prescription of sex steroid hormone therapy in aging men, obese men, diabetic men, and other groups of men with a high prevalence of low serum androgen levels. We are threatened with a mad 'T' party."
In our interview, Dr. Anawalt said, "It's a sexy term to say you have 'Low T.' So it's eye-catching and it's relatively easy to document that someone has a low testosterone level." And some men do. But, he said, "It's being packaged and marketed not just by the makers of testosterone products, but by doctors and marketers as a panacea."