Shiny Spots on a Brutal Week
Today the Boy Scouts of America "called to end" its ban on gay members.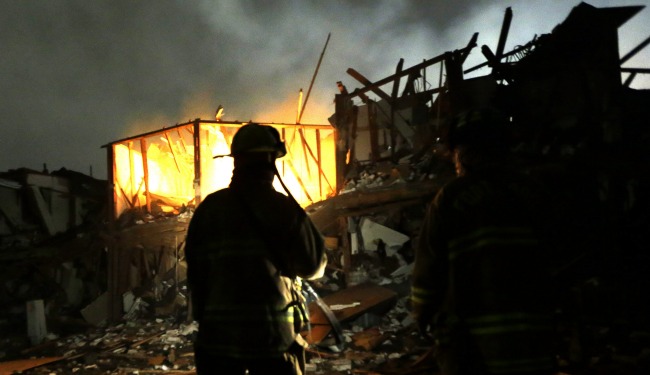 FirefightersThursday morning search a destroyed apartment complex near the fertilizer plant that exploded in West, Texas. (LM Otero / AP)
As comedian Andy Daly put it, "When an Elvis impersonator trying to kill the President is the least interesting news story of the week, you know some shit went down."
Buried among the week's disasters and conflict, Boston to Texas to the United States Senate, were a couple heartening stories. The Boys Scouts of America "is proposing to lift the ban for youth members ... it [will] submit this proposal to the roughly 1,400 voting members of its National Council at a meeting in Texas the week of May 20." The BSA will continue to discriminate against gay adults, but reports are optimistic that it will pass this proposal to admit gay scouts. Many among the scouts' highest ranks have been calling for this reform for a long time.
In a similar shimmer of social justice, Montana passed a bill yesterday that decriminalized homosexual intercourse. It's surreal that this law was still on the books, having failed to be repealed in the 16 years since it was declared unconstitutional by the Supreme Court. The current measure still only passed the Montana House of Representatives by a vote of 64 to 35 (35!) --  but it passed.
In the hours following the massacre at Sandy Hook, a vintage clip of Fred "Mr." Rogers surfaced and spread across Facebook walls. In it, Rogers recalls what his mother told him as a kid: "'Look for the helpers. You will always find people who are helping.' To this day, especially in times of disaster, I remember my mother's words and I am always comforted by realizing that there are still so many helpers -- so many caring people in this world."
That quote resurfaced again this week after Boston. Expect it to surge again and again as we cope with tragedies to come. There were this week and will continue to be so many helpers. As another comedian, Patton Oswalt, said eloquently on Monday, "When you spot violence, or bigotry, or intolerance or fear or just garden-variety misogyny, hatred or ignorance, just look it in the eye and think, 'The good outnumber you, and we always will.'"