While some parents-to-be do worry that if they have a baby at a hospital, it could get mixed in with the veritable pile of other babies and get infected, stolen, or mixed up and mislabeled, the wider appeal of "low-tech" home birth comes down to more practical matters. Most home-birth parents do not own VW microbuses. The decision may be a matter of saving money or retaining a semblance of control and normal during an oft-surreal experience -- part of the culture increasingly focused on minimizing stress and accepting holistic approaches to health -- getting back to unprocessed caveman diets and minimally interventional lifestyles. Compelling research on the negative effects of maternal stress on fetal health is accumulating, such that even data-minded medical bodies do well not to ignore home births as a potential nidus of comfort with tangible health benefits. 
Still fewer than one percent of all U.S. births take place at home -- but that number is increasing. With it, medical bodies are charged to address the trend. Today, the American Academy of Pediatrics took an official position.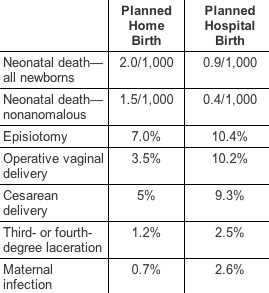 Wax JR, et al. Maternal and newborn outcomes in planned home birth versus planned hospital births--a meta-analysis.
American Journal of Obstetrics and Gynecology
---
It essentially sided with the American College of Obstetricians and Gynecologists, which recently said it was okay with home births as long as the mother was aware that the risk of complications (cited at right, per their report) was higher than an in-hospital delivery. Both bodies are clear to state that the birth must be overseen by a certified midwife, nurse, or physician.