In Boston, Psychological First Aid
A disaster-response behavioral health specialist discusses priorities.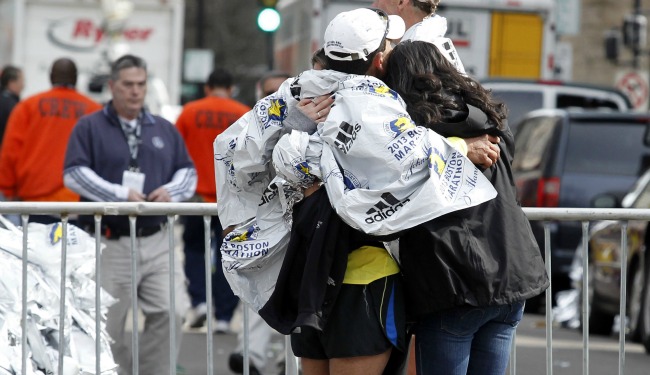 Jessica Rinaldi/Reuters
Dr. Kermit Crawford is a professor of psychiatry at the Boston School of Medicine who specializes in disaster response. He spent last night with some of the victims' families. He said that much of the fear experienced by those affected was compounded by the unsubstantiated reports circulating in the dearth of information about the scale of the attacks. "In that situation, it's difficult to really calm anyone," he told me. "You have to just sort of ride with them, and work with them, until they find their own footing."
The first response to a traumatic event like this is to help people get through their initial shock and do whatever possible to ensure that they and their loved ones are safe, Crawford said. It's what mental health workers call "psychological first aid." The goals are these: Establishing safety and emotional stability, reducing stress, providing comfort, and getting people access to the information they need. In order for victims to begin any kind of process of recovery, "They need to be in the place where they're certain that they are protected, that their fears and anxieties about what happened are somehow managed, that their emotions are somewhat stable." 
In the wake of past tragedies and disasters like Hurricaine Sandy, Crawford has seen people put their own needs aside to help others. Boston was no exception. With each tragic event, Crawford and other experts get better at responding to psychological need. Still, anxiety attacks and other stress responses tend to happen later, once the immediate danger has passed and things return to a version of normalcy. "We'll be alright," said Crawford. "We just have to get there."