24,000 U.S. Women Become Infertile Every Year From Undiagnosed STIs
CDC scares us but makes important point
A lot of the sexually-transmitted infection trend stories we read right now talk about nursing homes as petri dishes. Still STIs remain primarily afflictions of the young. The CDC reminds us of that today with easy-to-share infographics. Here's how the millions of infections (men and women) break down every year: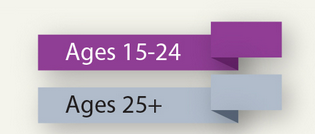 Many tend to think of HIV or maybe syphilis as the serious one. But gonorrhea and chlamydia can and do cause a lot of infertility. 24,000 women in the U.S. become infertile every year as a result of undiagnosed STIs according to the same CDC data. Most women who have chlamydia or gonorrhea have no symptoms, which makes awareness and access to screening especially important. We're still catching so few of the cases. Among 15-24 year-olds:

I share this not to scare people, but just as a reminder of a serious thing about which we can't talk enough.
Anyway. Giant stuffed gonorrhea and chlamydia?