Nikki L./Flickr
The placenta can be eaten raw, or it can be incorporated into a special meal. Placenta recipes are a real thing that are on the Internet. Lest you never want to eat lasagna again, I have not included links. It can be cooked (usually steamed) then sliced, dehydrated, and encapsulated into a pill. Sometimes women freeze it in small chunks and blend it into a smoothie.
Whether one's placenta is seen as a bloody byproduct or a bonus prize is up to cultural and personal interpretation. Placentas contain remainder nutrients and hormones that were passed from mother to child in utero, but no clinical studies attest to their benefit (or harm). Often cited is a 1954 study that aimed to increase lactation in new mothers by feeding them freeze-dried placenta. "So far," its authors boasted, "we can report on 210 women who ate placenta: 71 with very good results, 110 with good, and 29 with negative results," with very good results involving an increase in breast size and milk production. The study is limited, however, in that no controls were used, and 59 years later, science has yet to follow up on those initial findings.
Jodi Selander (­@placenta­l­a­dy) started a site that vends DIY placenta encapsulating kits and is herself an advocate of the practice. In the dearth of medical evidence, she helped anthropologists at the University of Nevada, Las Vegas (UNLV), find subjects for a study that looked at women's reasons for eating their placentas and the effects they reported experiencing. These may well have been what Western medicine would call placebo effects, but nonetheless provide a rare look into the mindsets of people to whom the practice makes sense.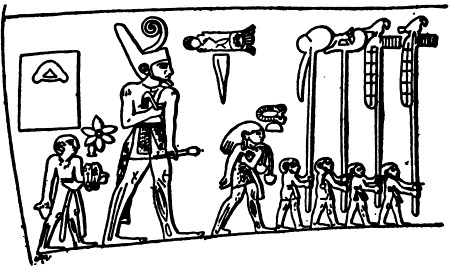 King Namer in a ceremonial procession that includes his placenta and umbilical cord. [
Bull. N.Y. Acam Med
]
The authors interviewed 189 "women over the age of 18 who use the Internet and who had ingested their placenta after the birth of at least one child." Such women turned out to be overwhelmingly white, American, middle-class, college-educated home-birthers. Most reported positive effects. And in what might be the most important measure of what exactly's going on here, most said they would do it again for their next birth.