Study: It's Harder to Tune Out Cell Phone Talkers Than Regular Human Conversations
Because our brains try to fill in the gaps? When trying to concentrate on a test, students found that overhearing someone talking on the phone was more intrusive than a two-sided conversation.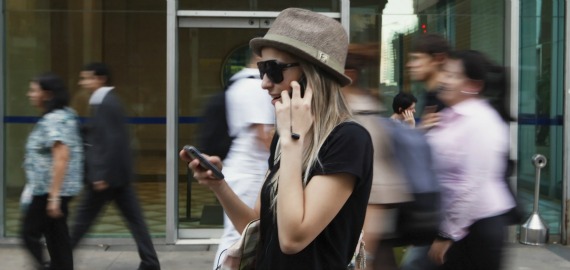 Nacho Doce/Reuters
PROBLEM: Overhearing others' phone conversations is increasingly unavoidable. How does that affect our own cognitive abilities?
METHODOLOGY: About 150 college psychology students were given anagram tests. They weren't told that the study's purpose was to measure how distracted they became when others started talking during the test. Some of the students heard two-way conversations between people pretending to take the anagram test, while others heard one end of a cell phone conversation. After the test, researchers measured the students' self-rated level of distraction, how much of each conversation they correctly recalled, and how well they did on the anagram test.
RESULTS: Performance on the anagram test was similar whether students heard the two-way conversation or the cell phone conversation; this surprised the researchers, who had predicted performance would be worse when the students heard the one-way conversation. But the students did rate the cell conversation as being more noticeable, distracting, and annoying than the two-way conversation. Those who heard the cell conversation correctly remembered more words from it than those who heard the two-way conversation.
CONCLUSION: It's harder to tune out a nearby phone conversation than a conversation of which you can hear both sides. 
IMPLICATIONS: Other studies have suggested that this effect occurs because we anticipate and attempt to fill in the gaps we don't hear in one-sided conversations. As for the similar performances on anagrams between types of conversation overheard, "It could be that the visually presented anagrams did not use the same attentional resources as the conversation and thus made it easier for participants to process the conversation," the researchers wrote.
This study is evidence against open work environments in professions that involve frequent phone calls. If you want to get work done while riding Amtrak, join Ta-Nehisi Coates in the quiet car.
In other situations, consider more aggressive measures:
---
"The Effects of Cell Phone Conversations on the Attention and Memory of Bystanders" is published in the journal PLoS ONE.