Study: Drivers Can't Concentrate on Turning Left While Talking on the Phone
Looking at what happens in the brain while driving on the phone, even hands-free conversations seem like a safety hazard.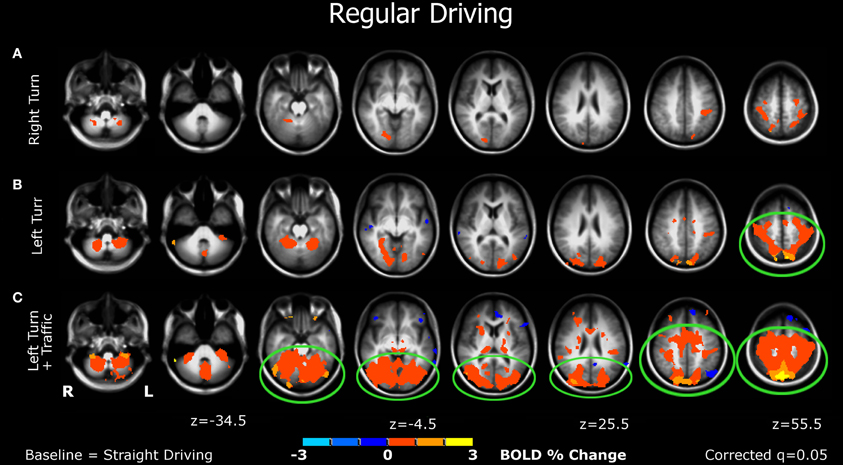 Frontiers of Human Neuroscience
Using a hands-free phone that leaves both hands free to steer may make the physical act of turning left at an intersection easier to pull off, but it doesn't make it any safer. That's because attempting to make a left turn at a busy intersection taxes the brain more than turning right or driving straight through. And having a conversation at the same time further impairs the brain's ability to focus on the road. 
These findings, published in Frontiers of Human Neuroscience, provide neural evidence for why hands-free phone technology isn't a good alternative to cell phone use. Instead, it distracts the brain when it most needs to be paying attention to the road.
"'Hands free' not does mean 'brains free,'" is how Canadian researchers put it. They conducted an experiment in which participants - all licensed drivers -- sat down at a driving simulator nestled inside a fMRI machine. The drivers were then put through a progression of increasingly difficult driving maneuvers. First, driving straight. Then, turning right. Next, left turns at intersections. Finally, left turns with oncoming traffic.
The fMRI images showed that turning left against oncoming traffic involves more areas of the brain than driving straight or turning right. Which makes sense, as "you have to look at oncoming traffic, pedestrians and lights, and coordinate all that," explained Dr. Tom Schweitzer, one of the researchers.
Schweitzer and his colleagues then added in the element of distracted driving. During some of the turns, participants were asked to answer questions, which they'd answer by pressing buttons on the steering wheel (thus approximating how hands-free phones work).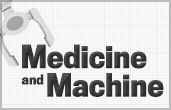 The evolution of health technology.
See full coverage
As one might expect, most of the time the visual cortex was activated in the drivers. But when they started to hear and respond to the questions, the brain scans showed that activity would switch over to the prefrontal cortex. To make room, the visual cortex reduced its activity -- making all of that information about oncoming traffic, pedestrians, and lights harder to process.
All this, and the drivers were only answering questions like, "Does a triangle have four sides?" -- not having particularly serious or emotional conversations. The priorities in banning handheld cellphones, the researchers therefore argue, are skewed, and the real concern should be people having phone conversations, or, for that matter, any conversations at all, while driving.