Study: Chewing Gum No Good for Weight Loss
Did you think it was? Well, enough people do that it warranted a study. Participants who chewed minty gum before eating didn't consume fewer calories; but they did eat a lot less fruit.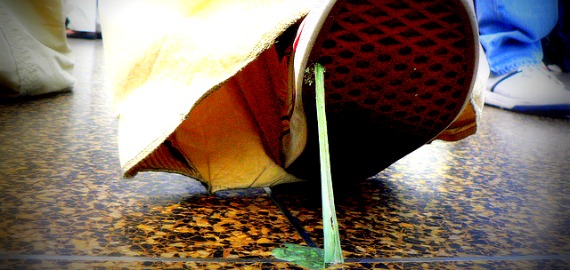 mahalie/Flickr
As sugar-free gum contains next to no calories, and chewing it precludes one's ability to simultaneously eat food, and maybe it even burns calories (11 per hour, says the Internet), it could seem like a perfect, minty-fresh tool for losing weight. Some research has even suggested that it might act as an appetite suppressant.
Unfortunately, a study out of Ohio State University found that once such people spit out their gum, they go on to eat just as much as people who don't chew. In the long run, not only does it seem unlikely that chewing gum is an effective tool in losing weight, but it also may lead to nutritional deficiencies.
In the study, people were instructed to chew either NutraTrim Weight Loss Gum ("boosts metabolism and helps to curb food cravings") or Eclipse gum before snacks and meals for a week, and to keep track of everything they ate. Their food diaries revealed that, compared to non-gum chewers, they ate fewer, but larger, meals. Not only did they end up eating about the same number of calories as non-chewers, their meals were less nutritious.
The reason they ate less healthfully may be partially explained by a second experiment, in which 44 participants played a game in which wins were rewarded with either mandarin oranges and grapes or, for others, potato chips and M&Ms. Participants who had chewed Wrigley's Spearmint gum beforehand were less likely than those who chewed nothing at all to keep competing for the fruit. This decreased motivation, the researchers believe, occurred because the menthol in the gum messes with the taste buds to make fruits and vegetables taste bitter. Those who chewed Juicy Fruit didn't see this effect, but all of the gum chewers also reported feeling hungrier afterwards than the non-chewers.
Let's try not to be too disappointed in gum, though. It's still a good alternative to smoking, accessory for impersonations, and beloved breath-freshener. Just, best enjoyed after fruit.
---
"Acute and chronic effects of gum chewing on food reinforcement and energy intake" is published in Eating Behaviors.