Raising Babies Who Never Use Diapers
How green does your child grow?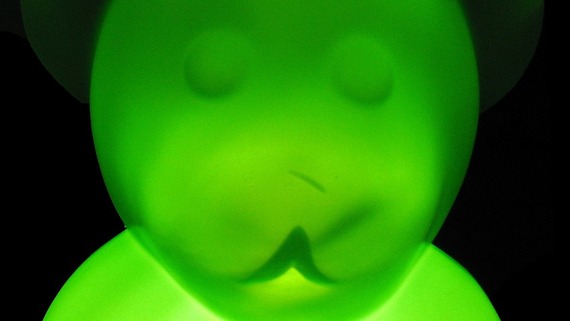 At Nappy Free Baby, the dogma is that if you "tune into baby," "learn to recognize baby's signals," and "create a unique bond," you can potty-train an infant.
"If you are not sure about reading her signals at first, don't worry. Try holding her over a potty anyway."
Helen Lennard reported for the BBC this morning on how to raise a baby whose existence does not burden the envornment. Among reasonable suggestions (wherein "nappies" are diapers):
A Department for Environment, Food and Rural Affairs study indicated total carbon produced could be reduced by reusable nappies - if they were not washed at high temperatures or tumble dried.

However, Amber Hatch, from Nappy Free Baby, suggests a third option that might really reduce the impact.

She said: "Elimination communication is a method which involves teaching your baby to live without a nappy from day one. Babies are really clever and they are waiting to build up associations, so it becomes a systematic method to keeping baby much cleaner."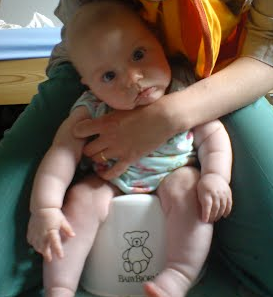 Nappy Free Baby
The practice of elimination communication has been percolating since the late 1970s. There are Nappy Free support groups throughout the U.K. and in Germany.
The godfather of Western toilet training, Harvard Professor Emeritus Dr. T. Berry Brazelton, has said this method is potentially psychologically damaging. But while modern American babies are the oldest worldwide, on average (36 months, and increasing) to be trained, a tribe in Africa famously has its children trained by 5 or 6 months of age.
There was of course a time, before diapers, when all babies were green. Had Paleolithic cavebabies not survived, despite a diaper-less infancy, we would not be here today.