Men Who Idealize Large Breasts Are More Likely Hostile Toward Women
A notion that physical preferences can be a manifestation of sexism

"It wasn't funny when her boss shook her boob as though he were shaking her hand, it was sexual harassment," reads a report of a California lawsuit yesterday. "[The plaintiff] claims he harassed her repeatedly with comments such as, 'God, your boobs look big today.'"
These things happen in 2013, despite mandatory corporate seminars and decades of lawsuits in the news, in a culture where people must by now know that what they're doing is wrong. These things happen between otherwise functional human men and women who stand upright and have mothers and can tie their own shoes. How?
Viren Swami and Martin Tovée at the Universities of Manchester and Newcastle, respectively, look into the intricate world of why physical ideals are ideals, and in turn why they drive people beyond reason and morality in the current Archives of Sexual Behavior.
The problem is primal, so the research methods are not to be outdone. 361 white British men were "taken to a quiet private location" to look at women. Not real women; 3D computer renderings. The men were allowed to rotate them 360 degrees. The only difference among the women was breast size.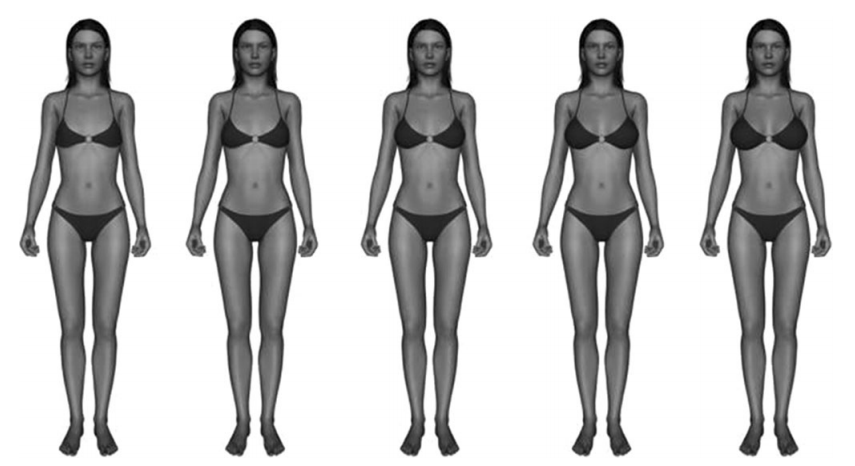 The men were then asked to "make their ratings on a paper-and-pencil survey."
Men then decreed, with paper and pencil: The most-preferred breast size is "medium." That's the middle of the five images to the left.
But they also completed assessments of their attitudes about women -- on three interesting rubrics, which I recommend reading, as well:
Swami and Tovée compared the results with the men's preferences in breast size, which showed that "men who more strongly endorsed benevolently sexist attitudes toward women, who more strongly objectified women, and who were more hostile toward women idealized a large female breast size."
It's the first study to make these associations. Which is interesting, though the explanations Swami and Tovée posit are complex and hypothetical; a slurry of power, sexuality, and gender identity. Media portrayals, hegemony, and cultural factors of heteronormativity unique to these British white men. All not to overlook evolutionary, inborn preferences for reproductively viable mates. 
I suppose it's a step, though, toward understanding the underpinnings of physical preferences as they shape behavior; moving always and only away from "boss shook her boob as though he were shaking her hand" scenarios.