Humans Can Keep Livers Alive and Making Bile for 24 Hours Outside of a Body
Liver, liver on the wall ...
Have you ever wanted to keep a liver alive for more than a few hours outside of a body, without the annoyance of buying ice, and worrying that after a few hours it will stop functioning? If so, or if you're a transplant surgeon who wants to save as many lives as possible, the Oxford University Transplant Centre has good news.
In another medical first (2013 is really lighting things up) a team at King's College Hospital kept a donor liver alive and functioning outside of a human being by using a new machine called OrganOx Metra before successfully transplanting it into a patient. Developers of the technology, Oxford professors Constantin Coussios and Peter Friend say it can keep a liver functioning normally for "24 hours or more" outside of a human body.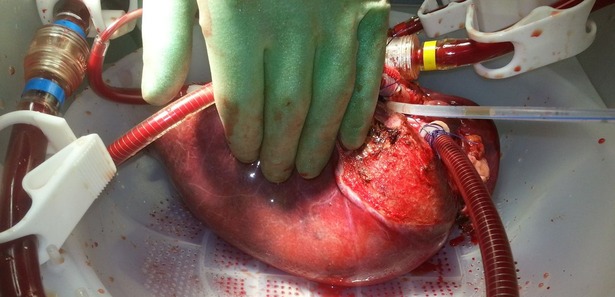 A liver, five minutes after connection to the OrganOx Metra, fully perfused with the red cell solution and at physiological temperature [Reuters]
---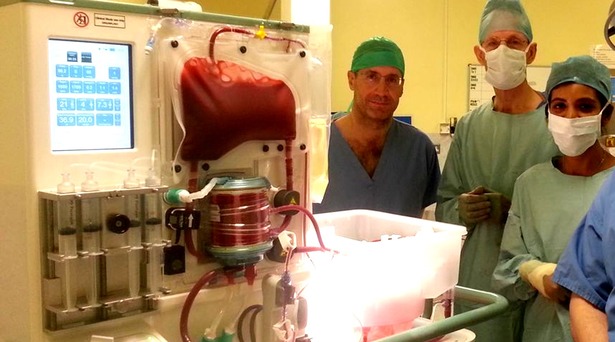 Inside an operating room at King's College Hospital following the successful connection of the first human liver for transplant onto the OrganOx Metra device. [Reuters]
---
The idea is that since the demand for donor livers still far outpaces the supply -- thousands of people still die awaiting liver transplants -- surgical teams need every advantage in making sure no liver is wasted. Coussios, a professor of biomedical engineering at Oxford, told Reuters that he believes keeping livers-in-waiting alive on this machine, as opposed to the traditional, shorter-lived practice of keeping them on ice, could effectively double the number of available livers.
If technological advances like this play out, getting a new liver may soon be as simple as stealing a bottle of lotion in front of a security guard while on probation so that you can go back to jail to get access to health care.